Modern Family is one of my VERY FAVORITE TV shows. It ranks right up there at the top of my "must watch" list. I think its strongest point is that it has so many different strong characters thanks to such an outstanding cast. It makes it hard to choose favorites (although if I was pressed to choose just one it would have to be Gloria). I can't wait for season 7 to begin in just a few weeks!
In the meantime, Modern Family Season Six is arriving on DVD September 22! Mitch and Cam's honeymoon is over, but the laughs continue in Season Six of "Modern Family," winner of five consecutive Emmy® Awards for Outstanding Comedy Series. As the newly married couple acclimate to the realities of wedded bliss, Phil and Claire find their marriage stressed by annoying neighbors, Thanksgiving dinner gone awry and Claire's online snooping. Meanwhile, a spy-camera drone wreaks havoc in Jay and Gloria's backyard and a close call on the highway leads to amusing changes in various members of the Pritchett-Dunphy clan. It all adds up to the funniest season yet of this brilliant and acclaimed comedy.
Not only is watching the Season Six DVD Set a great way to prepare for Season 7 debuting on September 23rd (see a photo from the new season above), but it will also include bonus features such as Awesome Halloween, A Modern Thanksgiving, Modern Connections: The Making of an Episode, A Day with Julie, and a Gag Reel.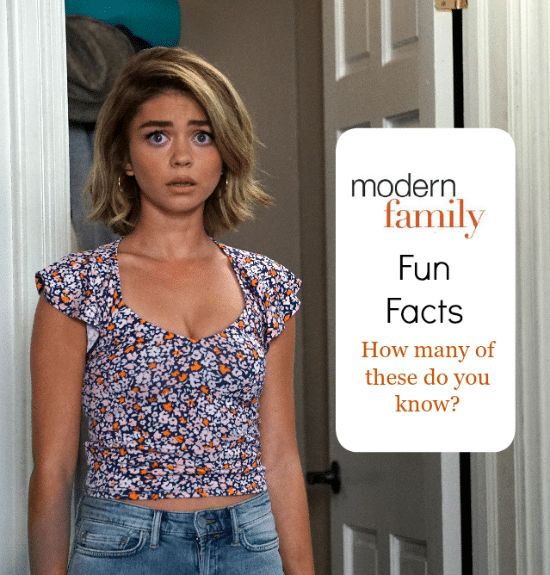 Think you know everything about Modern Family? Here are a few fun facts about the cast of Nominated for Six Emmy® Awards including Outstanding Comedy Series and Outstanding Casting For a Comedy Series!
 Nolan Gould, who plays "dumb" Luke Dunphy, has actually been a member of Mensa since he was 4 years old
 Full name of Manny's character is Manuel Alberto Javier Alejandro Delgado
 Eric Stonestreet is a Kansas native who wanted to become a clown as a kid. In fact, his childhood invention of "Fizbo" the clown has now been resurrected on "Modern Family."
 Julie Bowen was 8 months pregnant with twins in the Modern Family pilot.
 In early seasons, Jay kept forgetting that Mitchell was gay. This was added in after the producers heard Jesse Tyler Ferguson's real experience with coming out to his father three different times over a period of several years.
For even more fun, check out these character cards featuring scenes fromModern Family Season Six!
Reader Giveaway: To celebrate the Modern Family Season Six arrival to DVD on September 22nd, we're giving away a copy to our Thrifty Jinxy Readers! To enter, just complete the entry form below by 11:59pm ET on 10/12/15. Good luck!
Modern Family Season 9