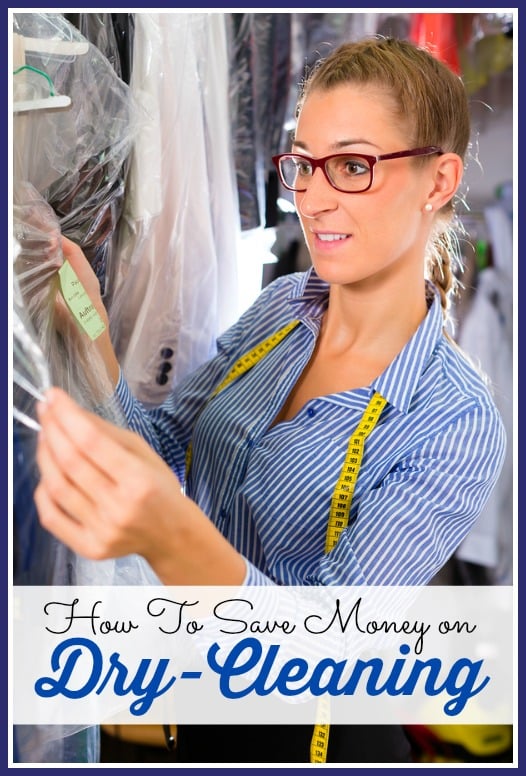 Dry-cleaning is one of those things that people think is only for those that have the money to pay for it. It is seen as somewhat of a luxury. Some clothes require that they are dry-cleaned in order to be properly cared for and some special articles of clothing require it for proper storage. Here are some tips for saving money on dry-cleaning so everyone can afford it.
How to Save Money on Dry Cleaning
Know that not everything actually needs to be dry-cleaned. While the tag on your clothing says, "Dry Clean", that doesn't necessarily mean it will fall to pieces if you throw it in the washer. Depending on the article of clothing, it could just mean using less harsh detergents and washing on the delicate cycle along with tumbling on low in the dryer. Also, there is a huge difference between a label that reads, "Dry Clean" and "Dry Clean ONLY." One is merely a suggestion.
Ask for a deal. You may get lucky if you do. Don't ask for too much, but also don't assume you can't get one simply because it is not advertised. To do this with more success, ask to speak to the manager who over-sees the business. Also, try to do it after you have used the service for a little bit and mention that you have been a faithful customer for a while and want to keep doing so.
Don't buy into organic or green dry cleaning hype. It is still dry cleaning and it still uses chemicals in most cases. There really is no need to pay extra for this service.
Time it right. Just like other industries, dry cleaners have a slow season. This is usually at the beginning of the year, right after the holidays through the end of Spring. If you plan on needing a dress dry cleaned for a summer wedding, take it in during that time to scoop up deals they may be offering at that time.
Haggle for a deal on bulk orders. Some places are willing to give you a discount if you bring in more than one or two items. Ask them if they would be willing to give you a deal on a big item if you bring in several small items, for instance.
Follow instructions. Make sure you are following instructions on how to store the items you have washed to keep from having to come back as often. It is vital that you properly keep items in proper conditions as many items that are dry cleaned tend to be somewhat fragile in their makeup.
Don't purchase clothing that has to be dry-cleaned. Not having it in your wardrobe to begin with will save you so much in the long run. There are plenty of nice, well-made clothing options out there that don't require any special care.
Look for coupons. You may find them on daily deal websites like Groupon or Living Social, or you may find them in odd places like those fundraiser books that schools sell that contain local business' coupons and deals for a price.
Treat stains as soon as they happen on your clothing. The less spot removal the dry cleaner has to do, the lower the price will be for you in the end.
Do you have any other suggestions for saving on dry cleaning?
Disclosure: This post may contain affiliate links that help support our site with no additional cost to you. See our complete disclosure policy here.