If you've been wondering "Can I reuse an envelope?" the answer is YES, you can! Here are two simple ways how to do it.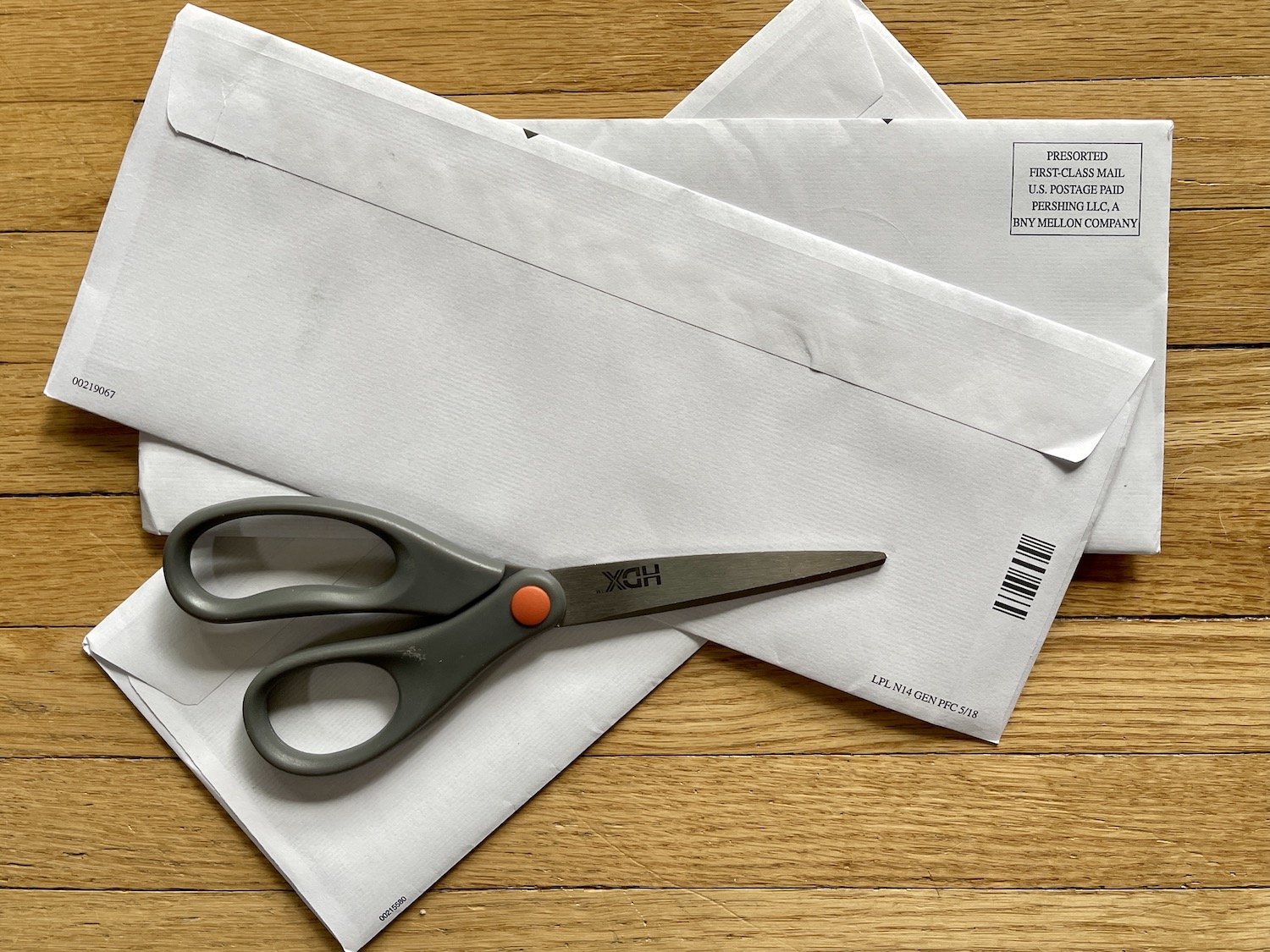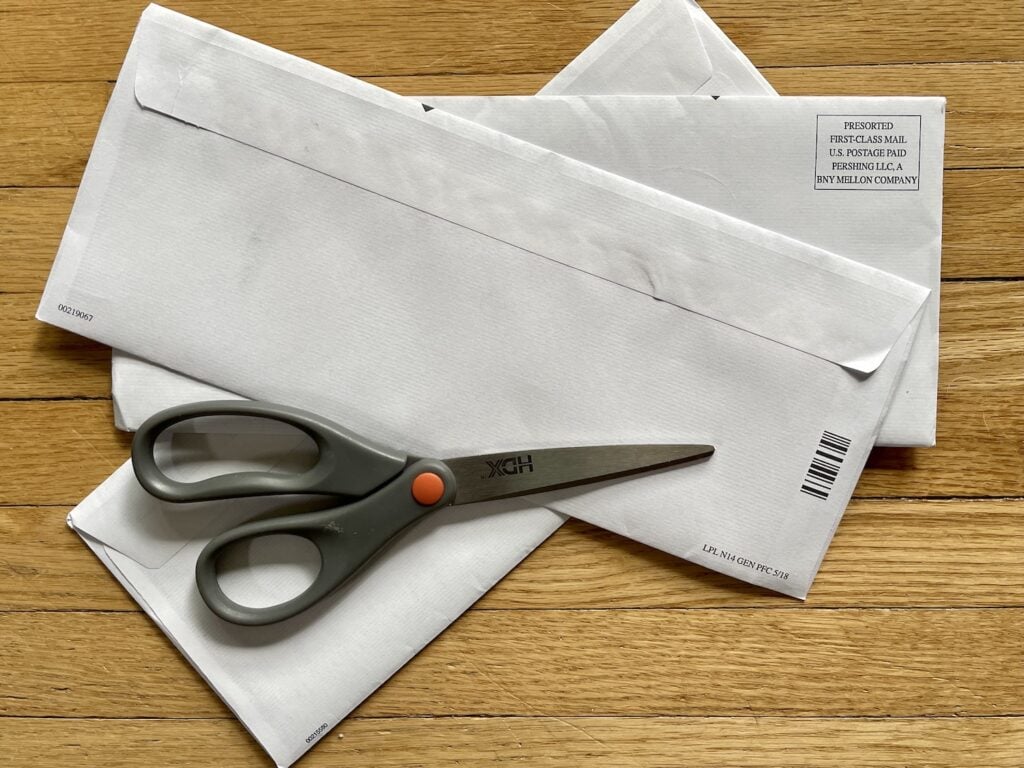 This Thrifty Tip to reuse junk mail envelopes to make NEW envelopes is a way to both save money by not buying envelopes again and also a way to be a little "green" by actually reusing envelopes – something you would usually toss into the recycling bin.
As with any tip, you need to determine the time you put into it vs. the cost savings. But, with this project, it can actually be something fun to do with your kids so that adds into the value factor.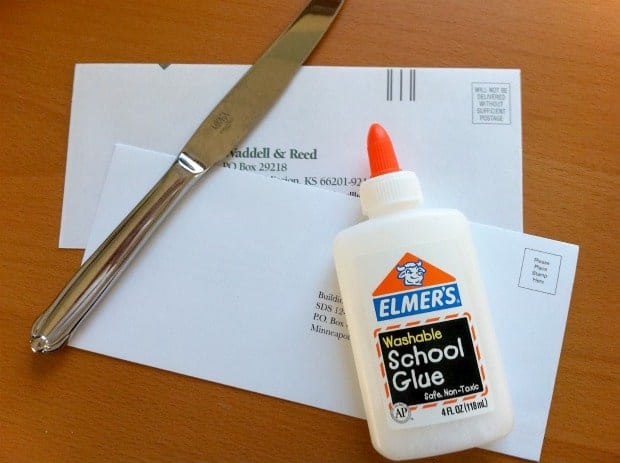 For this project, you'll need envelopes from junk mail, a butter knife or letter opener, and regular school glue (rubber cement also works). Use the "Reply" envelopes that come in your junk mail – the envelopes they enclose for you to send back your payment, donation, etc. If you pay bills online rather than mailing checks, you may end up with a lot of these.
Most junk mail envelopes have a lot of other typing besides the address. They often have a bar code on the bottom of the envelope, which helps direct it through the postal system. If these are sent to an address other than originally intended with the bar code still showing, it can be a problem! So you need the envelope to be free of all markings. Here is how:
The first step is to take the knife and gently slide it along the inside of the seam on both the left and right sides of the envelope. Try to do it gently so as to not tear the paper.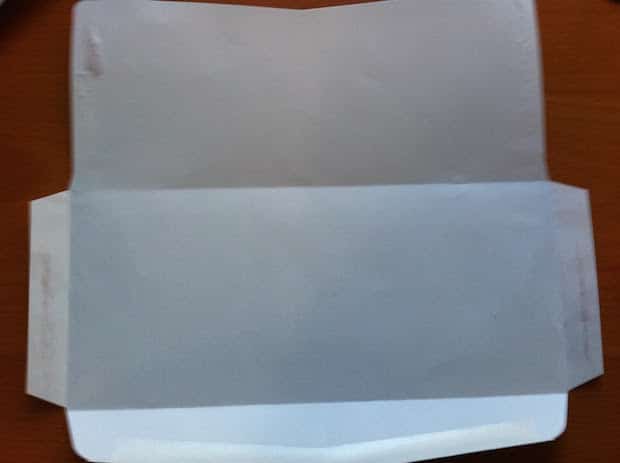 Once you have opened the seams, unfold the envelope and lay it flat. What was originally the outside of the envelope will now be the inside. Refold the envelope with the OUTside now IN.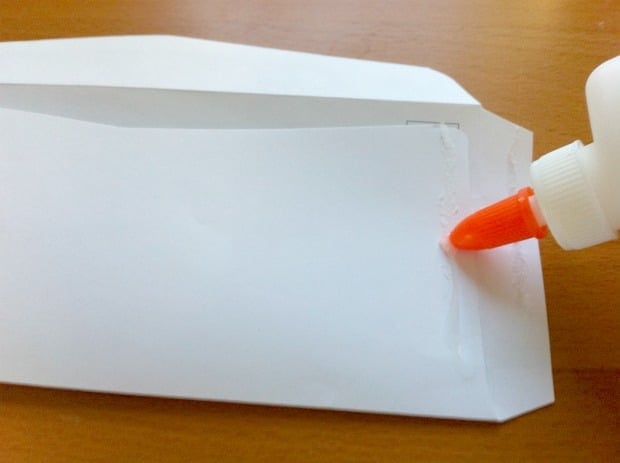 After refolding, place a thin line of glue on the seam area. Fold the edges back over and press to seal. Let dry and VOILA – new envelope! When sealing in your letter, you will want to fold the top flap inside the envelope as the glue will be on the inside edge.
An Even Easier Way to Reuse Envelopes:
If you have envelopes that have very few markings on the outside of the envelope (like the envelope at the bottom of the picture at the top of the page) your process is a lot simpler: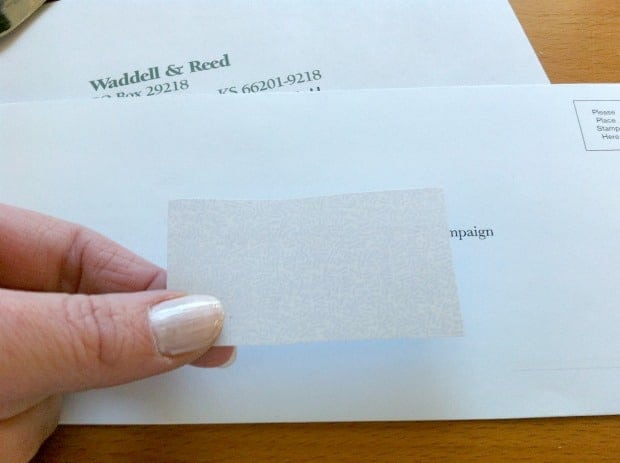 All you need to do in the case of these envelopes with few markings is to cut a small piece of scrap paper (I use paper that was inside these junk mail envelopes) just big enough to cover the pre-printed address and then glue it in place. To use the envelope all you have to do is write over that paper with the address where you are mailing.