This is a sponsored post written by me on behalf of Clorox for IZEA. All opinions are 100% mine.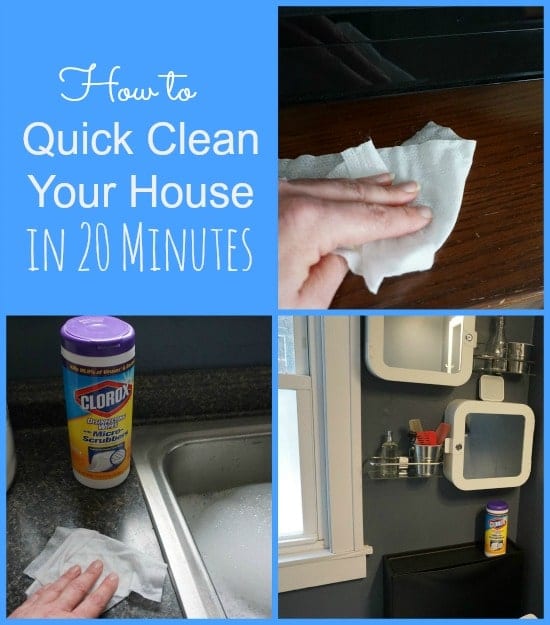 You're at home in your less-than-clean house and the dreaded call comes over the line: "Hi, it's (insert name of friend/relative here). I'll be in the neighborhood and though I would drop by:
– to say HI"
– to drop off the book I borrowed."
– to have a cup of coffee"
Whatever the variation of that phone conversation, it means you will have company in your messy house in less than an hour. Don't panic!! If you have 20 minutes to spare (and have read our tips ahead of time), you can make your house presentable in a hurry.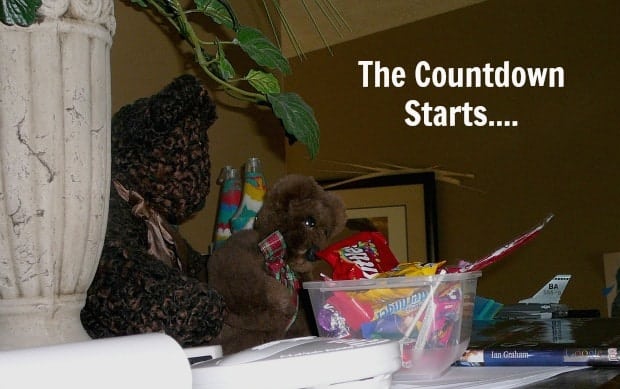 Your guests will most likely be only in your front room, your bathroom and possibly the kitchen. Concentrate on those areas and close the doors on other rooms in your house.
If you have family at home, its time to enlist them. Give each member a job or a room and tell them what to do – time of of the essence! Even the little ones can help to pick up toys or clutter.
Clutter on the floors and tabletops makes everything look messy. You don't have to move everything to its "permanent home", but grab a laundry basket and go around loading everything into it and stash it away in a closet or unused room.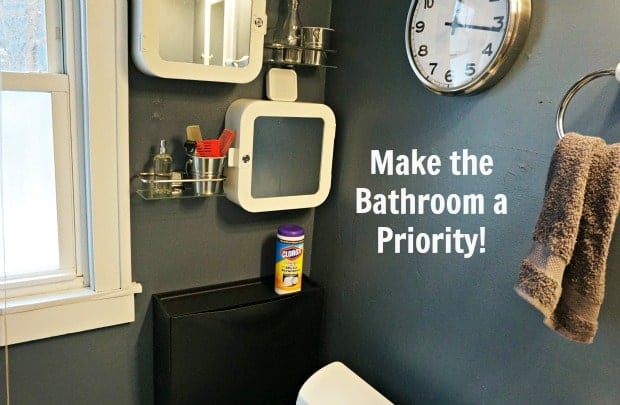 A very important room to address is definitely the bathroom! Take everything off your counters and give them a good wipe down with Clorox® Disinfecting Wipes with Micro-Scrubbers, available at Target. They are quick and easy to use (no spraying and then using a separate rag or towel.) Plus, not only do they wipe out germs, dirt and grease, but the textured surface helps scour away stubborn messes. Drop a bleach tablet in your toilet bowl to disinfect it and wipe own the rest of the bowl with more Clorox Micro-Scrubbers. Also make sure there is plenty of toilet paper to avoid awkward situations for your guests.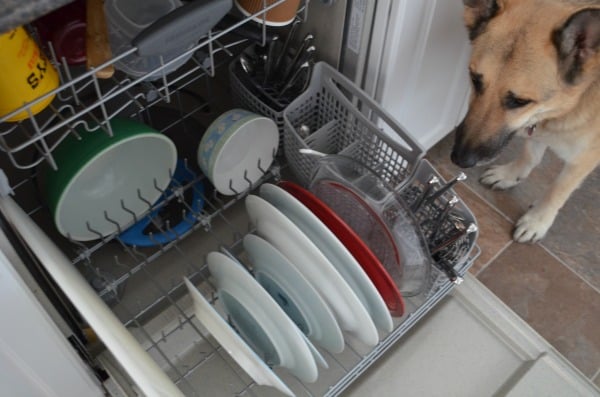 Make the Kitchen Presentable
Dirty dishes? Fill your dishwasher as full as it will go, and hide the rest. Fill your kitchen sink with water and dish detergent and put the rest of your dirty dishes under those suds. They're just soaking! Finish off the kitchen by giving the counters a quick wipe down with Clorox Micro-Scrubbers. The absorbent, thick wipes can tackle kitchen messes including grease and they also kill 99.9% of germs that can live on surfaces for up to 48 hours, including 99.9% of viruses* and bacteria.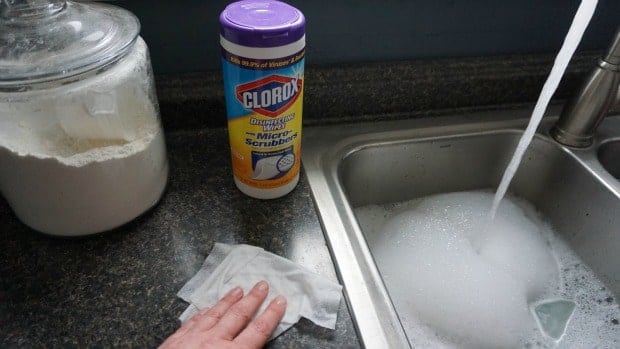 Mmm…What's that (good) Smell?
While you're in the kitchen, use an old home-selling trick to make your house smell amazing in an instant. Bake cookies! This will probably only work if you have a pack of cookie dough in your fridge that you can put on a cookie sheet and throw in the oven. Not only will the house smell great, but you'll have a fresh-baked treat for your guests to distract them from any lingering messiness!
Dirty floors can make the whole house look dirty. Grab the vacuum or a broom and tackle the most troublesome spots. Again, it doesn't have to be a perfect job, it just needs to look good!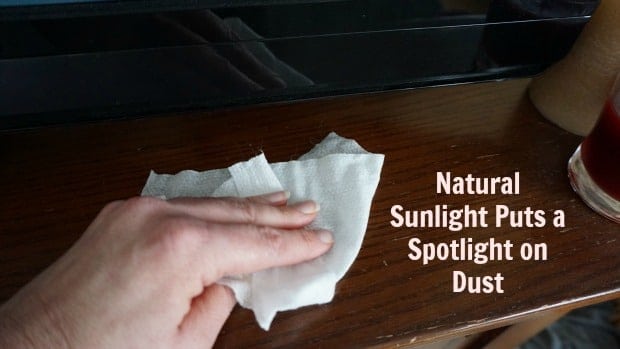 Shine a little light (and then turn it off again)
Dust is another thing that makes the house look dirty. Turn off your artificial lights and open up the shades or curtains. Natural light will let you see all of the areas where dust is hiding in your living room. It's time to break out the Clorox® Disinfecting Wipes with Micro-Scrubbers again since they are perfect for a variety of surfaces, including finished hardwood. Once you're done, you can close the curtains again to take the spotlight off any other cleaning you might have missed!
Take a deep breath and don't stress out. Your family is your family and your friends are your friends. If they notice a little bit of a mess it won't be the end of the world.
*Human Coronavirus, Influenza A2 Virus; †Staphylococcus aureus; ‡Escherichia coli O157:H7; §Salmonella enterica;