Sound familiar? You're in the kitchen and ready to bake that super delicious-looking but easy-to-make recipe you found on Pinterest or in your Mom's old cookbook. When you originally glanced over the list of ingredients you were excited to see it was all things you already had in your kitchen – eggs, butter, flour, sugar, etc. But, as you start your baking you realize the ingredient list says SELF RISING FLOUR! What IS self-rising flour anyway? Can I just use regular flour? Why isn't this recipe as easy as I thought it would be?!?!
As you're looking for recipes online or in cookbooks, you may sometimes come across recipes that call for self rising flour, which is also called self raising flour – particularly in the UK. Self rising flour is commonly used in recipes for quick breads, biscuits, and other baked goods. You can of course buy packages of self rising flour at the supermarket, but, especially if it's something you don't use often, it's much easier and more cost effective to just make up your own when you need it. With these simple instructions for how to make self rising flour substitute, you can have it put together in under a minute.
I only recommend using self rising flour in recipes that actually call for it. If you decide to use it in another recipe, you will want to eliminate the baking powder or baking soda in the recipe. But seriously, just don't do it! Baking is the one type of cooking where precision can make the difference between a wonderful treat and a failed result.
&
Whenever I'm blending together dry ingredients, whether for this self raising flour substitute or for ANY recipe, I find the easiest thing to use is a silicone whisk, where the blade parts are covered in silicone. They seem to blend things really well and the nonstick surface is super easy to clean. Plus you can just toss them in the dishwasher. I like this silicone whisk set because it has 3 different sizes for all different types of cooking.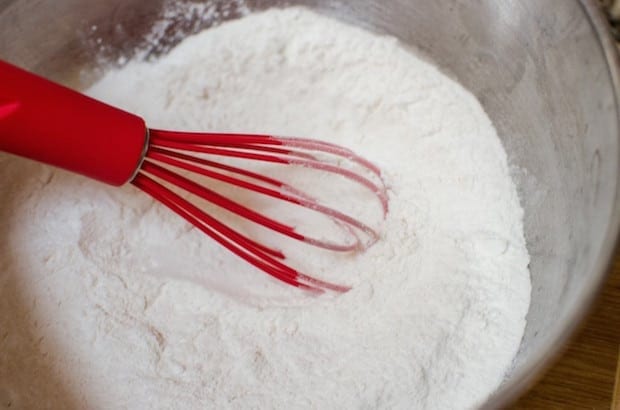 Self Rising Flour Substitute Recipe

Ingredients:
1 c Flour
1 tsp Salt
1 ½ tsp Baking Powder
Directions:
Mix all ingredients together and you have Self Rising Flour. You can use this mixture in place of any recipe that needs leveling agents, just remember to omit the baking powder and salt called for in the recipe.