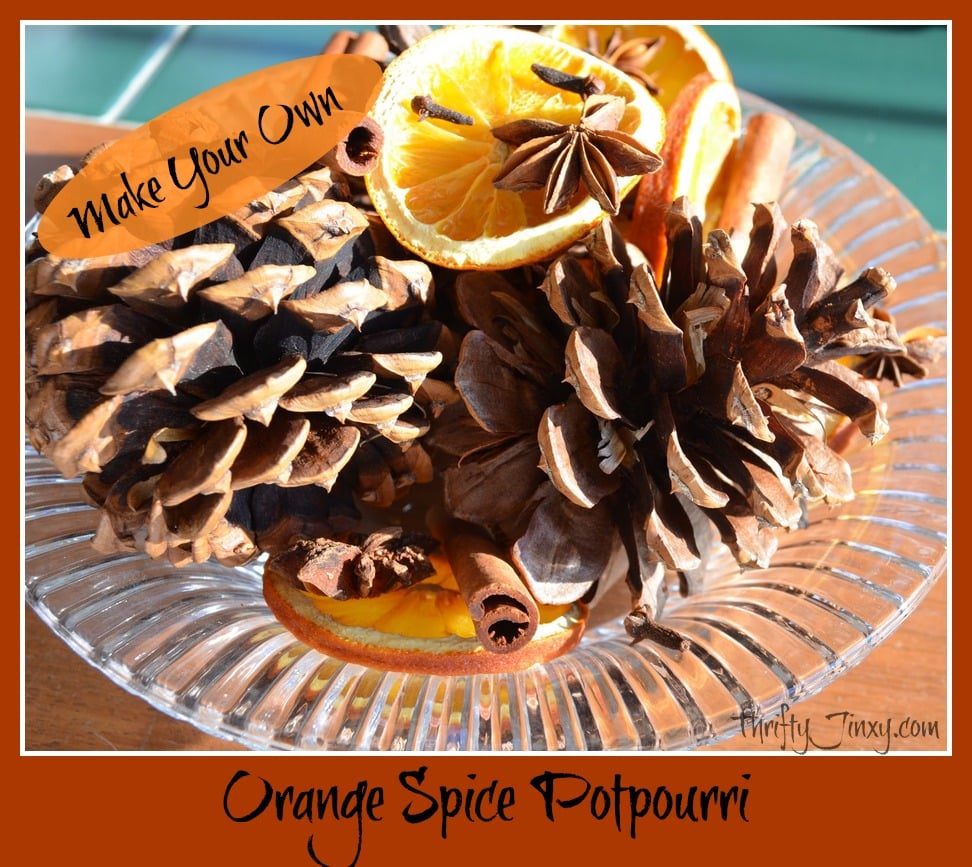 I know it is still a looooong way from Christmas, but this homemade orange spice potpourri does make an excellent Christmas gift. But, since it has an awesome spicy fragrance that is reminiscent of the scents of Fall, it's great for Autumn holidays like Halloween and Thanksgiving as well. Package it in a pretty glass jar, in a simple drawstring bag from the craft store, or in a nice simple box and you have a great hostess or teacher gift. But be sure you double the batch, because you will want some to scent your own home as well once you smell it!
Homemade Orange Spice Potpourri
Supplies:
Fresh Oranges
Pine Cones (I like the scented type from the craft store, but regular from your yard are FREE!)
Star Anise
Cinnamon Sticks
Whole Cloves
Winter woods Cinnamon Scented Pine Cones
Star Anise
Cinnamon Sticks
Whole Cloves
Mrs. Anderson's Baking Professional Half Sheet Baking and Cooling Rack
Godinger Shannon Square Bowl
&
How to make orange spice potpourri:
The part of the potpourri that requires just a little work on your part is to dry the oranges. Preheat the oven to 225 degrees. Slice the oranges approximately 1/4″ thick (see above). Place a baking rack on top of a rimmed pan or cookie sheet and arrange the oranges in a single layer.
Bake approximately 3 hours or until mostly dry, turning every 45 minutes. The oranges will continue to dry after you remove them from the oven, so they don't have to be completely dried out when you're finished.
Next comes the fun part – mixing up your own potpourri concoction! Using the selection of dried spices, mix them in with the dried oranges to make a combination to fill a room with wonderful scents.
No specific amounts of the spices are required – any combination is fine and you can create your own favorite blend. If you want to amp up the scent, you can also sprinkle on allspice or nutmeg. (If you have problems finding pine cones, you can substitute wood chips.)