A KiwiCo subscription box makes a fantastic Christmas gift that will continue the learning all year long!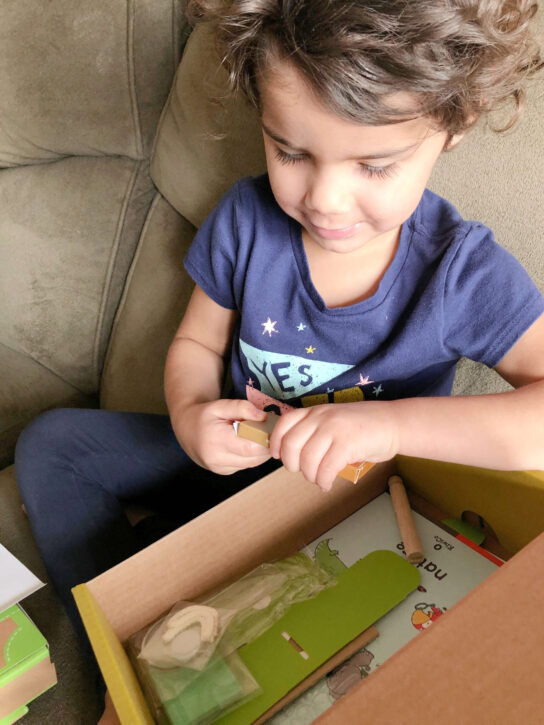 My parents really enjoy giving gifts that the kids can use for longer than just a few days. It's nice to know that a gift will last for a while and continue to bring kids joy.
If you're scratching your brain for a gift idea for your kids or grandkids, I encourage you to see what KiwiCo has to offer!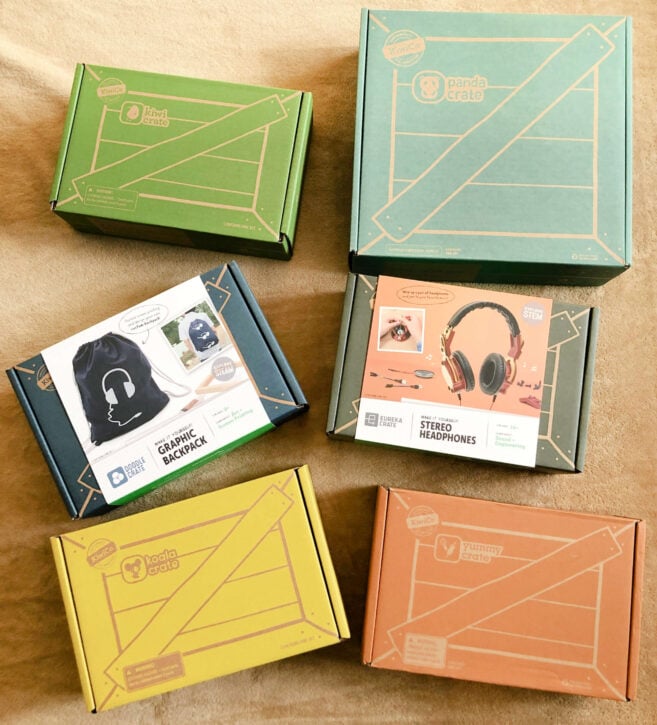 KiwiCo has fun, engaging, and educational projects for everyone from toddlers and kids to teens and even adults. I have SIX kids and was able to find a KiwiCo crate that was perfect for each one of them!
Ultimately, KiwiCo's mission is to provide the next generation of innovators with the tools and foundation to become creative problem-solvers and critical thinkers.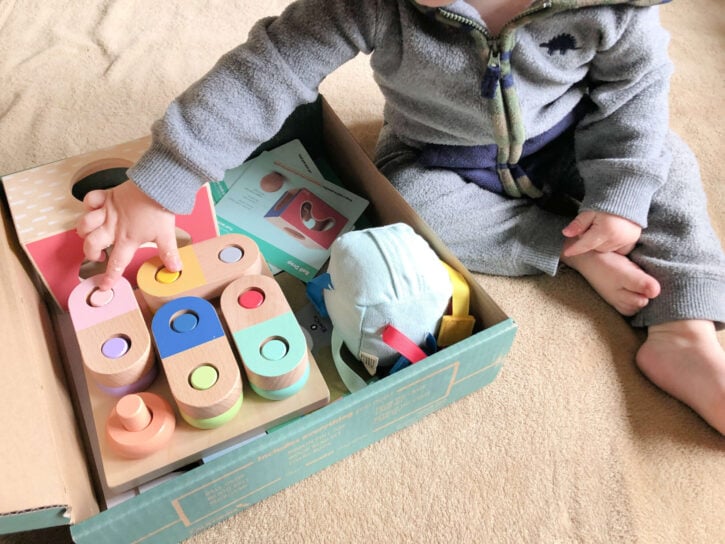 What is KiwiCo?
KiwiCo offers STEM, STEAM, and science kits for kids (and in some cases, teens and adults!). Each KiwiCo box includes all the materials and inspiration for kid-friendly projects related to a theme such as music, gardening, dinosaurs, or colors. Choose from KiwiCo boxes that feature arts and crafts, science activities, imaginative play, and more.
Here's what came with the KiwiCo boxes I received. Please note: These are just one month's boxes; what you receive may be different from what you see pictured.
I chose the Panda Crate for my 17-month-old son. This crate is tailored to babies ages 0 – 24 months and is sent bimonthly. It helps babies learn by doing what they do best – playing, exploring, and interacting with the adults in their lives. I was really impressed with all of the toddler-friendly, no screen, no battery required toys that came in the Panda Crate!
My 4-year-old daughter is getting the Koala Crate, and she will love it! The Koala Crate is designed for children ages 2 – 4. It delivers fun hands-on activities to engage the natural curiosity and creativity of preschoolers in play-based learning. My little explorer will love interacting with nature with the help of this crate.
I selected the Kiwi Crate for my 6-year-old daughter. The Kiwi Crate is best for kiddos ages 5 – 8. It delivers young innovators all the materials and inspiration needed for fun hands-on projects that explore art, science, and engineering. This project is a great example of STEM-based learning as kids learn how things work by making their own!
The Doodle Crate is a perfect fit for my 10-year-old daughter. It's designed for children ages 9 – 13, inviting young designers to build creative confidence by experimenting with art & design techniques in hands-on projects. She will love designing and creating her own drawstring backpack!
And my 12-year-old son will definitely enjoy the Eureka Crate. It's made for older children, teens, and adults (ages 14 – 104+). This crate teaches kids (and kids at heart) how to apply principles of science and math to engineer solutions and make awesome things they'll love using. This project is a perfect fit for my STEM- and music-loving son.
Other KiwiCo crates you can choose include:
Yummy Crate
KiwiCo's newest subscription box offering is the Yummy Crate. My 8-year-old daughter will love this one!
Yummy Crate is designed to foster a love for science and cooking in kids ages 6 – 14, with recipes and activities that explore hands-on experimentation in and out of the kitchen.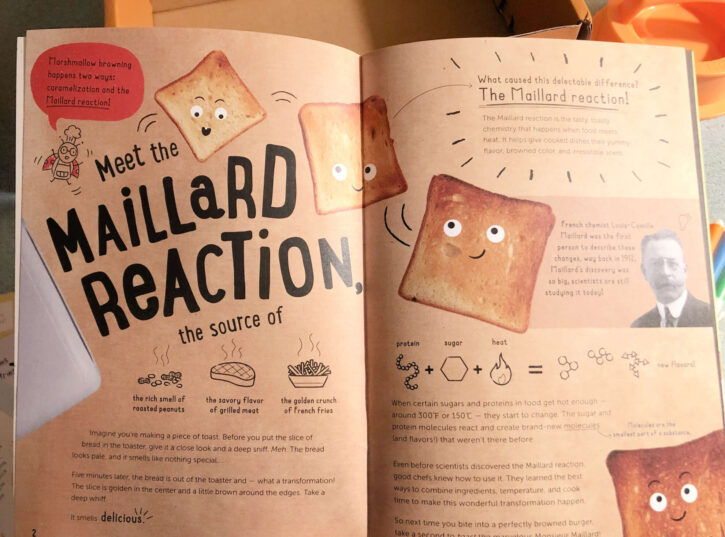 Here's what's included in each KiwiCo Yummy Crate:
Portfolio of Recipe Cards – 3 delicious family-friendly recipes that teach kitchen skills and explore the science of cooking
STEAM Activities – 2 hands-on projects for more creative fun and learning in (and out) of the kitchen
Yummy Zine Magazine – kid-friendly science, comics, history, and fun facts about food
Grownup Guide – easy-to-use shopping list to customize your grocery needs for your family's preferences
So for obvious reasons, you won't get the ingredients with your Yummy Crate, but the shopping list will help you pick up the necessary ingredients, and you'll be able to customize as necessary to accommodate any dietary restrictions.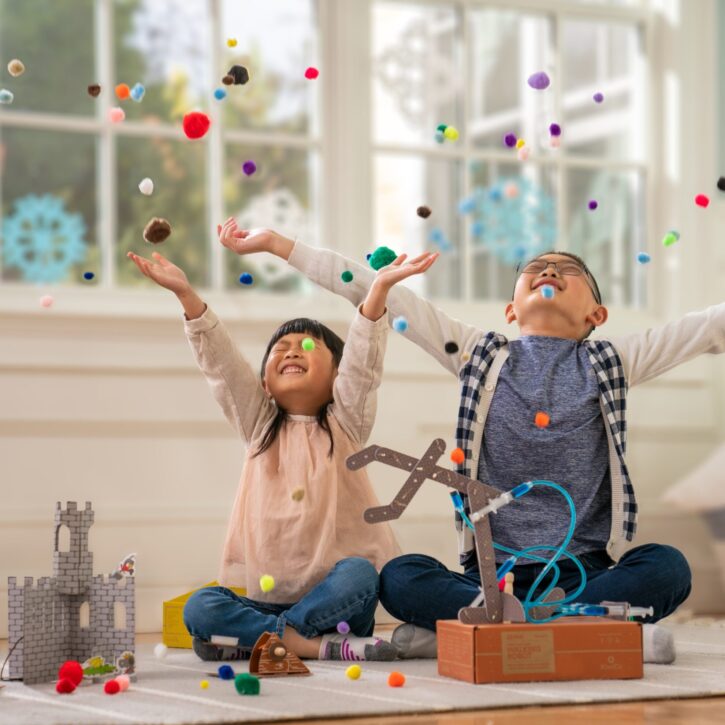 How Much Does KiwiCo Cost?
KiwiCo offers flexible subscription options, with pricing as low as $17.50 per month. All subscriptions in the U.S. ship FREE! Choose from 1, 3, 6, or 12-month options. Gift subscriptions are available, and you can pause or cancel a subscription at any time.
In addition to their subscription services, you can shop the KiwiCo Store to order single projects for all ages and price points. The online Store also offer exclusive items like party packs, chemistry sets, and seasonal holiday projects.
Since you can choose from multiple monthly options or just shop for individual items, this is a great way to gift hands-on fun, no matter the budget.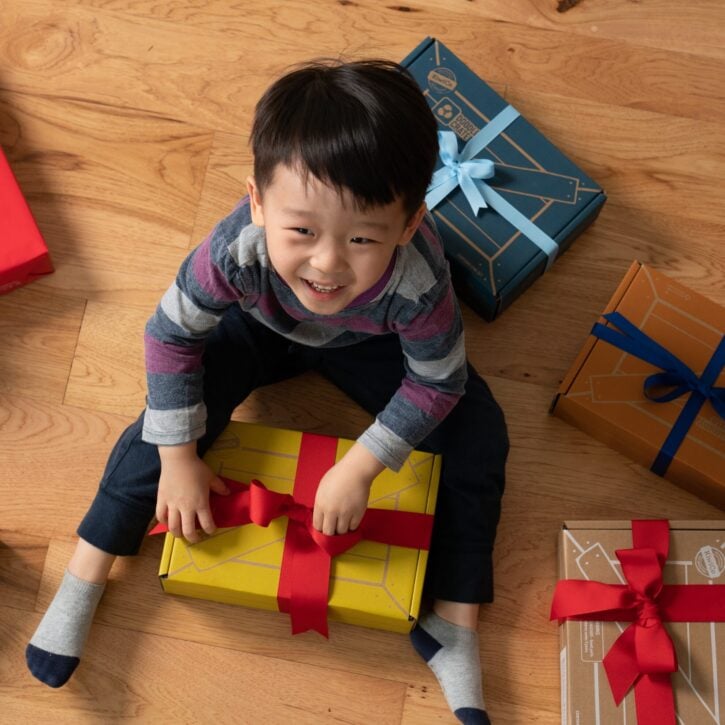 Current KiwiCo Promo Code:
Ready to get started? Right now you can save 50% on your first crate! Just use the KiwiCo coupon code THRIFTY at checkout to see your savings. Sign up HERE – and enjoy!