#PBandG #CollectiveBias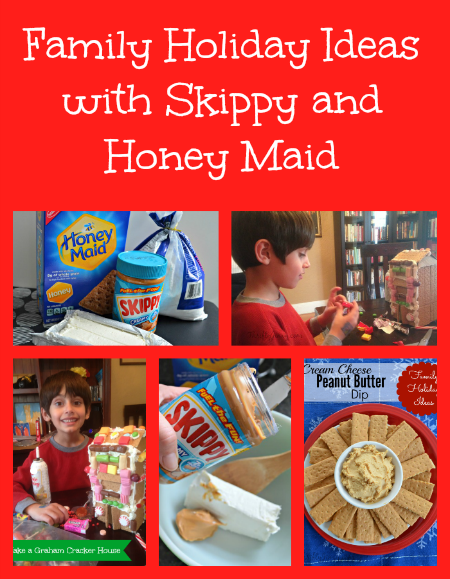 Like many people, one of my very favorite parts of the holiday season is creating and sharing holiday treats. Some of my favorite holiday memories as a child are of sitting at the kitchen table with my mom and sister decorating Christmas cookies. Then on Christmas Day itself, when we and the rest of our extended family went to my grandparents' house, it was always fun to see and eat all the goodies my aunts and cousins had made too. Everyone seemed to have traditional holiday recipes they made every year, but there were also brand new goodies to try too.
Now that my nephew has come along, he has joined in the fun of Christmas baking and treat making. I'm glad that he likes to help in the kitchen and hope it's something that continues. He is great at decorating and even when we make plain 'ol chocolate chip cookies he is sure to artfully arrange 3 or 4 chocolate chips on the top of each cookie. He has always liked to decorate gingerbread houses, but we have found we can much more easily make Graham Cracker Houses.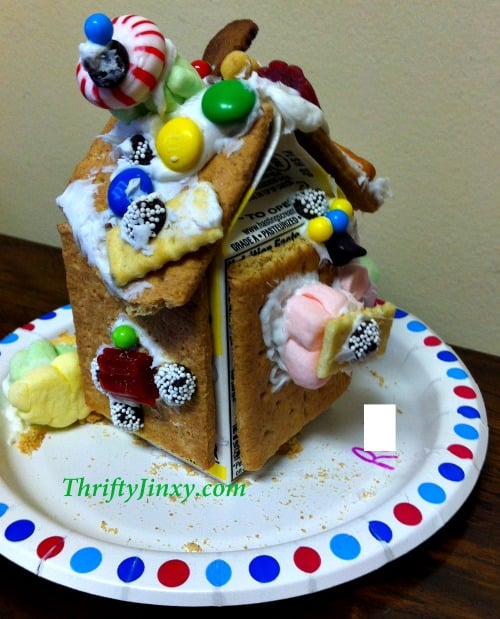 This is the first graham cracker house Little R ever made. It was a preschool project that used a small milk carton to easily contract the house. It means that you can't eat your house, but we usually like to keep these on display. By the time we're ready to give them up, they are a bit too old to eat anyway.
This year we expanded on this original idea and decided to make a BIGGER graham cracker house using a full-size half-gallon milk carton. Here are some simple step by steps if you want to make one yourself.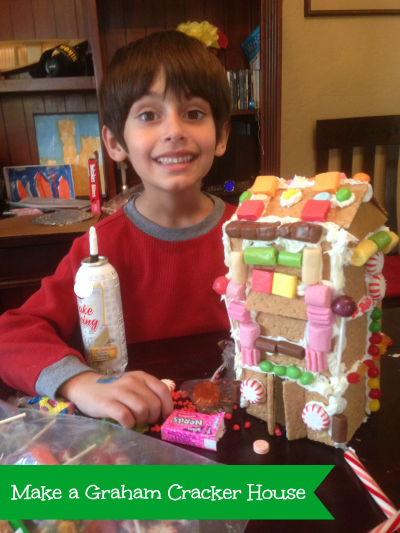 How to Make a Graham Cracker House

Supplies:
Empty milk or orange juice carton
Honey Maid Graham Crackers
Hot Glue Gun
Can of decorator frosting
Candies in assorted colors, shapes and sizes
(We used leftover candy from summer parades and trick-or-treat)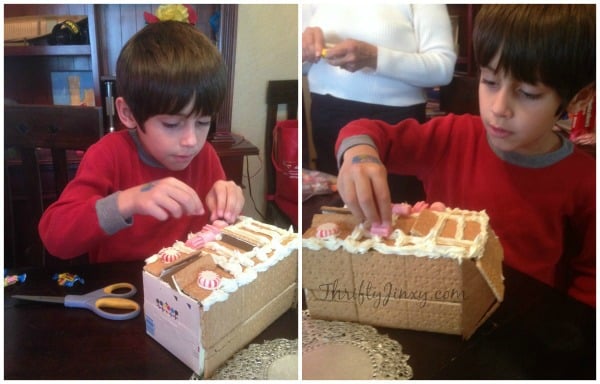 Instructions:
(We recommend a grown-up do the first 3 steps as they are tricky and require a hot glue gun. If younger kids do want to do these steps, we recommend using regular craft glue instead.)
Wash out the milk carton well and let it dry.
If you want doors or windows that will open on your house, cut them into the carton. (This is optional!)
Use a hot glue gun to glue Honey Maid graham crackers over all surfaces of the carton. Let dry.
Using the can of decorator icing, squirt a bit of frosting on the back of each candy and place it onto the house.
Once you have finished decorating, let the frosting fully dry before moving your house to prevent candy from falling off.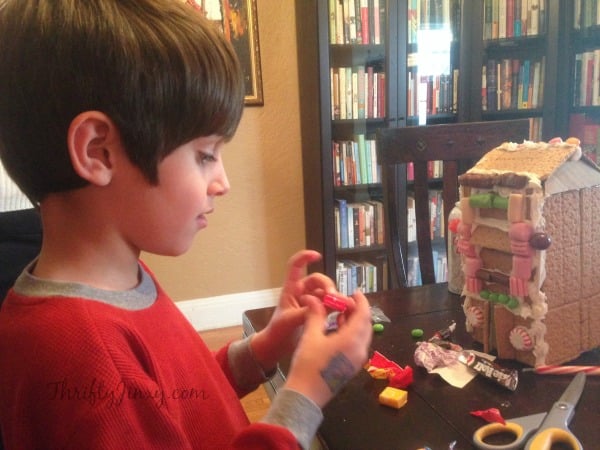 Now that we had made one of our traditional favorites, I also wanted to try a brand new idea. I headed to Walmart to pick up Skippy Peanut Butter, Honey Maid Graham Crackers and a few other supplies to make a delicious Peanut Butter Cream Cheese Dip recipe.
My family is a big fan of all kinds of dips, both savory and sweet. They are a fun way to start a party and are great for a snack. I like this particular dip because it is creamy, delicious and can actually help satisfy your hunger with satisfying peanut butter and cream cheese.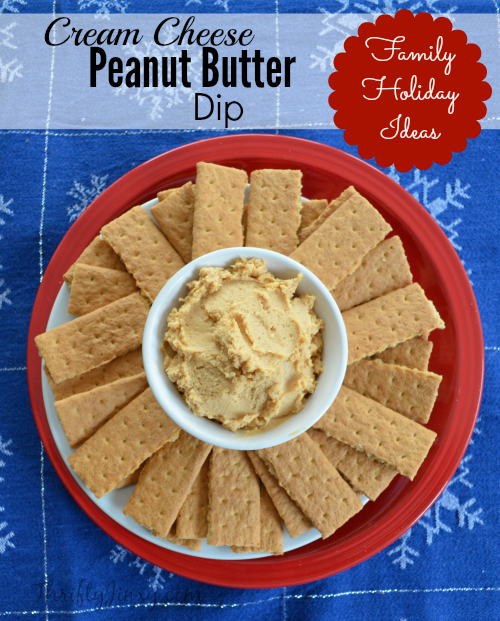 Peanut Butter Cream Cheese Dip Recipe

Ingredients:
1 cup Skippy Peanut Butter (I used creamy)
1 8 oz package of cream cheese, softened
3/4 cup confectioner's sugar
1 tsp vanilla
3 Tbsp milk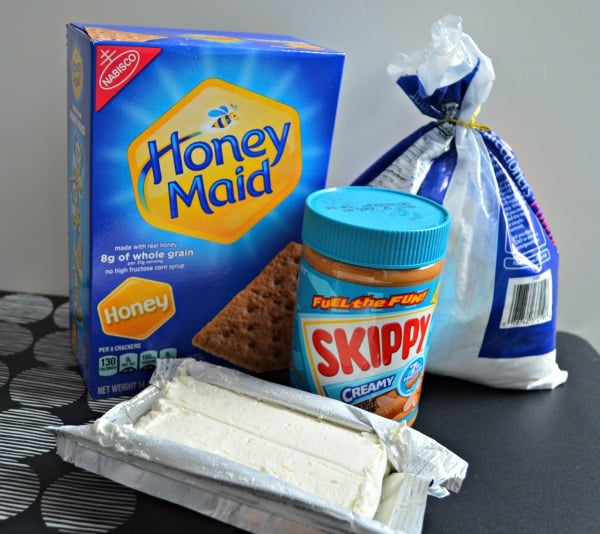 Directions:
This recipe has the easiest directions ever – just mix it all together! If you like a more smooth dip, add a bit more milk. The more you mix it, the fluffier it will get. You can use a stand mixer to make it even easier and fluffier.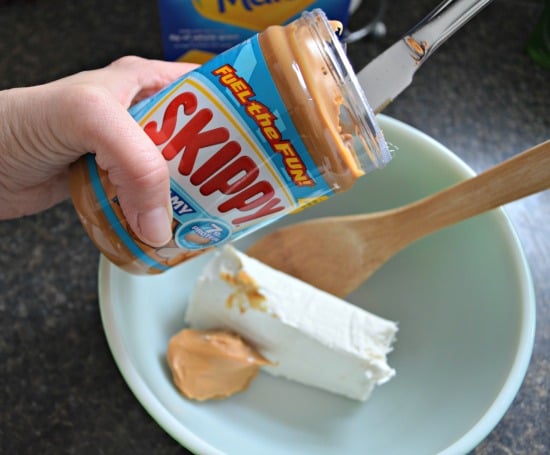 Serve the dip with Honey Maid graham crackers. It's also good with apple slices and on bagels. You can refrigerate and save any leftovers, but it is so good that there probably won't be any!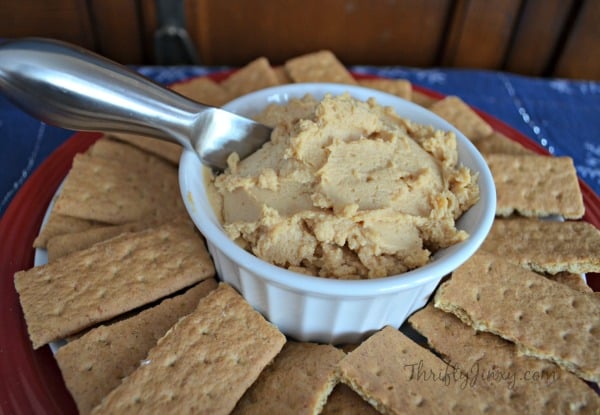 #PBandG #CollectiveBias
Coupon: You can save $0.50 when you buy one (1) Honey Maid Grahams (12.2 oz. or larger) with this printable coupon.