#PowerYourHoliday #CollectiveBias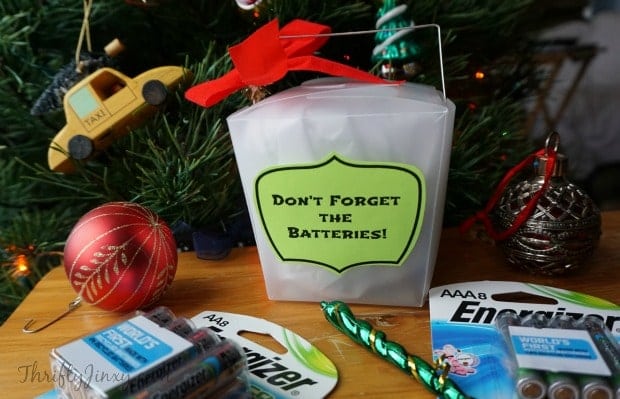 On Christmas morning the chance of at least one battery-operated toy or gift being under every Christmas tree is very high! Of course there are always the kids' toys that require batteries for the fun, but we also have lots of adult gadgets and gizmos that use batteries too. AND, before the big day even arrives, there are the favorite holiday decorations that require batteries to flash their lights, play their music or move around.
This year I saw so many people decorating their houses super early that I felt a bit behind when I pulled out our Christmas decorations last weekend. While I was taking them all out, I realized that I didn't have batteries for all of them. We love the Christmas decorations that "do stuff" – usually the sillier the better. Our cats are also intrigued by them, as you can see at the end of my video of one of our favorite decorations.
So, to replenish my batteries, I headed to Target and picked up Energizer® EcoAdvanced™ Batteries, which happen to be the world's first AA battery made with 4% recycled batteries. I love trying to be more green year-round, and especially at the holidays when it can be easy to be wasteful. It's great when we can be more green and STILL get great performance. Besides helping the planet by creating less waste, these batteries Energizer's longest-lasting and most responsible alkaline battery. That means we can power all our high-tech products with less impact on the planet.
To make sure everyone has enough batteries to go along with their Christmas presents, I decided to make a fun way to gift those so-important batteries. What fun is opening something brand new on Christmas day and not being able to play with it if you don't have batteries? It's a super easy and fun idea and you can put yours together in just a few minutes.

Don't Forget the Batteries Take-Out Gift Boxes DIY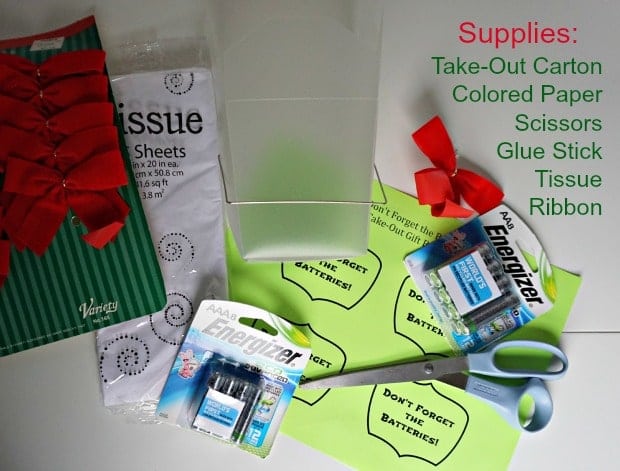 Supplies:

Paper take-out cartons (find at any craft store)
Colored Paper
Scissors
Glue Stick
Tissue Paper
Ribbon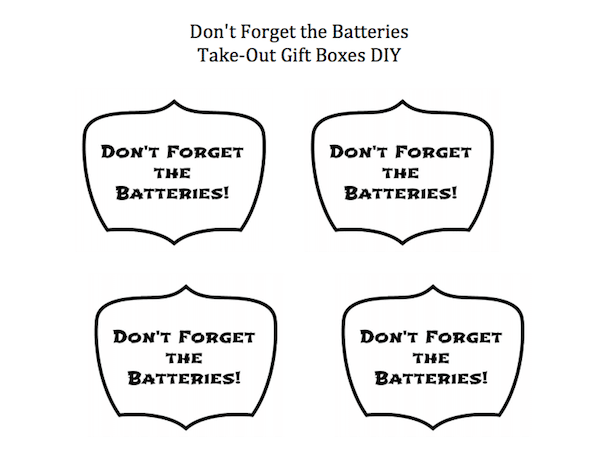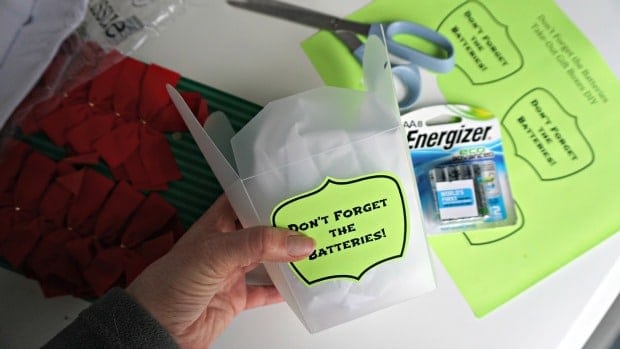 Directions:

Print out the Don't Forget the Batteries Take-Out Gift Boxes DIY Labels on colored paper.
Use the scissors to cut around the labels leaving some space outside the black line.
Use a glue stick to attach the label to your box.
Place tissue paper inside box.
Add batteries to your box.
Tie with a ribbon.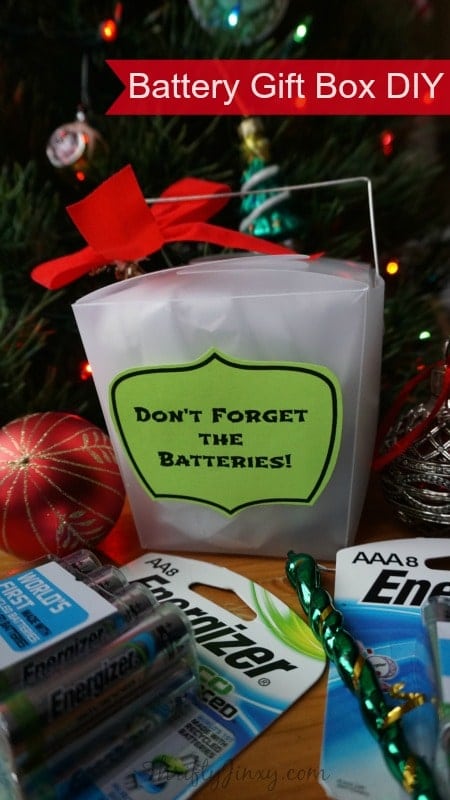 Stash a couple of these underneath your tree or bring along when visiting to friends or family so that everyone can have fun with their new toys, gadgets and decorations as soon as they are opened!

What battery-operated gifts are you giving this year?