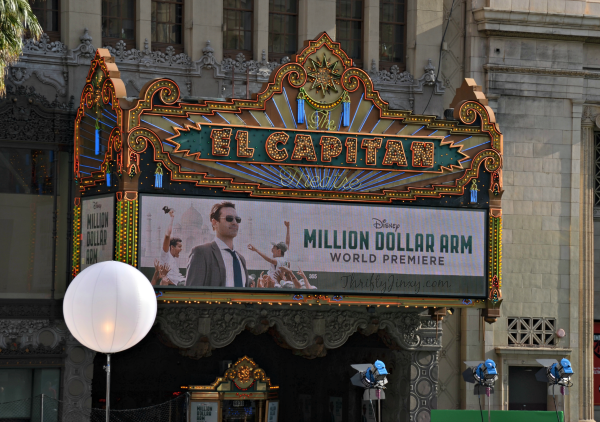 What is better than a fabulous Hollywood movie world premiere?  A Hollywood world premiere of an amazing movie preceded by a pitching contest with the chance to win a million dollars, a tailgate party and encounters with not only film stars, but real-life MLB legends!  This all happened Tuesday night with the Disney MILLION DOLLAR ARM World Premiere at the El Capitan Theatre -all to celebrate the film based the true story of sports agent JB Bernstein traveling to India to discover the talented Rinku Singh and Dinesh Patel.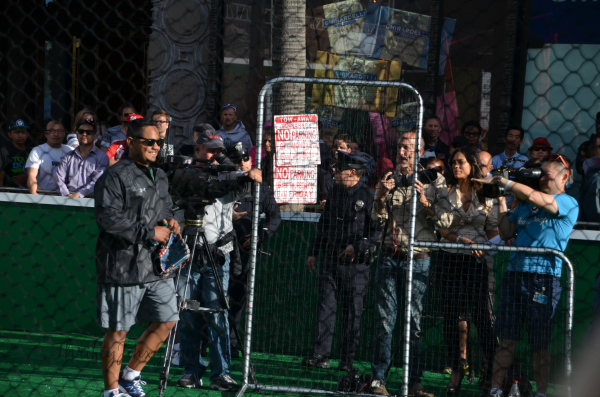 These events were all held in front of and inside the beautiful El Capitan Theatre on Hollywood Boulevard.  The evening started with the Million Dollar Arm Pitching Contest in which 9 finalists each had the chance to try to pitch a ball over 100 mph to win $1 million.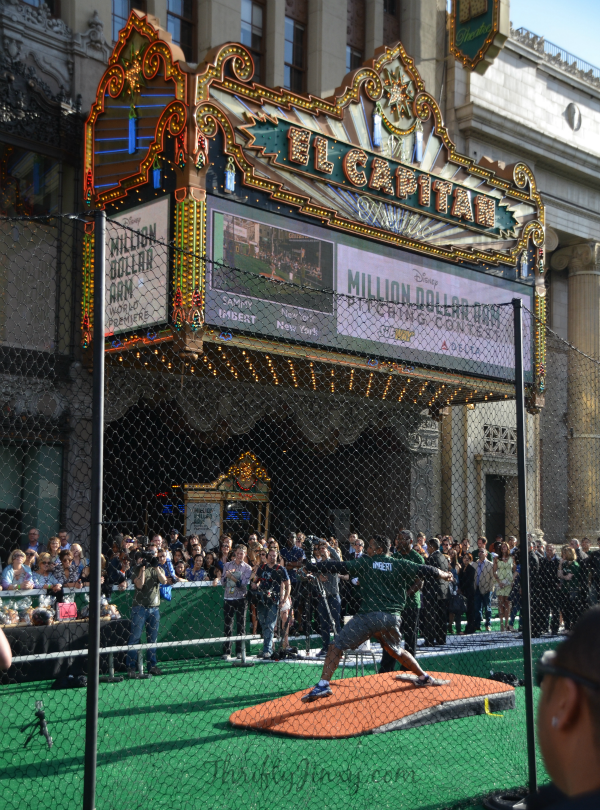 It was an exciting contest with fans, friends and family of the players and MLB legends all in attendance.  While no one quite hit the 100 mph mark, Josh Dahl from Glendale, Arizona, threw the fastest pitch at 94.9 mph, which earned him the opportunity to be discovered and sign a contract with JB Bernstein's management company, Seven Figures Management.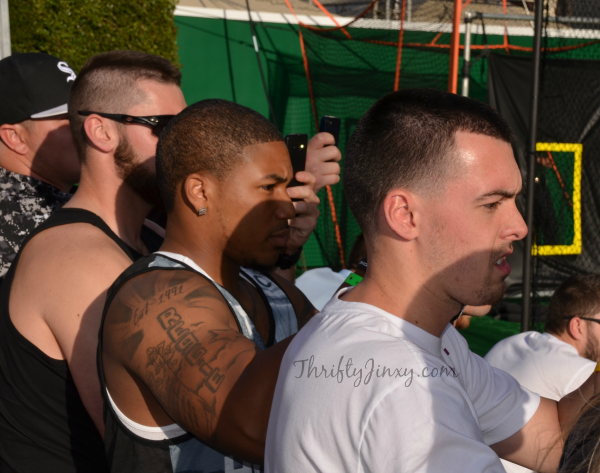 After the pitching contest, it was time to head to the green carpet.  While most premieres have a red carpet, it was only fitting that a movie about baseball have a GREEN carpet, complete with astroturf.  While we watched stars of the movie walking on the carpet and being photographed, we also had time to take a few photos ourselves.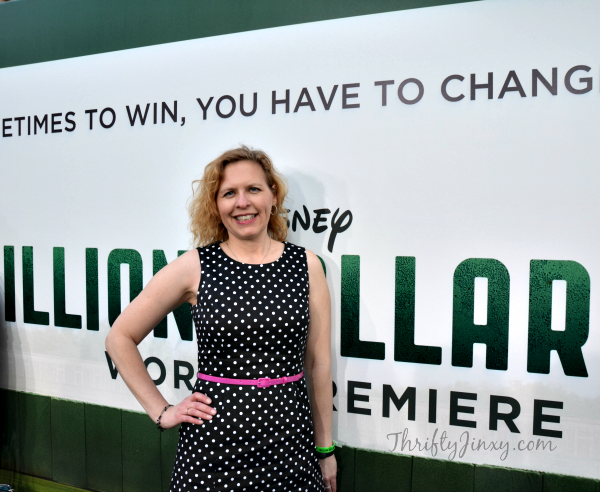 Plus, we even had JB Bernstein spot US on the carpet and come over to take a selfie!  (We had interviewed him earlier that day.)  Ellen's Academy Award selfie has nothing on us!!  (Thanks to JB Bernstein for tweeting this photo, which I borrowed!)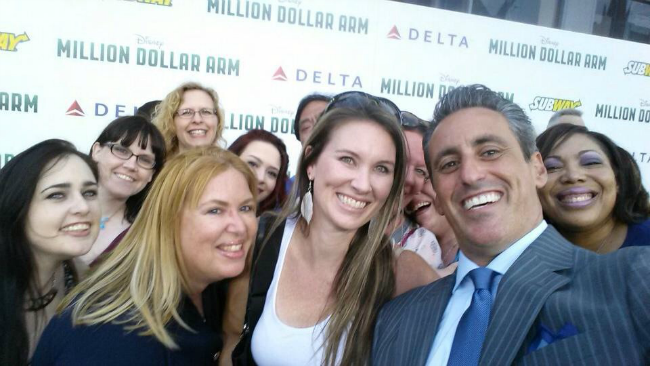 Once we walked the carpet we headed on in to the tailgate party.  We ate and drank and had an all around awesome time!  It was the first time I had a Pink's hot dog, an LA classic.  Also on hand were KIND bars, Wonderful Pistachios and Krispy Kreme Doughnuts!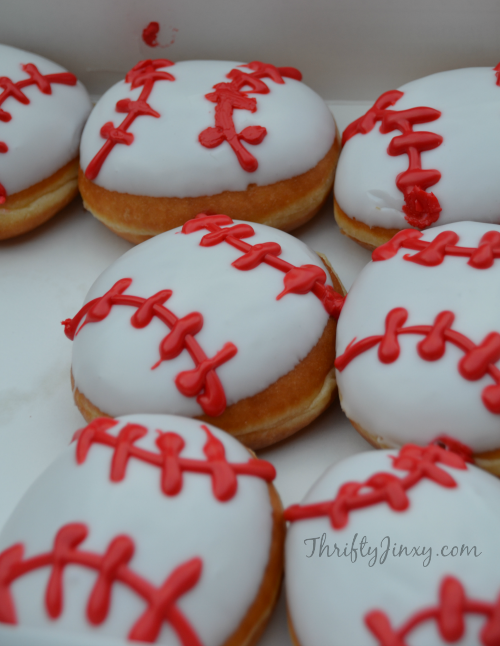 I was also excited to meet some of the real-life MLB legends.  I grabbed a quick photo with Rollie Fingers.  (He was part of the Oakland A's teams that accomplished the first modern-day "three-peat", winning the World Series in 1972, 1973 and 1974. In the last he was even named MVP!)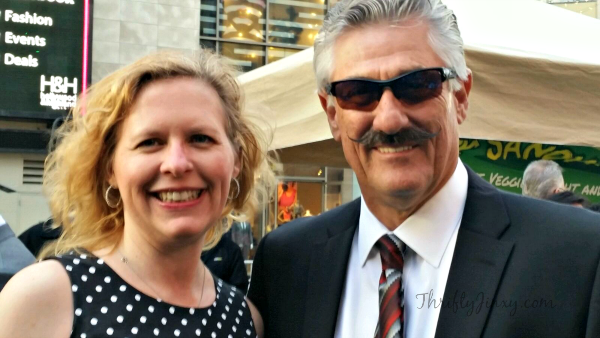 And then I was REALLY excited to meet and spend some time talking with hall-of-famer Dave Winfield!  My husband is a BIG fan of Dave Winfield because he played for the Yankees for nearly a decade and that is our team.  Plus, he is originally from my home state of Minnesota and also played for the Twins in his later career! Once he found out what I do for a living, Mr. Winfield had lots of questions and we spent basically our entire conversation talking about blogging and social media.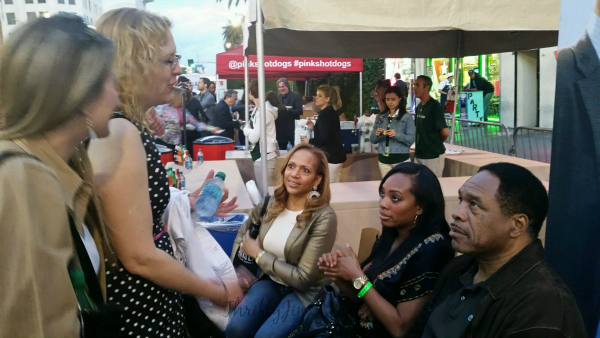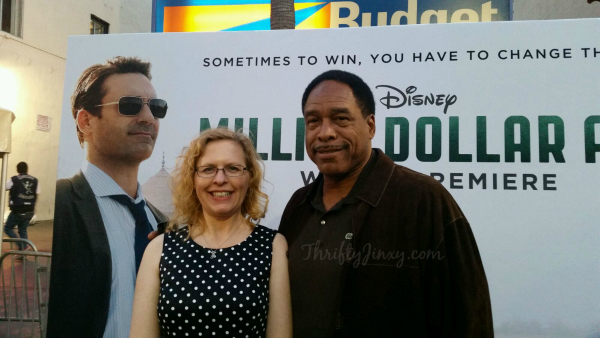 Our conversation was cut short because it was time to head into the theater for the premiere itself.  The mood inside the El Capitan Theatre was festive with Dodger Stadium organist Nancy Bea playing "Take Me Out to the Ballgame" and famed Dodger Stadium peanut man Roger Owens tossing bags of peanuts to the audience.  We were seated in the third row, right in front of Aasif Mandvi and Pitobash, two stars from the film.  ……come back next week and I'll share my review of MILLION DOLLAR ARM!
Do YOU want to catch MILLION DOLLAR ARM before it's official May 16th release date?  This Saturday, 5/10, 500 theaters across the country will be sneaking in an early showing!  Find your tickets on Fandango.