This is the most delicious and easy homemade bread. I have been making it for about 3 months and it has become a staple in our house. I love it because it only uses 4 ingredients, is the cheapest bread you can make since it uses only a tiny bit of yeast, is fat-free, looks great, has fantastic texture and tastes delicious!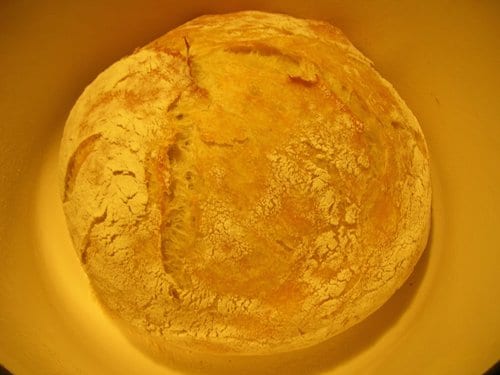 Delicious Easy No-Knead Bread Recipe

3 C all-purpose flour
1/4 tsp. instant yeast
1 1/4 tsp. salt
1 5/8 C water
Combine dry ingredients in a large bowl and stir in water until well blended. Cover bowl with plastic wrap and leave in a warm place to rise for at least 12 hours (16-18 hours is better). To make this easy and to avoid having to use a new piece of plastic wrap each time, I cover the bowl with a plastic shower cap.
Next, place the dough on a generously floured work surface, sprinkle with flour, and fold it in on top of itself two to three times. Turn the bowl you were using at first upside down over the dough and let it rest for 15 minutes.
After 15 minutes, shape the dough into a ball. Coat a smooth cotton towel with flour and put the ball seam side down, dusting the top with more flour. Fold sides of towel over top of ball and let rise for 2 hours. The dough should double in size.
30 minutes before the dough is ready, heat oven to 450 degrees and put a 6 to 8 quart heavy pot with a cover (pyrex, cast iron, enamel or ceramic work best) in to heat. Remove the pot from the oven and dump the dough ball seam side up into the pan. Cover the pot and bake for 30 minutes. Then remove the lid and bake another 15 to 30 minutes or until the loaf is nicely browned. Remove from oven and cool on rack.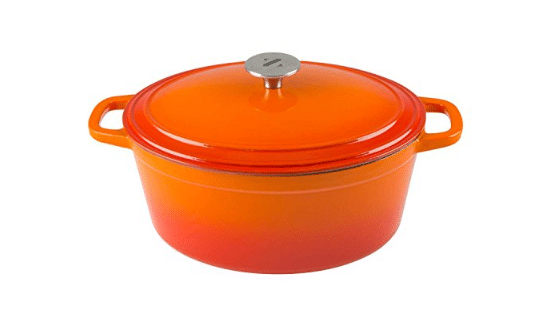 I bake this in my Orange Rachel Ray 7-Quart Round Cast-Iron Dutch Oven, which I really LOVE! I won this from a sweepstakes and it has quickly become my favorite cooking/baking piece. It's a bit expensive, but really fantastic. You can check it out on Amazon. Unfortunately, this particular model has now been discontinued and is now even pricier through 3rd party sellers, but this dutch oven from Zelanico is very similar!
This is a great loaf of bread to bring when invited to someone's house for dinner. Every time I have brought it, everyone has raved over it and it has quickly disappeared! (Yes, that's one of my loaves in the picture up top!)
To see more recipes from Thrifty Jinxy, click "Recipes" at the top of the page!