While summer is a popular time of year for breaking out the BBQ and lighting up the charcoal, fall brings us another reason to barbecue – tailgating! When it comes to a menu for a tailgate party, it's always fun to shake things up once in a while. There are the old favorites like burgers, hot dogs, and plain ol' steaks and and chicken breasts. But I like to change things up now and then with a bit more of a bold and unique flavor. That is exactly what you get with this apricot glazed steak recipe.
I got the idea from a recipe for chicken wings that my mom used to make back when I was in high school that used apricot baby food as its base. If you haven't shopped for baby food in a while, they don't make plain apricot any more! Apricots are no longer a "stand-alone" fruit for babies – it's always mixed with sweet potatoes, bananas or some other flavor. So, I turned to apricot preserves for this recipe and am glad I did. It gives it a much bigger flavor boost!
This apricot glazed steak recipe has an Asian flair and its marinade develops a sweet and savory glaze on the meat that I find almost irresistible.  At first I wasn't sure which type of beef to use, but after browsing for beef at Walmart, I decided on the thin sliced sirloin tip steak. I think it's a great choice because it cooks quickly, but doesn't get too try. Next time I may experiment with other cuts of beef as well.
I almost forgot to mention that a BIG bonus is that this recipe is EXTREMELY easy to make!

Apricot Glazed Steak Recipe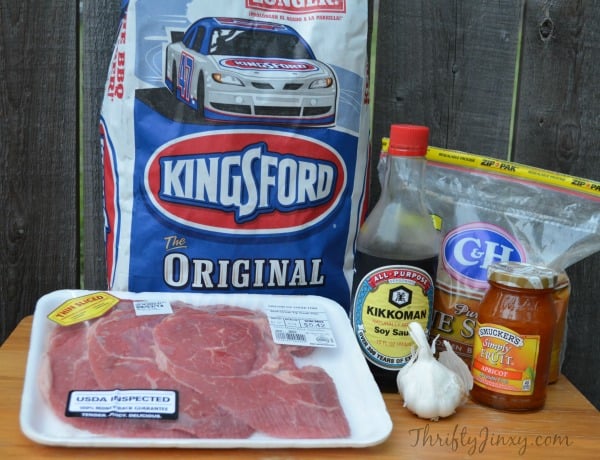 INGREDIENTS:
1/4 cup apricot preserves
1/4 cup soy sauce
2 Tbsp brown sugar
3 cloves garlic, minced (or 1/2 tsp garlic powder)
2 pounds thin sliced sirloin tip steak
DIRECTIONS:
Mix first 4 ingredients in a large, flat bottomed dish.  Add the beef and turn several times to coat.  Marinate at least 2 hours (overnight is best).  To grill, prepare the charcoal as instructed on the Kingsford Charcoal package.  Place steak on grill and cook 3-5 minutes or until browned. Flip steaks and cook other side 3-5 minutes or until cooked through.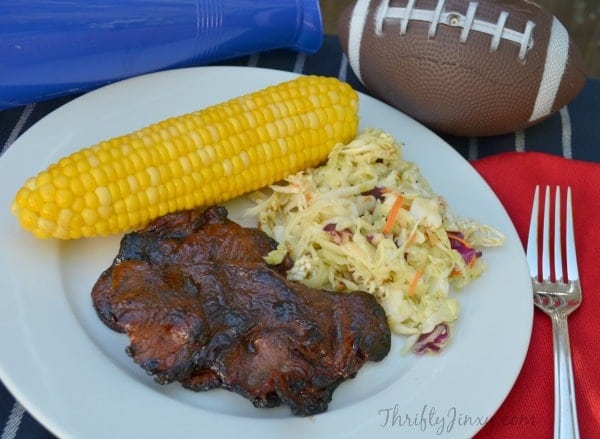 There are lots of choices for sides to this recipe. Since it has a bit of an Asian flavor, I served it with a Chinese cabbage slaw, as well as some corn on the cob. Herbed potatoes, veggie skewers or even rice would also compliment it well. To make this more of a hand-held outdoor meal, just cut the meat into strips and cook on skewers.