Make a fun and easy Christmas decoration with this Old Fashioned Hard Candy Ornament craft using a clear plastic ball and colorful hard candy.
Do you love the feeling of nostalgia that old-fashioned hard candy brings? My grandma (actually BOTH of my grandmas) always had a bowl of hard candy out at the holidays.
My Grandma on my mom's side usually had it in an old cookie tin that sat on the dining room table. The whole family would always be passing it around and picking out their favorite pieces to eat.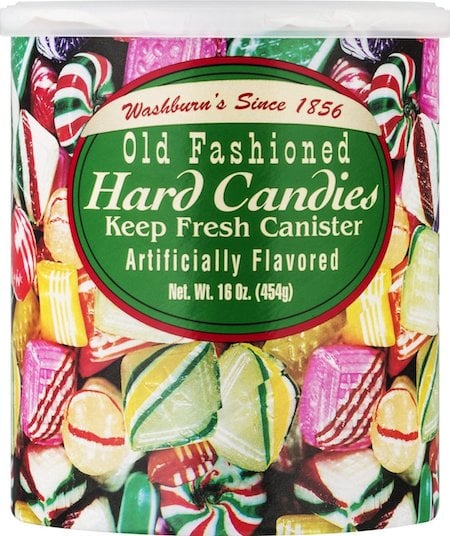 The other place we always got hard candy was at church. Each year on the Feast of St. Nicholas, Santa would be waiting in the church basement for us after Mass. After talking to Santa, each kid got a brown paper bag with nuts and old-fashioned hard candy in it.
If you have fond memories of old-fashioned hard candy, you will love this easy to craft and inexpensive to make hard candy holiday ornament.
This old-fashioned hard candy holiday ornament is the perfect way to add some charm to your holiday décor, or it can even be given as a gift. Here is how you can make your own.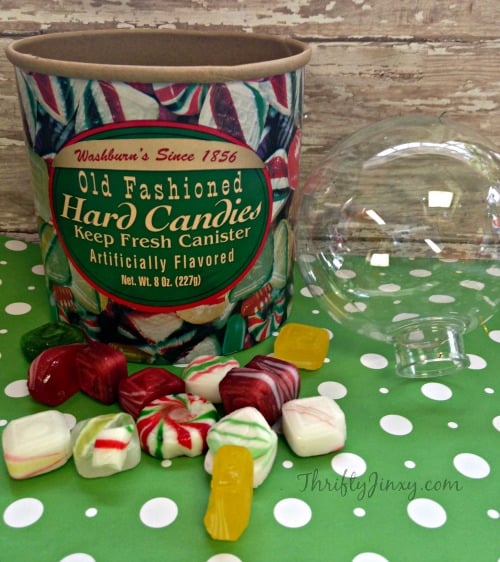 Old-Fashioned Hard Candy Holiday Ornament
Supplies needed:
Large, clear ornament. (Make sure you get one with a wide mouth so you can easily fill it)
Old-fashioned hard candy
Ribbon for hanging
Scissors
Directions:
1. Begin by adding the hard candy to the inside of the ornament. Simply place one piece in at a time until it is about ¾ of the way full.
2. Replace the cap on the ornament.
3. Add a length of ribbon and tie into a bow for hanging.
If you are concerned about your cap coming loose, you can add a dab of glue to the inside before placing it on. This will help secure the ornament a little more and there will be less of a worry of candy slipping out.
Give this simple old-fashioned hard candy holiday ornament a try. As you can see, it is great for decorating and for giving this holiday season.