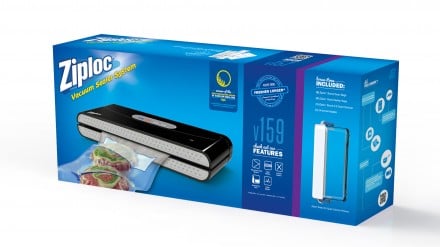 I hate to say it, but as a household of only two people we tend to end up with more food waste than I think is acceptable. So many foods we purchase come in large packages and it can be tricky for just the two of us to get through it all before it goes bad. There are also the times where we are lucky enough to have friends or relatives offer us produce from their gardens or other food and we really can't accept too much of it since we don't want it to spoil before it gets used.
Now we can greatly reduce those problems with the Ziploc® Brand Vacuum Sealer System I just received. The system lets us save money, reduce waste, and eat healthy by removing air and sealing in freshness. By using specially designed Ziploc® Brand vacuum sealing bags and rolls, we can store food in either standard or customized bags and then place into the vacuum sealer machine. The sealer machine first removes all the air from the bag with a vacuum pump system that pulls the air from the bag while at the same time not allowing any additional air to enter back in. The plastic turns into a second "skin" over the contents of the package and you can really see that there is NO air left in there the way it fits so tightly.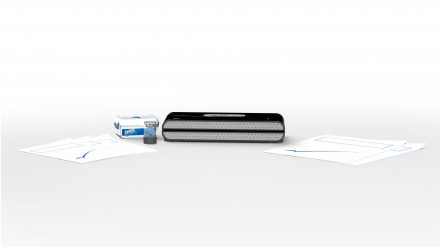 After all the air has been removed, the bag is then sealed with a heat seal bar to prevent any air or moisture from getting in. The  surface of the bar presses the bag closed and heats up to melt the plastic of the bag, creating an airtight seal. This seal can't be pulled apart and can only be opened by cutting it beneath the seal.
With the removal of the air, the shelf life of your food can be extended up to 5 times. The sealing also slows growth of spoilage bacteria and keeps out mold and mildew. Not only that, but you can also preserve the moisture content of foods and prevent freezer burn. That means no more opening the freezer to that sea of packages with white crystals built up inside!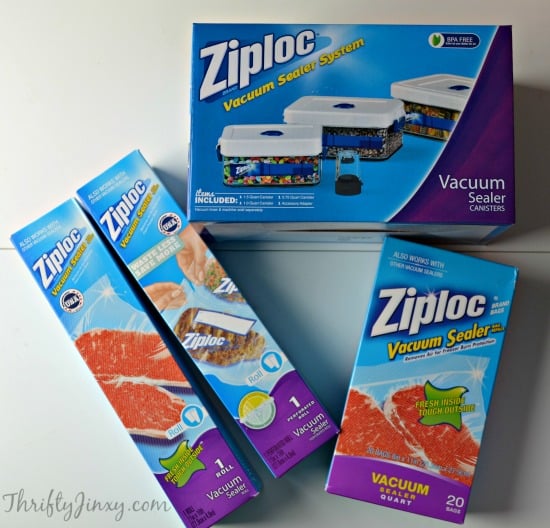 I like the flexibility that is provided by so many different storage options. You can choose different sizes of bags or create custom sized bags using rolls of sealing material. For even more flexibility, they also have Vacuum sealer canisters. Just put your food inside, replace the lid and use the sealer to remove the air and seal. We can keep almost anything fresh now!
Special Offer:  You can save $5 on a Ziploc® Brand Vacuum Sealer System with this printable coupon!