See how a weather radio can help keep you and your family safe during dangerous summer weather.
I usually blog about saving money, but today I want to blog about saving lives (but of course there's a money-saving tip at the end.
Summer brings with it the chance of severe weather. This year has seen severe weather in many parts of the country, including tornados. One way to help protect your family is with a weather radio.
Why You Need a Weather Radio for Summer Weather Safety
Why a weather radio? These radio transmitters not only give you detailed weather information for your area, they also SOUND AN ALARM when your area is under threat of severe weather.
If you're asleep at night or at home during the day with no radio or TV on, this is a great way to alert you and give you ample time to gather your family and seek shelter.
Thankfully we have not had extremely severe weather this year, but we did appreciate the warning from the weather radio last month that we were about to be hit by a hail storm. I had enough time to bring all my plants inside and save them. (Too bad I didn't remember to bring in the patio chairs with plastic covers!)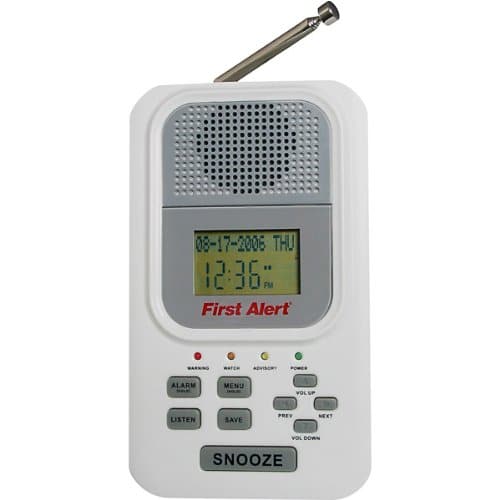 While searching Amazon for a radio similar to ours, I found this model made by First Alert. It monitors NOAA weather band day and night, receiving a total of 79 emergency civil and severe weather messages and also uses special technology to help you avoid non-local alerts, and is programmable to receive warnings for emergencies specific to your area.