What is your favorite part of Valentine's Day? While cards, flowers and cupids are all nice, I want the CHOCOLATE!! See's Candies, an American favorite, is ready for that Valentine's Day desire with a wide variety of exquisite chocolates and treats, from the traditional chocolate truffles to Scotchmallow Hearts and gourmet Cinnamon Lollypops. You can see all of their Valentine's Day choices here.
See's Candies has been delivering deliciousness since 1921 and uses only the finest ingredients— with no added preservatives. Ever. Each unique piece is full of rich, unforgettable flavor and hand-packed with care and with love.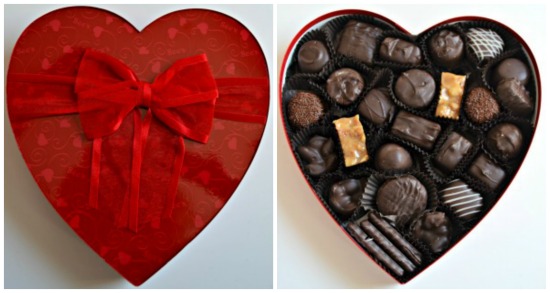 I recently received the See's Classic Red Heart with Dark Chocolates. It's a a super pretty red heart filled with lots of the See's classic dark chocolates – – have I mentioned that dark chocolate is my favorite? I have been trying to ration myself and not eat the whole box in one day, but every piece I have tried so far has been simply scrumptious!