I have had a Chromebook for several years now. It's lightweight, fast and streamlined – perfect for helping me get work done while on the go. But I just recently found out about the new Pixelbook and Pixelbook Pen and am seriously considering an upgrade!
Here's why: Pixelbook is the new high performance Chromebook. It has Google Assistant built in to help you get more done faster and smarter. It has an ultra-thin design and a wide variety of apps, making it beautifully versatile and effortlessly adaptable to your lifestyle. As with the Chromebook, it's powered by Chrome OS (my favorite browser!). The Pixelbook Pen is the accompanying smart, responsive stylus.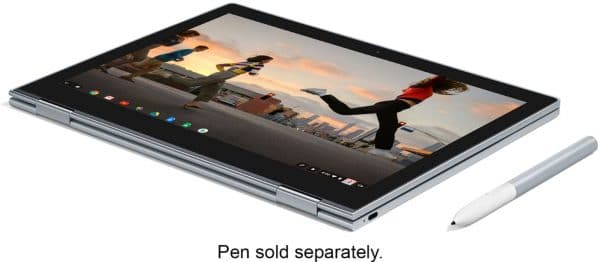 Some of the best features of the Pixelbook including the following:
Google by your side – Pixelbook has Google Assistant built in. It's accessible via the dedicated key on the keyboard, or just say "Ok Google" to wake it up and get it started. You can also access it by holding the button on the Pixelbook Pen, then tap the pen on the screen.
Beautifully versatile – At just 10.3mm, Pixelbook is Google's thinnest laptop ever. It has a lightweight aluminum construction to enhance portability as well as a 360° touchscreen and versatile 4-in-1 design. Whether you want to sketch or edit photos, stay productive with GSuite apps that Drive automatically backs to up to your device, or enjoy access to movies and TV shows, you'll be able to do it with Pixelbook.
Complete peace of mind – Chrome OS always has the latest security and features with software that automatically updates in the background. Plus, the Pixelbook starts up in under ten seconds (!), stays fast, and has a fast-charging all-day battery that gives you up to ten hours of life from a single charge.
Apps for work and play – Whether you're using the Pixelbook for work or play, you'll be able to accomplish it with Google's wide variety of apps including Drive, Docs, Sheets, Slides, Gmail, Photos, and more. You can also download your favorite movies from YouTube Red and Google Play Movies to enjoy even without Wi-Fi.
The Google Pixelbook is available at BestBuy.com. Plus, through 4/7 you can save $100 on your purchase! Head to BestBuy.com to see for yourself.