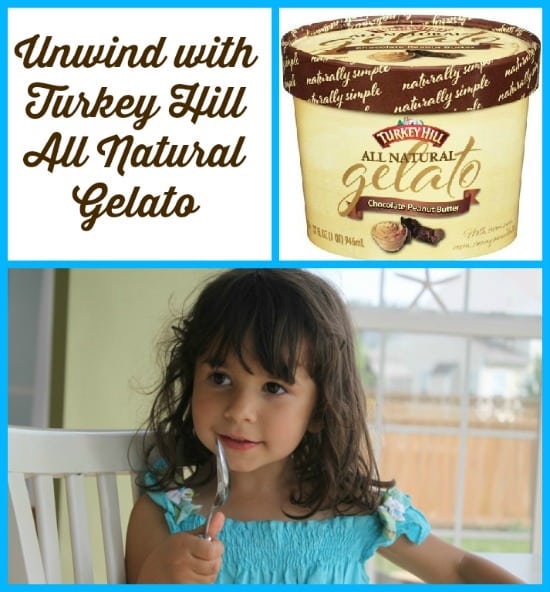 In the past 48 hours I have had to work, wash/dry/fold/put away around 10 loads of laundry, load and unload the dishwasher twice because of how far behind I let my dishes get, pack for two different road trips that I'm taking this weekend, AND pack for my first ever cruise that is leaving on Monday. Oh, and I've also had to run to the bank, schedule my dog for doggy daycare, stuff/address/mail over 100 invitations to my sister's bridal brunch, track down birth certificates, AND get my car alligned. SHEW. After all of this, and after months of eating super healthy to be ready for my cruise, all I wanted was a delicious dessert to satisfy my sweet tooth without a ton of guilt. My choice of snack? All Natural Gelato by Turkey Hill Dairy.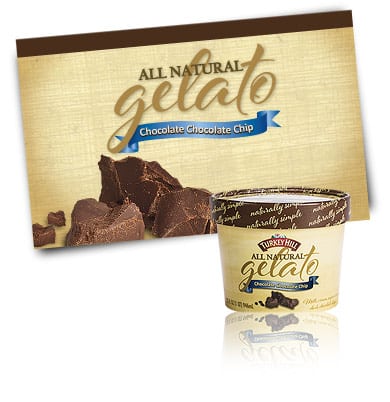 I found Turkey Hill All Natural Gelato at one of my local Kroger locations near the ice cream section. Did you know that Turkey Hill is the first major ice cream brand to offer an all natural gelato? There were several flavors to choose from including Peach Mango, Coffee Chip, and Hazelnut, but I grabbed a pint of Chocolate Peanut Butter and one of Sea Salted Caramel.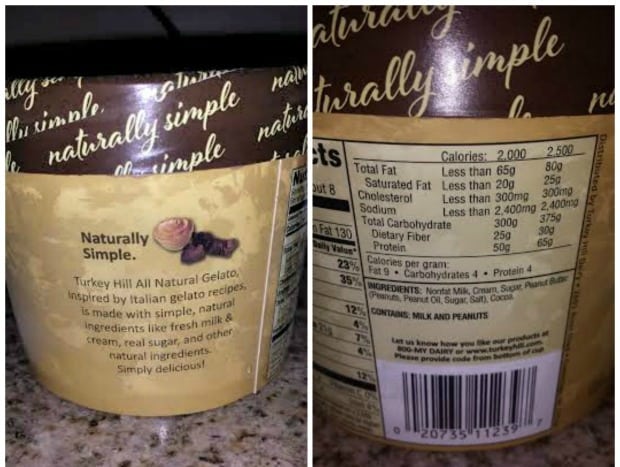 This was my first experience with All Natural Gelato, so of course I wanted to read the labels and figure out what set it apart from ice cream. Right off the bat I realied that I could pronounce all of the ingredients on the label. In fact, the label for the Chocolate Peanut Butter flavor only had a handful of ingredients (look at the label in the photo above)! All Natural Gelato is made with simple ingredients such as milk, cream, sugar, and vanilla. It has less air than ice cream too, making it a little less fluffy.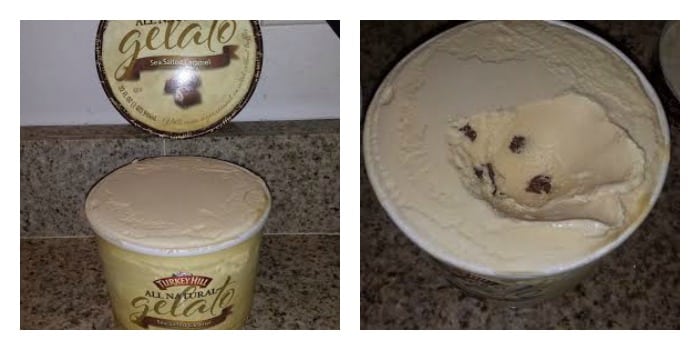 First, I tried the Sea Salted Caramel flavor. It was really easy to dish out. I didn't have to let it sit out or warm up my spoon, thankfully, meaning I could dig right in. I was pleasantly surprised that after just one scoop into the pint I could already see pieces of the sea salted caramel. Some other brands make you dig through practically the entire pint to find the flavoring, so that is definitely a plus. The taste was great, but if you're expecting an overwhelming flavor of caramel or the pleasant salty kick, you'll be disappointed. I think I had too high of expectations in my head with this flavor. While it was definitely delicious and I'll certainly be polishing off the pint within the next week or two, in my opinion it tasted like primarily vanilla ice cream with a few dashes of caramel. I didn't detect any sea salt in the flavoring whatsoever.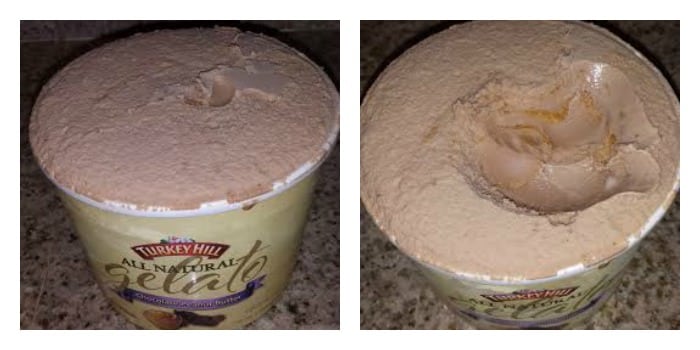 Of course I couldn't stop there. I HAD to try the second flavor to see if it was just as good… and to my surprise, it was even better! It seriously tasted like my favorite peanut butter cups melting in my mouth. One scoop into the pint and you could see the peanut butter mixed in. It dished out just as easily, and I'll be finishing this one off VERY quickly. This is one I'll have to hide from my husband for sure! It wasn't overwhelming, but it definitely lived up to the name. If you want an All Natural Gelato that has both the chocolate and peanut butter flavor in every bite, Turkey Hill does a superb job with it.
I think that my experience with Turkey Hill All Natural Gelato might have converted me from an ice cream girl to an All Natural Gelato girl. I love the simple ingredients. I love how you feel like you're eating a gourmet dish because of the textures. I especially love the delicious taste!
For more information on Turkey Hill All Natural Gelato, visit their website, Facebook page, or Twitter account. To get your hands on your very own pint of Turkey Hill All Natural Gelato, check out the Turkey Hill Product Locator Page!