This year, Universal Pictures brought us so many fun family movies! They are all available on Blu-ray, DVD and Digital just in time for holiday gift giving and for winter movie nights! What's even more fun is that we have an extra special Universal Studios Holiday Gift Basket Giveaway where one lucky Thrifty Jinxy reader will win all three of these movies, plus some awesome movie merchandise!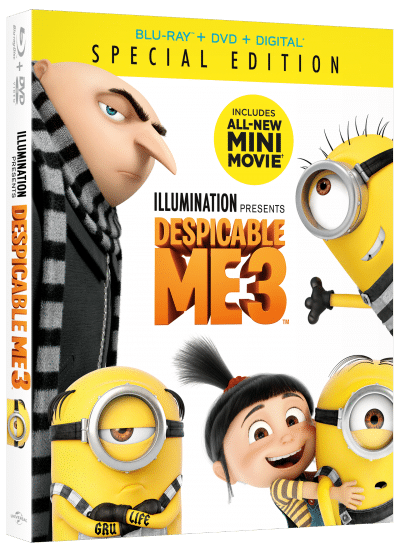 We are big Minions fans here and loved Despicable Me 3! In this newest movie, the characters beloved by everyone – Gru, his wife Lucy, their three adorable daughters (Margo, Edith and Agnes) and the Minions – provide hours of family fun in this heartwarming comedy. This special edition includes almost an hour of exclusive bonus features include an all-new mini-movie, Minion moments, and much more!
Illumination, the studio that brought you Sing, The Secret Life of Pets and the Despicable Me franchise, continues the adventures of Gru and his family in Despicable Me 3. After he is fired from the Anti-Villain League for failing to take down Balthazar Bratt, the latest evil mastermind to threaten humanity, Gru finds himself in the midst of a major identity crisis. But when a mysterious stranger shows up to inform Gru that he has a long-lost twin brother — a brother who desperately wishes to follow in his twin's despicable footsteps — the former super-villain rediscovers just how good it feels to be bad. Starring Steve Carell, Kristen Wiig, Trey Parker, Miranda Cosgrove, Dana Gaier, Nev Scharrel, Steve Coogan, Jenny Slate and Julie Andrews.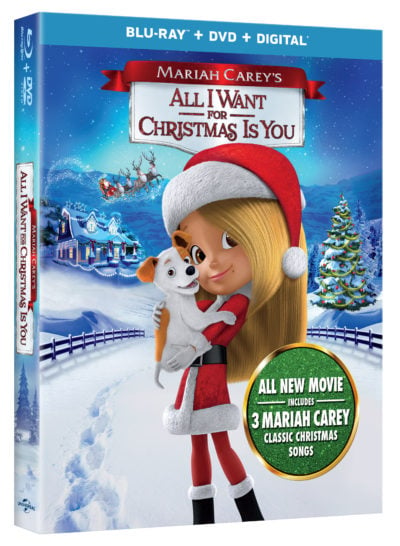 Mariah Carey's All I Want for Christmas Is You is an all-new animated family film follows little Mariah as she chases her dream of having a puppy of her very own, making her ultimate wish for Christmas come true! The film features an original song written just for the movie as well as three of Mariah's Christmas classics.
Can you believe it's been 23 years since Carey's "All I Want for Christmas Is You" single was first released? In that time it has sold more than 14 million copies! Her critically acclaimed picture book of the same name was published in 2015. And now you and your kids can enjoy this new holiday film! Check out the trailer here:
When Little Mariah (Yde) sees a darling little puppy named "Princess" at the pet store, she suddenly knows exactly what she wants for Christmas. Before her Christmas wish can come true, she must prove that she can dog-sit her uncle's dog, Jack, a scraggly rascal; in fact, the worst dog in the county! Jack turns Mariah and her family's perfect holiday preparations upside down in hilarious ways. It wasn't exactly the Christmas she wished for…it was more than she ever wanted. Based on the iconic Christmas song and popular illustrated book of the same name, Mariah Carey's All I Want for Christmas is You featuring Mariah's music and narration will be a family favorite for years to come.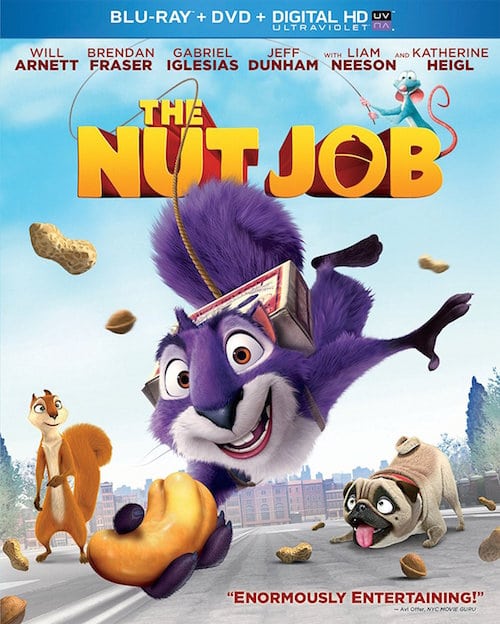 Last, but certainly not least, is THE NUT JOB 2: NUTTY BY NATURE. Surly Squirrel is off to more fun and crazy adventures with his friends.
Surly Squirrel (Will Arnett) and the gang are back. We are once again in Oakton where the evil mayor has decided to bulldoze Liberty Park and build a dangerous amusement park in its place. Surly and his ragtag group of animal friends band together to save their home, defeat the mayor, and take back the park.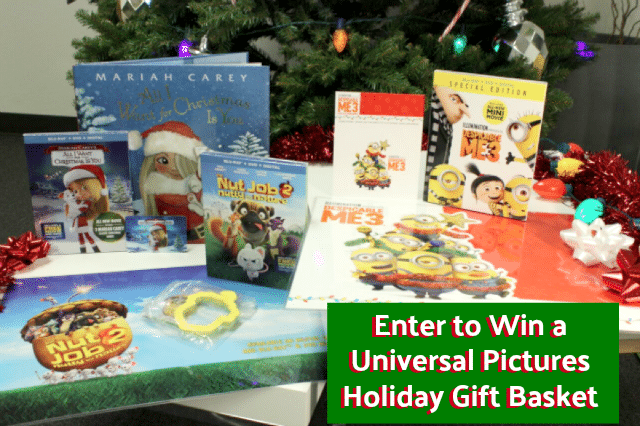 Reader Giveaway: One lucky Thrifty Jinxy reader will win a Universal Pictures Holiday Gift Basket containing the movies Despicable Me 3, Mariah Carey's All I Want for Christmas Is You and THE NUT JOB 2: NUTTY BY NATURE as well as some other awesome movie merchandise! To enter, just complete the entry form below by 11:59pm ET on 12/20/17. Good luck!