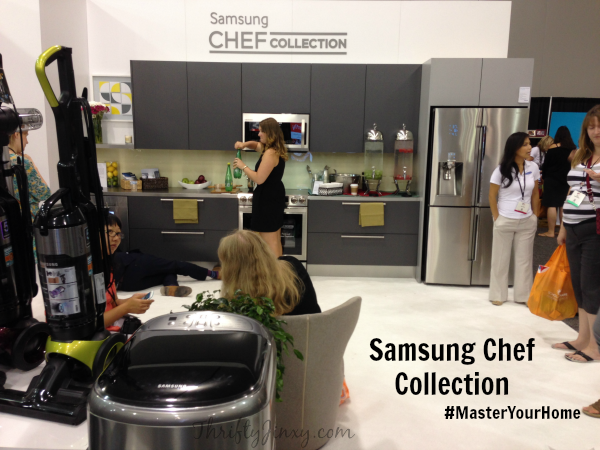 While visiting the Expo Hall at BlogHer in San Jose last week, I had the opportunity to check out the amazing new appliances in the Samsung Chef Collection.  Our philosophy at Thrifty Jinxy has always been to save on the everyday boring items so that you can spend your money on what matters to you.  If you love to spend time in the kitchen, like I do, then you will definitely want to explore the Chef Collection to make your kitchen even more of a haven.  There are lots of items in the new collection, but these are few of my favorites.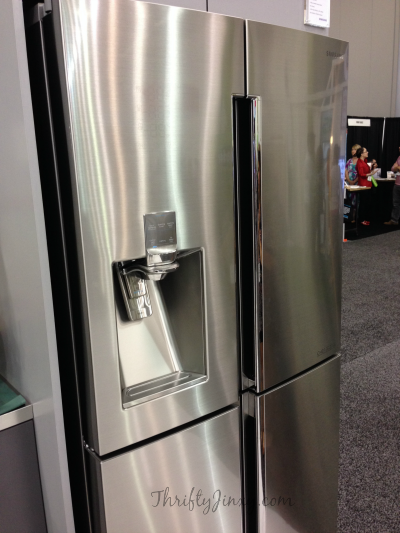 I have to start with the Samsung Chef Collection Refrigerator. This is like the king of refrigerators! It is packed with features and cool ideas I didn't even realize I needed until I saw them. For example, you can dispense sparkling water right from the door. They do this with a built-in SodaStream canister.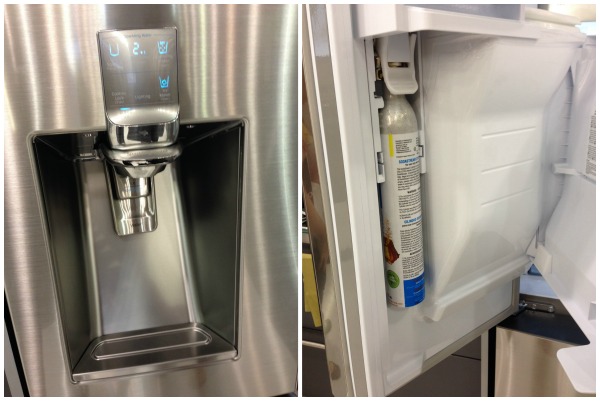 Another feature is the Chef Pan that can be used for marinating or chilling foods directly in the chef pan which can be transferred to the oven to cook.  A Chef Basket for foods like smoked cheeses and cured meats easily slides out of the refrigerator to take with you.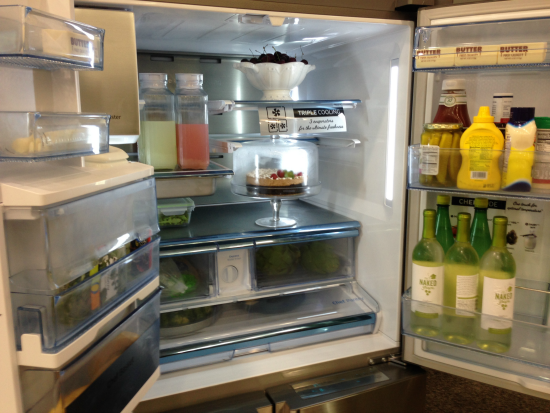 The lower part of the refrigerator features two separate doors which you can choose to function as either additional refrigerator space or as a freezer – depending on how much space you need.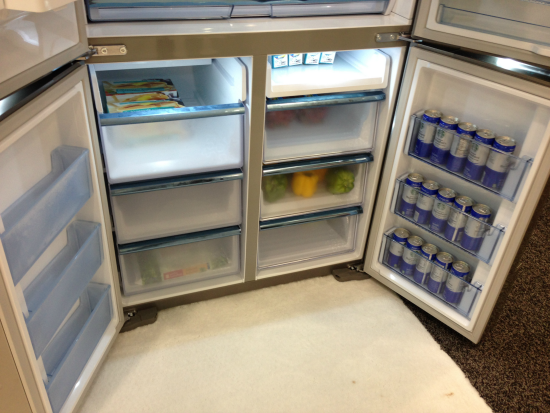 I'm a little bit shocked that I took only one picture of the Samsung Chef Collection Slide-In Electric Range with Flex Duo Oven since cooking is one of my favorite things -so this professional stock photo will have to do.  I think I was a little too amazed at the appliance itself to think about taking pictures at the time!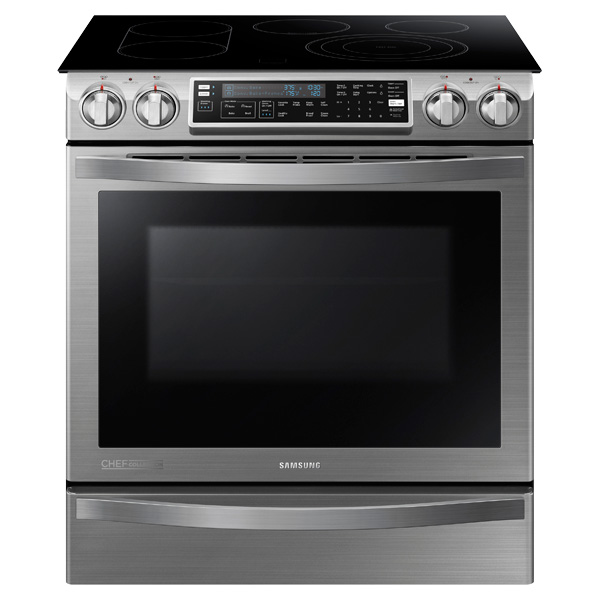 This thing is just LOADED with features and I want them all.  The most impressive is that the Flex Duo Oven lets you cook two dishes at different temperatures at the same time.  How cool is that?  But, if you want to just use it as one big oven, you can slide out the divider and cook all at the same temp.  Other features include a built-in probe to help with cooking meat and poultry and Dual Convection, which means more even cooking and saving up to 30 percent more time than conventional ovens.
It also features intuitive controls that offer simple, step-by-step instructions to choose cooking options with Guiding Light Controls.  It even lets you program in your favorite recipes and save them!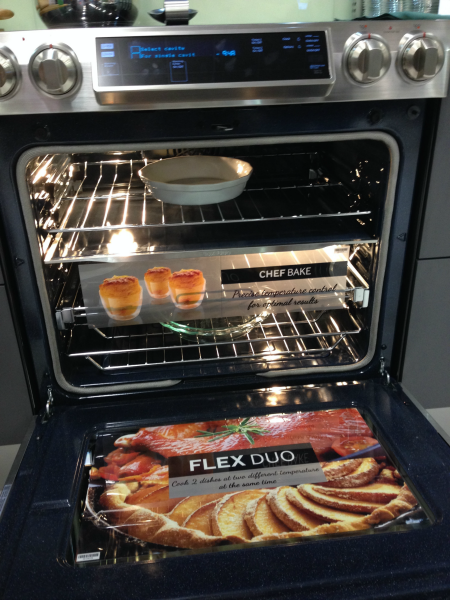 While I prefer the creating part of the kitchen over the cleaning up part, the job is much easier to approach when you have awesome tools.  That's where these next appliances come in.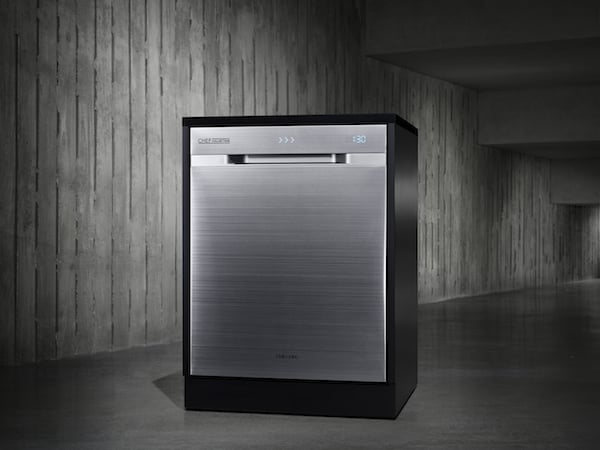 This dishwasher features an exclusive WaterWall Washing System.  That means a powerful wall of water gushes down over your dishes to get even the hard to reach places.  It uses maximum cleaning pressure that is 35% stronger than normal rotary wash systems.  Not only does it clean well, it can clean a LOT – washing up to 15 place settings in as little as an hour.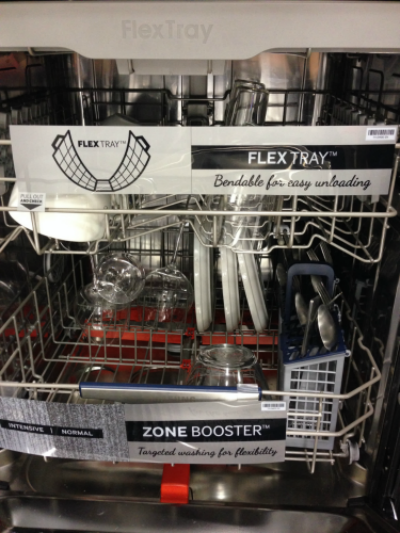 The dishwasher also has handy loading/unloading features like this removable Flextray which is perfect for oversized cooking utensils, serving spoon and measuring cups.  The top rack also adjusts to accommodate tall and oversized cookware.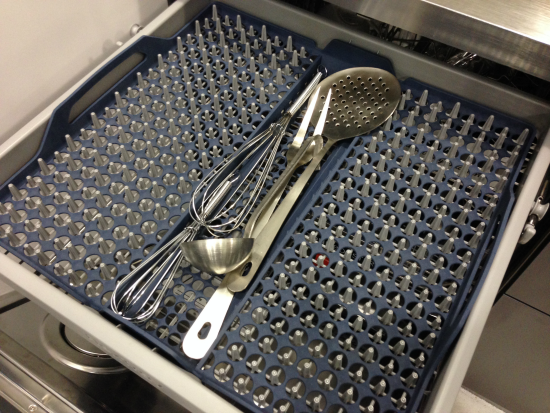 Last, but not least, in the cleaning area is this front-load laundry pair.  They are the world's largest washer and dryer with a 5.6 cu. ft. washer capacity and a 9.5 cu. ft. dryer capacity.  That means you can wash and dry four (yes, I said FOUR) baskets of laundry in a single load!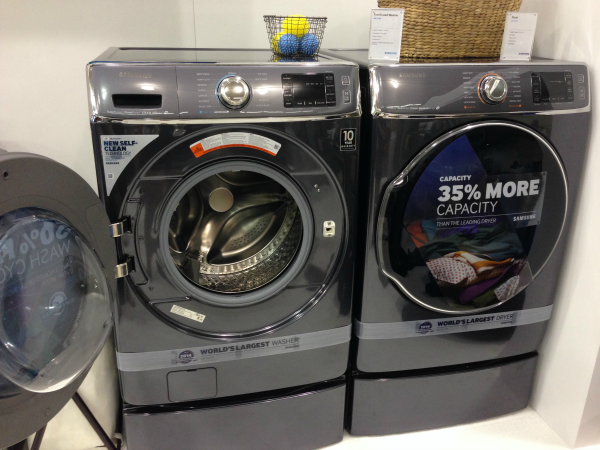 One of the many awesome features is SuperSpeed, which lets you shorten several of the wash cycles by 50 percent – meaning you can finish a load of laundry in 30 minutes.  It also offers a Steam Washer that helps remove stains with limited pre-treatment.  The Steam Dryer means you spend less time irony and make fewer trips to the dry cleaner.
So, what do you think?  Which of these appliances would you most love in YOUR house?