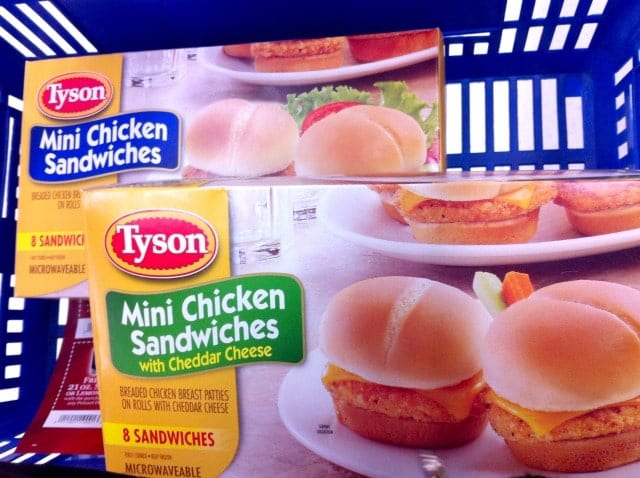 I was recently asked to try Tyson Mini Chicken Sandwiches and I was challenged to use them in a quick breakfast idea.  I'm familiar with many Tyson products, but haven't seen the Mini Chicken Sandwiches before.  I headed to Walmart to shop for them.
While at Walmart, I bought two boxes of the Tyson Mini Chicken Sandwiches (one regular and one with cheddar cheese), because there is a current offer to Buy 2 Tyson Mini Chicken Sandwiches at a participating Walmart and receive a $5 Walmart Gift Card.  Since the boxes were $5.14 each, it basically means that the second box was free.  You can print your own Tyson Mini Chicken Sandwiches Walmart Gift Card Offer form here.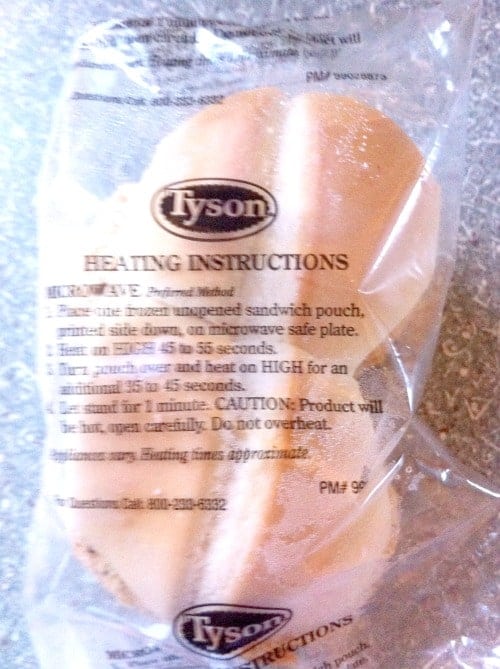 The next thing to do was to decide how I would make them into a breakfast.  I don't think I have ever had chicken for breakfast before.  But then I was hit with inspiration – a Chicken and Waffles theme!  I took that and made my own Monte Cristo Style Mini Chicken Sandwiches with Syrup.  To make them, I first had to cook the sandwiches.  The instructions are right on the bag (as well as on the box).  Just pop them in the microwave for about a minute, flip the bag and cook on the other side about a minute.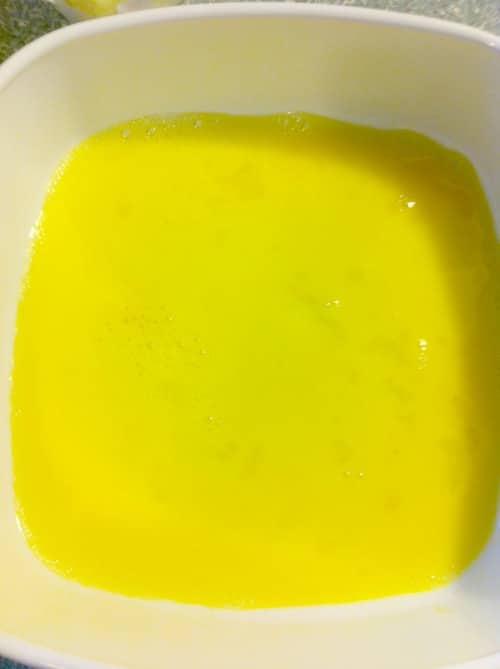 Next I mixed up a quick batter with just a whisked egg with 2 Tbsp of milk and a pinch of salt.  I flattened the sandwiches with my hand and then dipped them into the mixture, just like I was making french toast or a Monte Cristo sandwich.  Next, I melted a little butter in a pan and added the sandwiches to cook on each side until browned.
Once it was finished, I served them up with a little dipping cup of syrup.  They were surprisingly good!   Mario looked at it a bit skeptically at first, but then ate it right up.  To round out the meal, they can be served with orange slices or other fruit and a glass of milk.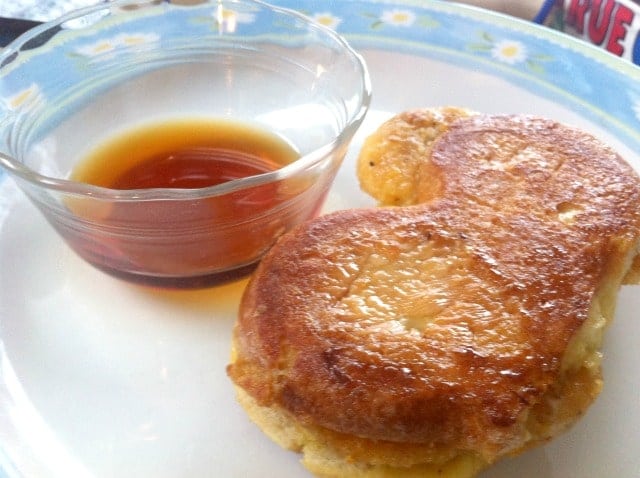 To find Tyson Mini Chicken Sandwiches at a Walmart in your area, visit TysonGoodness.com.
Disclosure: This shop has been compensated as part of a social shopper insights study for Collective Bias. #CBias Any opinions expressed above are my own.