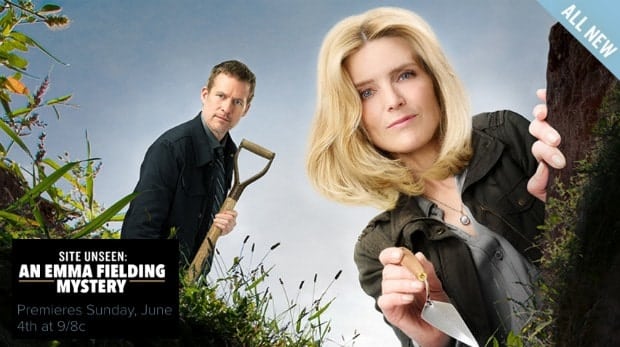 What are your plans for Sunday night? How about joining us for Hallmark Movies & Mysteries "Site Unseen: An Emma Fielding Mystery" at 9pm/8c this Sunday, June 4th! We have developed a bit of a routine watching our Sunday night mysteries while hanging out on Twitter using the hashtag #SLEUTHERS to discuss the movie, share our ideas of who the culprit might be and just have an all-around good time.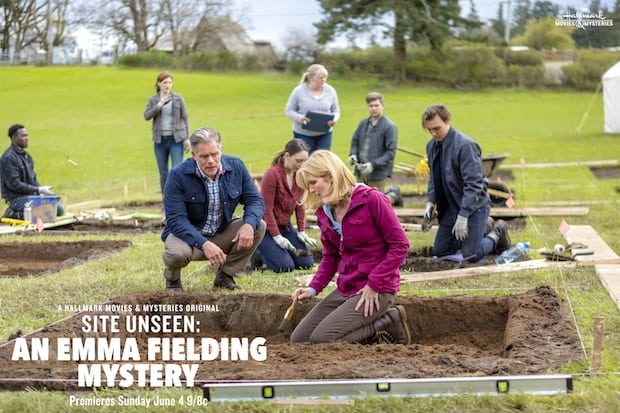 In "Site Unseen: An Emma Fielding Mystery", brilliant, dedicated, and driven, archaeologist Emma Fielding is trying to unearth evidence of a 17th century coastal Maine settlement that predates Jamestown, one of the most significant archaeological finds in years. But the dead body that accompanies it has embroiled Emma and her students in a different kind of exploration.
"Site Unseen: An Emma Fielding Mystery" stars Courtney Thorne-Smith and James Tupper. I can't wait to see Courtney in the role of Emma Fielding (amIright Melrose Place fans??) Courtney says about her character, "Emma Fielding is a lot smarter than I am. She talks a lot in archaeological speak, which is a lot like medical speak to try to learn, so I bumble through it. That's not easy. She was raised by a father who is an archeaologist so she is very determined to prove him right. He has a theory about an early settlement. So she is driven by not only her own drive but the desire to support her father."
The movie is based on the book "Site Unseen: An Emma Fielding Mystery" by Dana Cameron. If you want to get a preview of the movie, you can read an excerpt from the book HERE. But don't worry, there are no spoilers!
Be sure to tune in to Hallmark Movies & Mysteries for"Site Unseen: An Emma Fielding Mystery" this Sunday, June 4th at 9pm/8c. While you're watching, join us on Twitter using the hashtag #SLEUTHERS as we chat during the movie! (I'm @ThriftyJinxy)