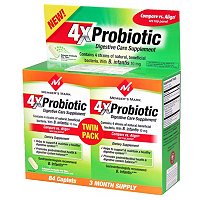 This week I took on a little challenge to shop for and try Member's Mark 4x Probiotic. To be perfectly honest, I really don't know much about probiotics. All I know is that they are related to digestive health.
In general I try to eat a healthy diet, but I know that doesn't always happen. Luckily I don't suffer from any type of digestive health issues (well, except for maybe after a day of eating at the Minnesota State Fair), so I haven't investigate this area further. Recently I learned that, in a nutshell, probiotics are bacteria that help to keep your digestive system healthy by . contributing to a healthy microflora and they support immune system function. Things like diet and stress can throw your digestive system out of wack and probiotics can help get things back into line.
Although I'm not experiencing any digestive health problems, I'm always up for trying something that may help my health, so I went shopping last week for Member's Mark 4x Probiotic at Sam's Club.  You can see my shopping trip below:
I'll be back again at the end of the week to let you know the results from my test of Member's Mark 4x Probiotic, but before then, there is a Twitter Party!
On Wednesday, September 7, you can join the #DigestiveHealth Twitter Party. You have a chance to win a $100 Sam's Club gift card or one of four sets of Member's Mark 4X Probiotic (3 month supply). RSVP for the #DigestiveHealth Twitter Party here.
Disclosure: This shop has been compensated as part of a social shopper insights study for Collective Bias. Any opinions expressed are my own.
**
If you like what you read, or have something to add, PLEASE leave a comment at Thrifty Jinxy! Thanks!**