Gone are the days of purchasing an expensive license to have Microsoft Word, Powerpoint, Excel, and more on your computer. All that you need to do to have access to a high quality word processor, presentation maker, and spreadsheets software is to download WPS Office, which is a full office suite solution! WPS Office has the best of the best singing its praises. PCWorld and CNET both label WPS Office as the "Best Microsoft Office alternative". The best part? The personal edition is 100% FREE to use and the business edition is very affordable.
Here's what you need to know about WPS Office 2016:
A complete office suite including Writer, Presentation and Spreadsheets
Officially supports English, Spanish, Portuguese, French, German and Russian.
Fully compatible with Microsoft Office and Google Docs/Apps
Loaded with extras including over 230 fonts and 100's of free templates
Collaboration tools including track changes, comments and spell check• 100's of formulas and advanced spreadsheet tools
Supports document encryption and read/write permissions
Full support for VBA/Macro
With Tabbed View feature, you can open, edit and manage multiple documents at the same time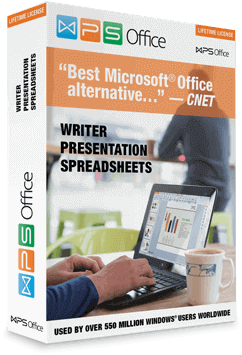 How does WPS Office 2016 stack up against the competition? In my opinion it blows the competition out of the water! You don't have to take my word for it, though. In an analytical comparison between WPS Office 2016, Google Docs, Microsoft Office Home & Business 2-16, and WordPerfect Office X7 Professional, WPS Office 2016 was a stand out in lots of categories. One of the biggest differences is that you can download WPS Office 2016 on your mobile device for absolutely FREE!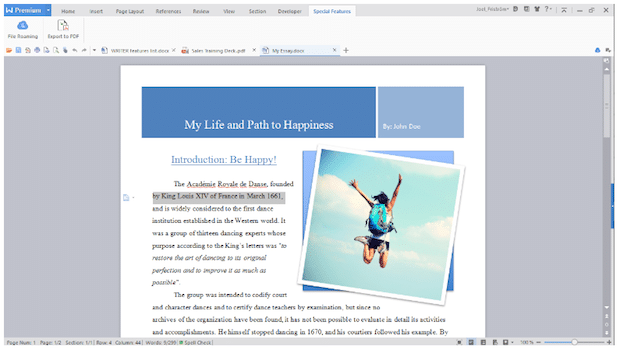 about WRITER…
Writer looks very similar to Microsoft Word so users shouldn't have trouble getting acclamated to the layout. It is 100% compatible with Microsoft Word, so you can open your .DOC and .DOCX documents easily and begin making changes. Choose from over 230 fonts and lots of templates plus make any formatting change you need such as font color, columns and tables, and more. You can even use Mail Merge or protect your document with a password! Here's something that WPS Office offers that other suites do not: Tabbed View. The Tabbed View feature lets you open, edit, and manage multiple documents at the very same time!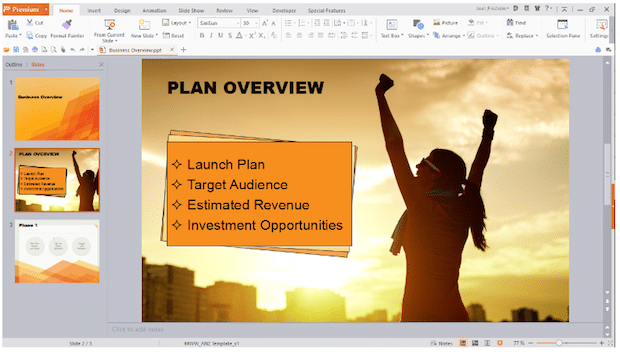 about PRESENTATIONS…
Presenations is 100% compatible with Microsoft Powerpoint which is great news. You can easily create or edit a presentation with WPS Office 2016 and not worry if it will load properly on the office computer that runs Powerpoint. If you're familiar with Powerpoint then you shouldn't have any trouble getting used to Presentations as the layout and formatting looks pretty similar.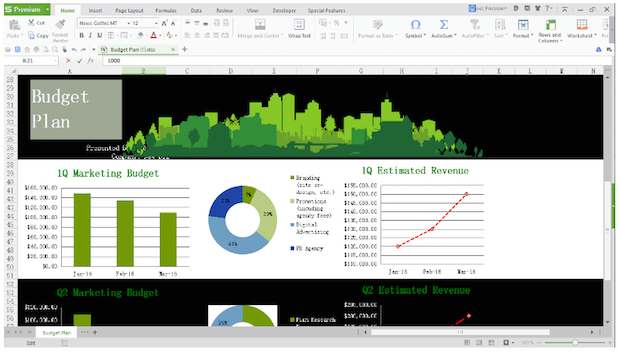 about SPREADSHEETS…
Spreadsheets is 100% compatible with Microsoft Excel. Now you can easily manage spreadsheets and budgets from computer to computer without having to save a file in a unique format. Spreadsheets comes with customizable charts, over 230 fonts, hundreds of formulas and functions, and more. WPS Office 2016 fully supports VBA which means you can create macros just like you can in Excel.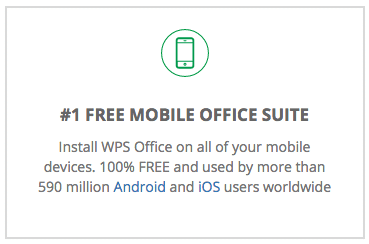 about THE APP…
You only need to download one app to get access to all of the programs – Writer, Presentation, and Spreadsheets. The app was voted the Google Play Top App of 2015 as well as the App Stores Top App of 2015. Open and edit your documents from popular cloud services such as Dropbox, OneDrive, Google Drive, and more, and then you can upload them right back to the cloud. This is perfect for busy folks on the go!
WPS Office 2016 offers a great value for any home or business. Whether you're making bake sale flyers, typing up a research paper, managing your household budget, compiling a presentation full of photos for a graduation, or some other task, WPS Office 2016 has just as much power to help you as Microsoft Office does and it offers it to you for FREE!
Ready to give WPS Office a try? Head over to wps.com to download the FREE Personal Edition or sign up for a FREE 30 Day Trial of the Business Edition!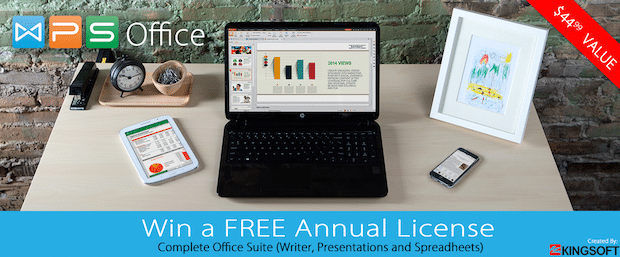 Reader Giveaway: Ten (10) lucky Thrifty Jinxy readers will each win full access to WPS Office Business Edition for 1 year, a$44.99 value. To enter, just complete the entry form below by 11:59pm ET on 3/28/16. Good luck!