The big, sweet baby in our family is our dog, Toby. The mail carrier, UPS guy, FedEx delivery and any strangers coming to our front door uninvited are rightfully scared by his ferocious barking and lunging at the door and think he must be a fierce monster. But friends and family who are invited in know that he is the biggest, sweetest, silliest and most lovable dog there is. Even our mailman knows that when he sees Toby when we are out walking away from our house in the neighborhood and NOT when Toby feels obligated to guard our house, he will be nice and friendly.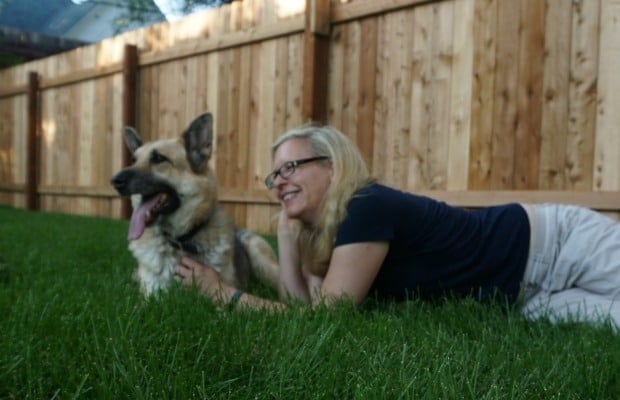 The one thing that Toby always wants to do is to be right next to us – basically as close as possible. I know he would love to crawl right up into our laps, but that isn't such an easy feat with a German Shepherd. I'm sure he wishes he were born as a toy breed so he could more easily cuddle up in my lap. I say "more easily" because he DOES like to cuddle in my lap despite his size. Toby wants so much to be near us that if he has the choice of a nice, soft dog bed across the room or the hardwood floor at our feet, he ends up on the hardwood floor. (At least until we get up and move his bed next to us. We want him to be comfy!)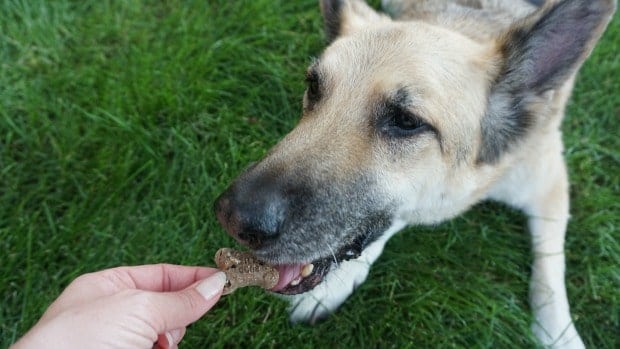 And as far as a companion is concerned, I spend more time with Toby than with any human. Since I work at home I'm with him all day long and then every evening and night when my husband gets home from work. My daily routine just wouldn't be the same without Toby. Every morning we take a long walk together and I think it just might be the best part of our day. And, since I have been trying to be more active throughout the day, Toby helps encourage me to take additional walk breaks throughout the day. It makes a big difference! Another health benefit that Toby provides is that he is a super playful dog and makes us laugh all the time. My hubby and I always say that he must be adding a few years to our lifespan because he is always making us laugh and they say laughter adds to your well-being.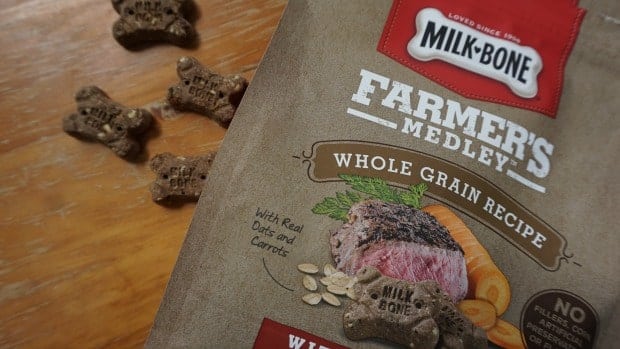 Since Toby gives us so much, we of course want to give back to him and make sure he is as healthy and happy as he can be. One way we do that is with treats he loves like Milk-Bone Farmer's Medley Whole Grain Recipe with Beef Biscuits. At night, just before bed, is when my husband takes Toby out for his last walk of the day. When he comes back from that walk, Toby knows that it is treat time! He comes RUNNING through the front door and straight to the kitchen. He has been loving his new treat of high quality Milk-Bone Farmer's Medley Whole Grain Recipe with Beef Biscuits.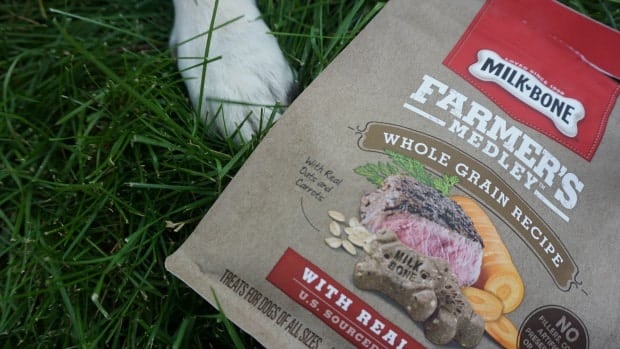 I like feeding Toby Milk-Bone Farmer's Medley because they are made with no fillers, corn, artificial preservatives or flavors. What they DO have is high quality ingredients, including real meat, which is sourced in the USA. If you prefer not to give your dogs grain, there are also two grain free versions. While we feed Toby a grain free food, he likes to have a bit of grain in his treats!
Since variety is the spice of life, your dog can enjoy 4 different flavors of Milk-Bone Farmer's Medley biscuits.
Whole Grain Recipe with Chicken Biscuits
Whole Grain Recipe with Beef Biscuits
Grain Free with Lamb & Spring Vegetables Biscuits
Grain Free with Turkey & Pumpkin Biscuits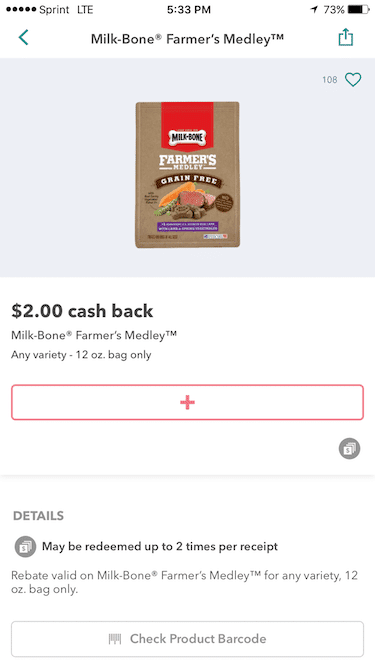 To buy one or all of the Milk-Bone Farmer's Medley for your dog, head to Walmart where you can use Ibotta to earn $2 with your purchase. If you're not already an Ibotta user, it's quick and easy to install and set-up on your smartphone.