Does your kitchen need an upgrade? Every time I watch a house remodeling show I drool over the brand new, beautiful kitchens, with modern and sleek looking appliances. Best Buy can help you get that amazing look and the features you've been dreaming of with brand new KitchenAid appliances. The all-new KitchenAid collection looks like what a chef would use, and functions like that too. Thankfully it doesn't cost what you would imagine chef-quality appliances to cost.
The two biggest and best features of the KitchenAid collection at Best Buy involve cooking and refrigeration.  A few of the things you'll be drooling over include:
All new slide-in downdraft range options in electric and dual fuel (more ways to cook your favorite dish!).
Even-Heat Technology means no more having to rotate your pan halfway through (we all forget to do that anyway, right?).
A baking drawer to keep dishes warm, cook slowly, or bake at a different temperature than the main oven.
Exclusive steam rack and steam bake options
Slide-in ranges that fit the traditional freestanding cut-out, giving you a seamless look and great cooking and baking.
More drawers for more possibilities with the NEW French Door Refrigeration system.  You can never have enough storage!
A 36″ French Door Bottom Mount Built-in Refrigerator
Soft close pantry doors, upgraded crispers, and undershelf lighting in the fridge.  Now you can see perfectly to grab that midnight snack, AND your spouse won't hear you thanks to those soft close doors. 😉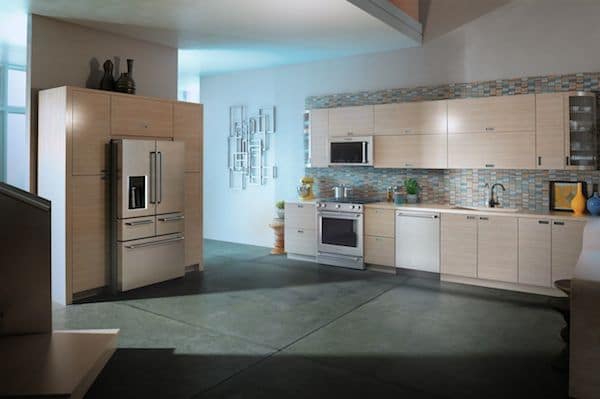 Best Buy is offering a few special promotions if you're interest in purchasing from the new KitchenAid collection.  You can score free delivery on purchases of $399 or more, plus you can choose between 5% cash back OR 18 months major appliance financing!  What KitchenAid goodies will YOU be adding to your home?
Head to your local Best Buy or visit the Best Buy Appliance Remodel/Refresh page to learn more!