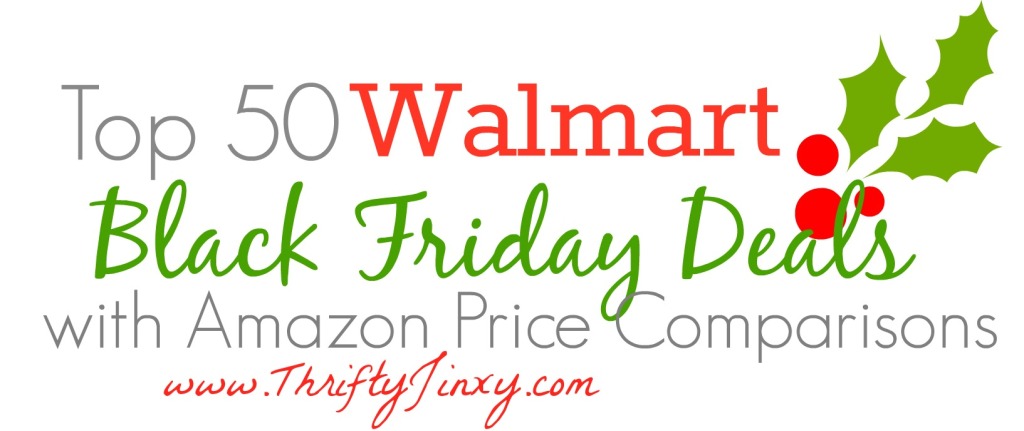 Walmart has lots of incredible Black Friday deals this year! Their sale begins at 6pm on Thursday, November 27th. We have included links to compare prices and check reviews on Amazon. If the exact item isn't available on Amazon, the link is for a similar item.
There are many prices that are already lower on Amazon than Black Friday prices! You could save yourself a trip to the store by shopping online this year. And Amazon prices will continue to drop as we get closer to Black Friday and Cyber Monday, so make sure and check the links before heading out to shop.
Here are what we feel are the top 50 deals at Walmart and you can check here for the full ad scan.

Electronics
1. GoPro Hero3 White Edition Camera — $199.00
Get $50 Gift Card with Purchase
Final Price: $149.00
–> Check Reviews and Compare Prices on Amazon
2. GoPro Hero3 Silver Edition Camera — $249.97
–> Check Reviews and Compare Prices on Amazon
3. iOn Air Pro Lite Camera — $99.00
–> Check Reviews and Compare Prices on Amazon
4. Nikon Coolpix L29 16.1mp Digital Camera — $47.00
–> Check Reviews and Compare Prices on Amazon
5. Canon Rebel T5 18mp DSLR Camera with 75-200mm Lens, Bag and 8GB SD Card — $449.00
–> Check Reviews and Compare Prices on Amazon
6. Canon Rebel T5i 18mp DSLR Camera with 300DG Bag, 16GB SD Card and 75-300mm Lens — $699.00
–> Check Reviews and Compare Prices on Amazon
7. Nikon D3200 24.2mp DSLR Camera with 55-200mm Lens and Bag — $499.00
–> Check Reviews and Compare Prices on Amazon
8. LG Blu-Ray Player — $35.00
–> Check Reviews and Compare Prices on Amazon
9. iPhone 5S 16GB Phone w/2-yr Contract — $79.00
Get $75 Gift Card with Purchase
Final Price: $4.00
–> Check Reviews and Compare Prices on Amazon
10. iPhone 6 16GB Phone w/2-yr Contract — $179.00
Get $75 Gift Card with Purchase
Final Price: $174.00
–> Check Reviews and Compare Prices on Amazon

11. Toshiba 1TB Hard Drive — $49.00
–> Check Reviews and Compare Prices on Amazon
12. Acer 11.6″ Laptop with AMD A4 Processor, 4GB Ram and 500GB storage — $199.00
–> Check Reviews and Compare Prices on Amazon
13. HP 15.6″ Laptop with Intel Celeron N2830 Processor and 4GB Ram — $159.00
–> Check Reviews and Compare Prices on Amazon
14. HP All-in-One Touch Desktop with 4GB Ram, 500GB Hard Drive — $349.00
–> Check Reviews and Compare Prices on Amazon
15. Roku 1 Streaming Player — $28.00
–> Check Reviews and Compare Prices on Amazon
16. Beats by Dre Drenched Solo On-Ear Headphones — $99.95
–> Check Reviews and Compare Prices on Amazon
17. Beats by Dre urBeats In-Ear Headphones — $89.95
–> Check Reviews and Compare Prices on Amazon
18. iPod Touch 16GB with Wi-Fi — $195.00
Get $30 Gift Card with Purchase
Final Price: $165.00
–> Check Reviews and Compare Prices on Amazon
19. Beats by Dre Pill Speaker — $99.95
–> Check Reviews and Compare Prices on Amazon
20. Apple iPad Air 16GB with Wi-Fi — $397.00
Get $100 Gift Card with Purchase
Final Price: $297.00
–> Check Reviews and Compare Prices on Amazon

21. Apple iPad Mini 16GB with Wi-Fi — $199.00
Get $30 Gift Card with Purchase
Final Price: $169.00
–> Check Reviews and Compare Prices on Amazon
22. Fitbit Flex Wristband — $69.00
–> Check Reviews and Compare Prices on Amazon
23. Huffy Boys' or Girls' 24″ Mountain Bike — $69.00
–> Check Reviews and Compare Prices on Amazon
24. Pulse Lightening 24V Electric Scooter — $69.00
–> Check Reviews and Compare Prices on Amazon
25. iLive Bluetooth Sound Bar — $35.00
–> Check Reviews and Compare Prices on Amazon
26. Vizio 29″ Bluetooth Sound Bar — $58.00
–> Check Reviews and Compare Prices on Amazon
27. Nabi 2 Nickelodeon Edition 8GB Tablet — $99.00
–> Check Reviews and Compare Prices on Amazon
28. Nextbook 8″ 16GB Tablet — $99.00
–> Check Reviews and Compare Prices on Amazon
29. Playstation 4 System — $399.00
Get $50 Gift Card with Purchase
Final Price: $349.00
–> Check Reviews and Compare Prices on Amazon
30. Xbox 360 4GB System — $99.00
–> Check Reviews and Compare Prices on Amazon

31. Xbox One Bundle with Halo: The Master Chief Game — $329.00
Get $30 Gift Card with Purchase
Final Price: $299.00
–> Check Reviews and Compare Prices on Amazon
Household Items & Tool
32. Black & Decker 133-pc 18V NiCAD Drill Set — $69.00
–> Check Reviews and Compare Prices on Amazon
33. Campbell Hausfeld 3-gall Air Compressor — $49.97
–> Check Reviews and Compare Prices on Amazon
34. Stanley 252-pc Mechanic Tool Set — $49.00
–> Check Reviews and Compare Prices on Amazon
35. Stanley Rolling Tool Chest + 68-pc Mechanics Tool Set — $79.00
–> Check Reviews and Compare Prices on Amazon
Toys & Baby Items
36. Trend EZ Ride Travel System and Infant Car Seat — $99.00
–> Check Reviews and Compare Prices on Amazon
27. Trend Nursery Center Playard — $99.00
–> Check Reviews and Compare Prices on Amazon
38. 14′ Trampoline Combo — $158.00
–> Check Reviews and Compare Prices on Amazon
39. Baby Alive Baby's New Teeth Doll — $10.00
–> Check Reviews and Compare Prices on Amazon
40. Barbie Ultimate Beach House — $35.00
–> Check Reviews and Compare Prices on Amazon
41. BMW 6V Ride On — $99.00
–> Check Reviews and Compare Prices on Amazon
42. Doc McStuffins 25-pc Deluxe Doctor Set — $35.00
–> Check Reviews and Compare Prices on Amazon
43. Select Disney Jumbo 28″ Plush Doll — $10.00
–> Check Reviews and Compare Prices on Amazon
44. Disney's Frozen 6V Quad Ride On — $49.00
–> Check Reviews and Compare Prices on Amazon
45. Radio Flyer Ziggle — $29.00
–> Check Reviews and Compare Prices on Amazon
46. Razor Ripster Casterboard — $29.00
–> Check Reviews and Compare Prices on Amazon
47. Step 2 Little Helpers Wagon — $19.00
–> Check Reviews and Compare Prices on Amazon
48. Thomas & Friends 5-in-1 Train Set — $20.00
–> Check Reviews and Compare Prices on Amazon
49. Vtech Go! Go! Smart Wheels Train Station Playset — $25.00
–> Check Reviews and Compare Prices on Amazon
50. Vtech Sit-t0-Stand Dancing Tower — $20.00
–> Check Reviews and Compare Prices on Amazon