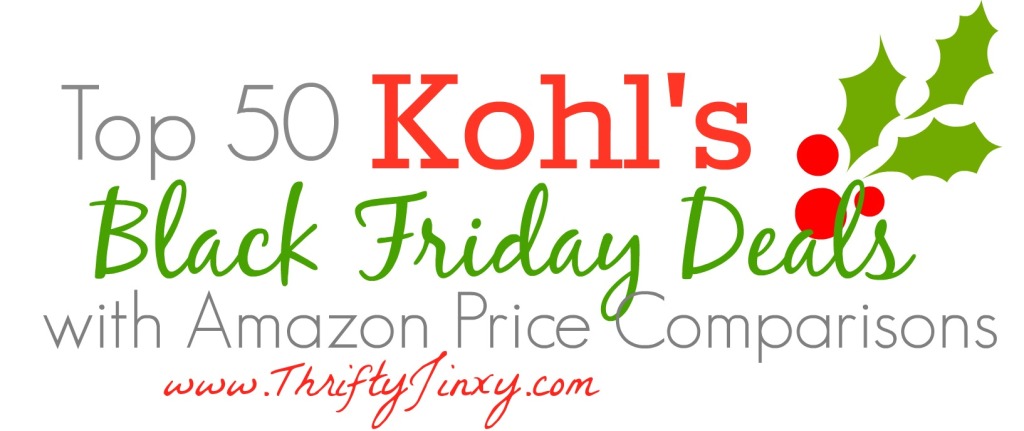 Kohls has lots of incredible Black Friday deals this year! Their sale begins at 6pm on Thursday, November 27th. We have included links to compare prices and check reviews on Amazon. If the exact item isn't available on Amazon, the link is for a similar item.
There are many prices that are already lower on Amazon than Black Friday prices! You could save yourself a trip to the store by shopping online this year. And Amazon prices will continue to drop as we get closer to Black Friday and Cyber Monday, so make sure and check the links before heading out to shop.
Also, Black Friday weekend at Kohls you can earn $15 in Kohls Cash for every $50 you spend! Here are what we feel are the top 50 deals at Kohls and you can check here for the full ad scan.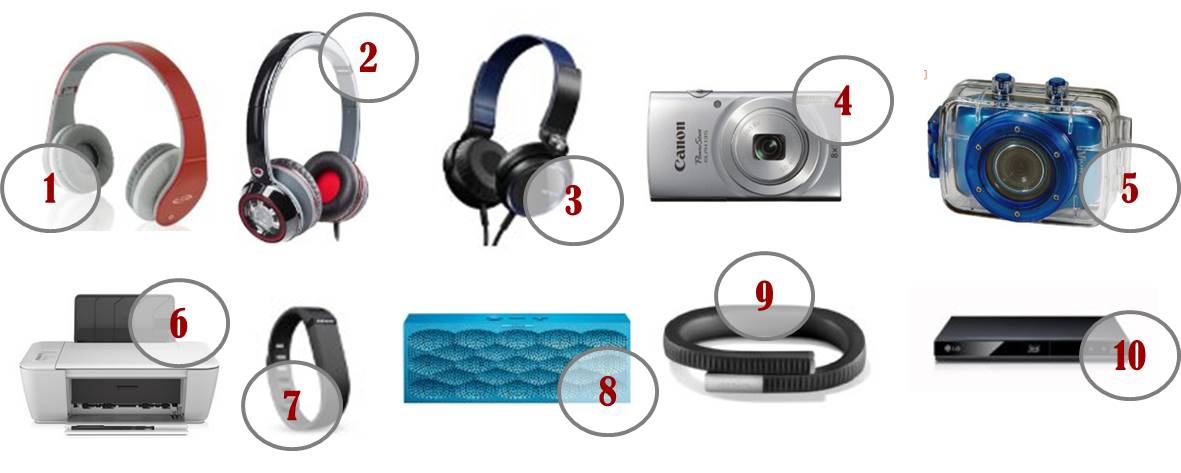 Electronics
1. iLive Bluetooth Headphones — $19.99
–> Check Reviews and Compare Prices on Amazon
2. Monster NCredible NTune On-Ear Headphones — $79.99
–> Check Reviews and Compare Prices on Amazon
3. Sony Extra Bass On-Ear Headphones — $29.99
–> Check Reviews and Compare Prices on Amazon
4. Canon PowerShot ELPH 135 16MP Camera — $79.99
–> Check Reviews and Compare Prices on Amazon
5. Vivitar 5.1MP Mini Sports Digital Action Camera — $49.99
–> Check Reviews and Compare Prices on Amazon
6. HP Deskjet All-in-One Wireless Printer — $29.99
–> Check Reviews and Compare Prices on Amazon
7. Fitbit Flex Wireless Activity & Sleep Wristband — $74.99
–> Check Reviews and Compare Prices on Amazon
8. Jawbone Mini Jambox Bluetooth Speaker — $99.99
–> Check Reviews and Compare Prices on Amazon
9. Jawbone Up24 Bluetoothe Activity Tracking Band — $99.99
–> Check Reviews and Compare Prices on Amazon
10. LG Blu-Ray Disc Player with Wi-Fi — $49.99
–> Check Reviews and Compare Prices on Amazon

11. Garmin Nuvi 52LM 5″ GPS — $79.99
–> Check Reviews and Compare Prices on Amazon
12. Beats by Dre Beats Pill Speaker — $179.99
–> Check Reviews and Compare Prices on Amazon
13. HP G2 7″ Tablet — $99.99
–> Check Reviews and Compare Prices on Amazon
14. Zeki 7″ Android Tablet — $49.99
–> Check Reviews and Compare Prices on Amazon
Household Items
15. Singer Vivo Sewing Machine — $49.99
–> Check Reviews and Compare Prices on Amazon
16. Disney Bath Wraps — $9.99
–> Check Reviews and Compare Prices on Amazon
17. Bella Deluxe Juice Extractor — $39.99
–> Check Reviews and Compare Prices on Amazon
18. Black & Decker 12-Cup Coffee Maker — $9.99
–> Check Reviews and Compare Prices on Amazon
19. Keurig K-Cups, 18 pk — $9.99
–> Check Reviews and Compare Prices on Amazon
20. Crane Cool Mist Humidifier — $39.99
–> Check Reviews and Compare Prices on Amazon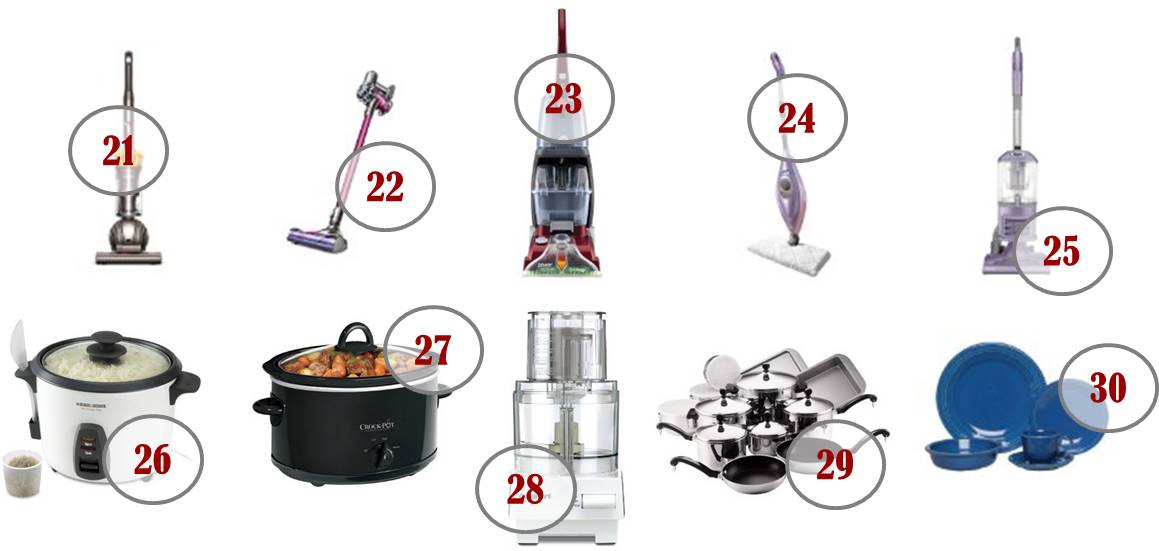 21. Dyson DC40 Origin Bagless Vacuum — $299.99
–> Check Reviews and Compare Prices on Amazon
22. Dyson DC59 Animal Vacuum — $349.99
–> Check Reviews and Compare Prices on Amazon
23. Hoover Power Scrub Carpet Cleaner — $129.99
–> Check Reviews and Compare Prices on Amazon
24. Shark Deluxe Steam Pocket Mop — $49.99
–> Check Reviews and Compare Prices on Amazon
25. Shark Navigator Swivel Vacuum — $119.99
–> Check Reviews and Compare Prices on Amazon
26. Black & Decker 16-Cup Rice Cooker — $9.99
–> Check Reviews and Compare Prices on Amazon
27. Crock-Pot 4-Quart Slow Cooker — $7.99
–> Check Reviews and Compare Prices on Amazon
28. Cuisinart 7-Cup Food Processor — $59.99
–> Check Reviews and Compare Prices on Amazon
29. Farberware 17-Piece Non-Stick Cookware Set — $59.99
–> Check Reviews and Compare Prices on Amazon
30. Fiesta 5-Piece Place Setting — $23.99
–> Check Reviews and Compare Prices on Amazon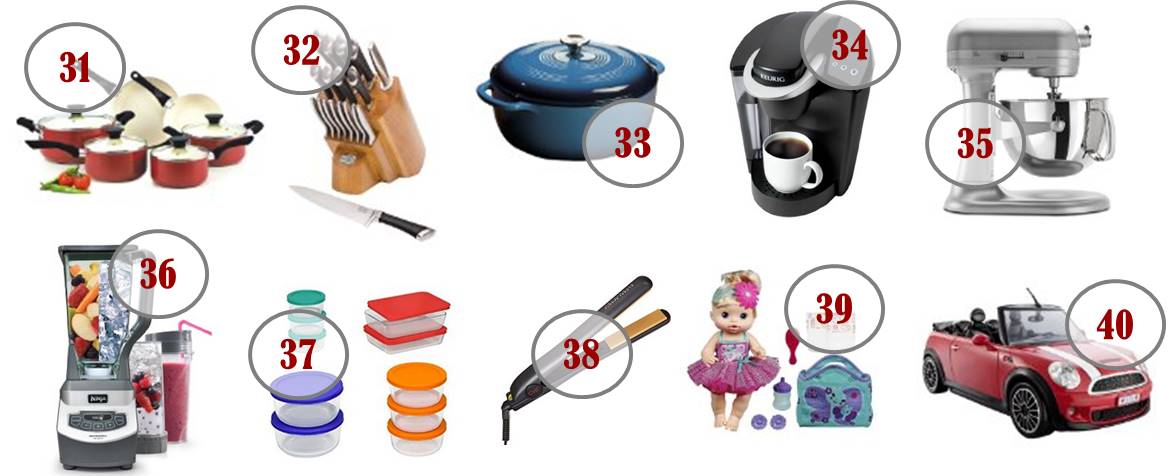 31. Food Network 10-Piece Ceramic Cookware — $89.99
–> Check Reviews and Compare Prices on Amazon
32. Food Network 18-Piece Cutlery Set — $49.99
–> Check Reviews and Compare Prices on Amazon
33. Food Network 5.5 Quart Enameled Cast Iron Dutch Oven — $39.99
–> Check Reviews and Compare Prices on Amazon
34. Keurig Elite K45 B40 Coffee Brewer — $99.99
–> Check Reviews and Compare Prices on Amazon
35. Kitchenaid Pro 600 Stand Mixer — $399.99
–> Check Reviews and Compare Prices on Amazon
36. Ninja Kitchen System with Extra Blending Jar — $119.99
–> Check Reviews and Compare Prices on Amazon
37. Pyrex 20-Piece Storage Set — $17.99
–> Check Reviews and Compare Prices on Amazon
38. CHI Air 1″ Ceramic Flat Iron — $69.99
–> Check Reviews and Compare Prices on Amazon
Toys
39. Baby Alive Twinkle & Play Fairy — $24.99
–> Check Reviews and Compare Prices on Amazon
40. Barbie & Ken Mini Cooper — $34.99
–> Check Reviews and Compare Prices on Amazon
41. Barbie Glam House — $39.99
–> Check Reviews and Compare Prices on Amazon
42. Discovery Kids Digital Camera — $19.99
–> Check Reviews and Compare Prices on Amazon
43. Doc McStuffins Doll & Doctor Set — $24.99
–> Check Reviews and Compare Prices on Amazon
44. Imaginext DC Super Friends Batman Batcave — $39.99
–> Check Reviews and Compare Prices on Amazon
45. Fisher Price Laugh & Learn Baby Grand Piano — $39.99
–> Check Reviews and Compare Prices on Amazon
46. Fisher Price Little People Wheelies Stand & Play Rampway — $39.99
–> Check Reviews and Compare Prices on Amazon
47. Hello Kitty Dance Time — $24.99
–> Check Reviews and Compare Prices on Amazon
48. Hot Wheels 10-in-1 Track Set — $29.99
–> Check Reviews and Compare Prices on Amazon
49. Little People Ride On — $24.99
–> Check Reviews and Compare Prices on Amazon
50. Madame Alexander Dollie & Me Doll — $24.99
–> Check Reviews and Compare Prices on Amazon