Count down the days until Christmas with these Top 10 Advent Calendars. From treats, to LEGO to ornaments there are many fun options to choose!
Advent calendars are such a FUN way to countdown to Christmas! They give you something to look forward to each day with a new surprise, and kids and adults alike both enjoy them!
Whether you're looking for a meaningful advent calendar, something you can fill yourself, or just a fun way to treat yourself during a hectic holiday season, here are some top advent calendars available right now. Enjoy!
Top 10 Advent Calendars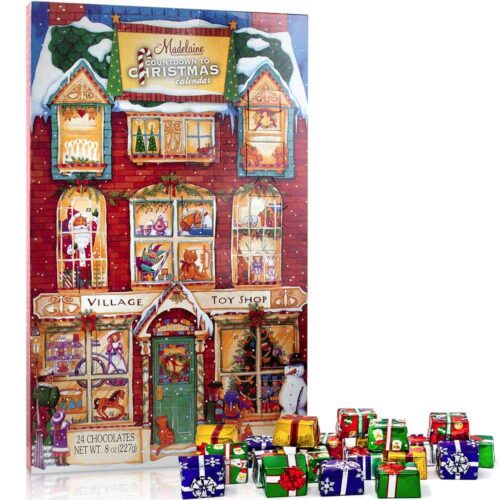 Madelaine Chocolate Advent Calendar with 24 Premium Milk Chocolates
If you want to go super traditional with your advent calendar, start with chocolate. This calendar features 24 chocolates wrapped in little packages, so you get to open a little gift each day! The corresponding window for each chocolate has a charming little Christmas rhyme to read as you enjoy your daily treat.
This calendar contains a whopping 8 oz. of milk chocolate, so these pieces aren't super small! One reviewer called this calendar "the Mercedes Benz of advent calendars" – I think that's a pretty ringing endorsement, don't you?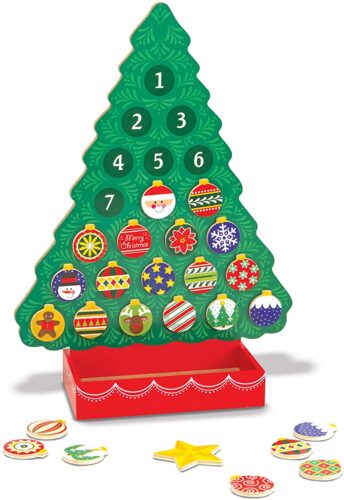 Melissa & Doug Countdown to Christmas Wooden Advent Calendar
This is my FAVORITE advent calendar for little ones. My family has one that we've used for years, and I LOVE to give this calendar as a gift!
The Christmas tree is wooden and magnetic, and all of the wooden ornaments sit in the tray at the bottom of the tree. Each day your kiddo puts a magnet ornament on the tree, counting down to the star at the top on Christmas Day. For those who are looking for a non-candy advent calendar, this is a fantastic option.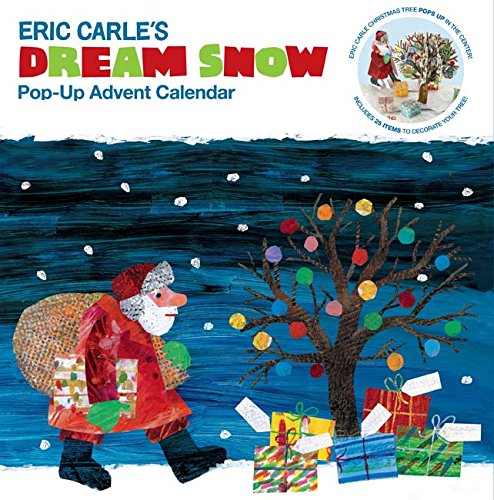 Eric Carle's Dream Snow Pop-Up Advent Calendar
This is another beautiful advent calendar for kids. The tree pops up (almost like a pop-up book) and each day you open a window to reveal a new decoration to add to the display. The final result is absolutely fantastic and colorful!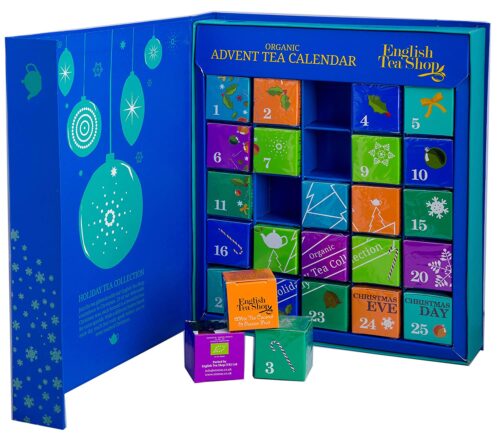 English Tea Shop Book Advent Calendar
Enjoy a nice cup of tea each morning or evening of Advent! Each day's box includes a pyramid tea bag with a variety of festive flavorful blends. Flavors include Candy Cane, Chai Immune Boost, Peppermint Melon, Christmas Cake, White Tea Lychee Cocoa, and more.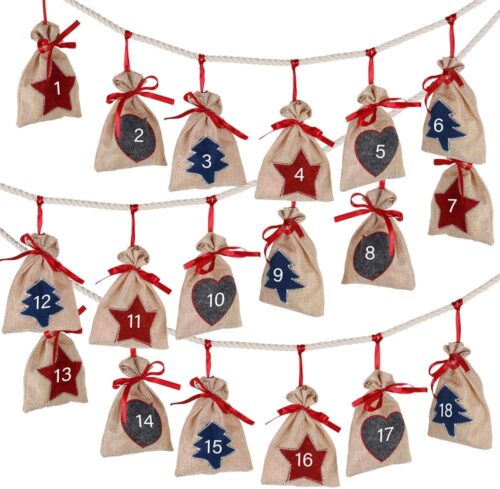 Burlap Sacks Hanging Advent Calendar
Want to fill your own advent calendar? This advent calendar has individual burlap sacks and is designed like a garland. Each bag comes with a red ribbon for closing.
Fill the burlap sacks with candy, small treats, toys, notes about special Christmas activities, or whatever you can think of!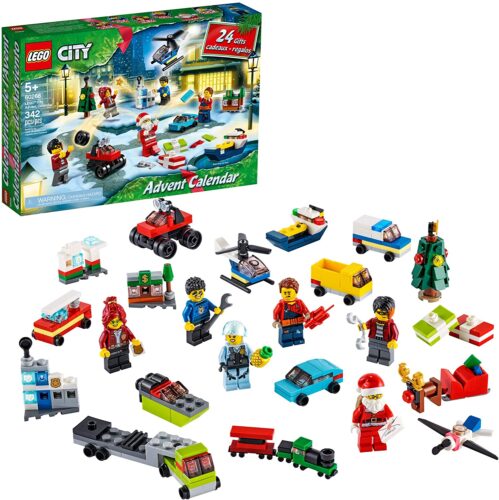 LEGO comes out with several different advent calendars each year, but I especially like this one because it has a Christmas theme. It includes seasonal mini-builds and a snowy city playmat where kids can build their own Christmas scenes.
Each build comes with easy-to-follow building instructions for your child to have some independent fun each day.
If you're looking for the best deal, be sure to see the LEGO Advent Calendar Best Price Promise from Zulily!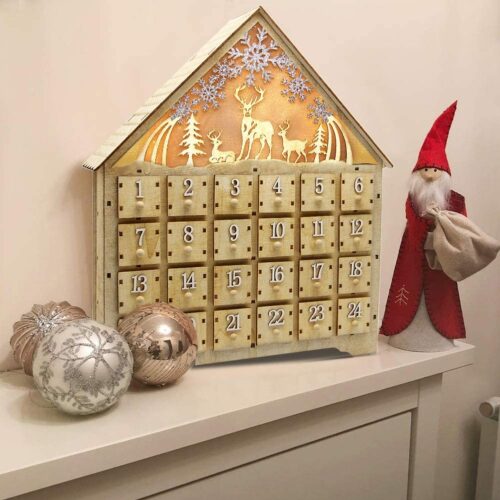 Wooden LED Lighted Advent Calendar with Drawers
Here's another advent calendar you can fill yourself each year. It comes with 24 small wooden drawers and is backlit by battery powered LED lights. The neutral colors would blend in so nicely with your home decor! Plus, it's not too "cutesy" so you should be able to use it year after year. Fill the drawers with small candies, notes, trinkets, or whatever you can think of.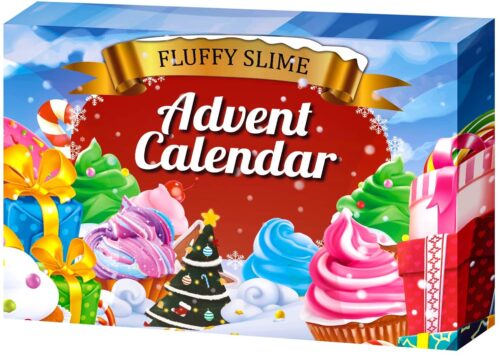 DIY Fluffy Slime Advent Calendar
It can be tough to find advent calendars for older children who aren't quite ready for adult things yet…how about slime? Each day's compartment comes with fluffy slime or accessories to mix in – foam beads, glitter, charms, and more. So fun!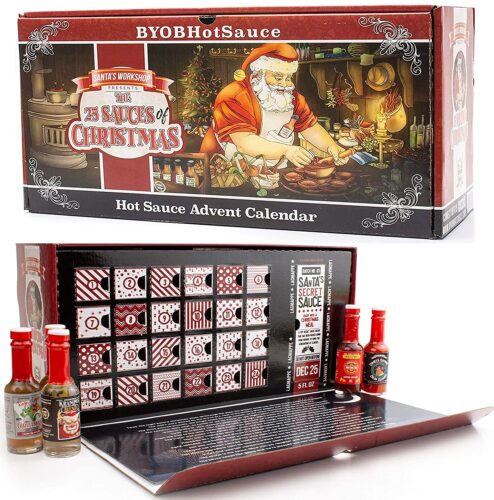 My husband would LOVE this advent calendar – he is super interested in trying different hot sauces! There's a lot of variety in this calendar. Each day's bottle is 2-oz, and the Christmas bottle is even bigger.
I'm guessing you won't be able to consume 2 oz of hot sauce each day, so this will be an advent calendar that can be used for quite a while!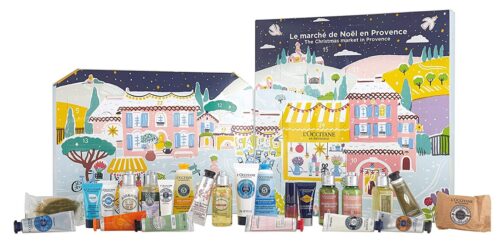 L'Occitane Signature Holiday Advent Calendar
Treat yourself to an amazing beauty product each day! Each day's window opens to reveal one of L'Occitane's highly rated products. Here's a sampling of what you'll get:
L'Occitane Shea Butter Ultra Rich Lip Balm
L'Occitane Cherry Blossom Hand Cream
L'Occitane Verbena Shower Gel
L'Occitane Shea Butter Foot Cream
L'Occitane Lustrous Hair Mask – SOS Shine
and LOTS more!
Which advent calendars are your and your family's favorites? If you fill your own advent calendar, what do you like to put in it?