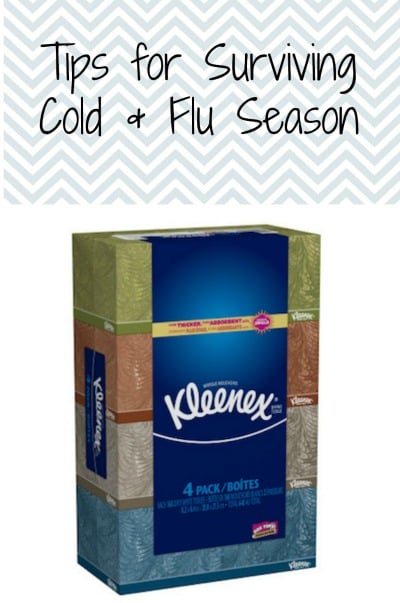 It's that time of year when we are super busy running around and trying to prepare for the holiday season. With shopping, cooking, school performances, church activities, traveling to see friends and family and more, the last thing you want to do is come down with a cold or the flu. But, chances are that at least one person in your family will be under the weather at some point during the coming months.
To help prepare we have some helpful tips from www.Kleenex.com:
Tips for Surviving Cold & Flu Season
1. 96% of school nurses agree that when a child comes to school sick, other children tend to catch his or her virus.
2. The Center for Disease Control recommends facial tissues as one of the key strategies to minimize cold and flu viruses.
3. Every year, the U.S. alone reports more than one billion colds and 35 – 50 million flu cases.
4. Boost your immune system with Vitamin D – enjoying a little sunshine can help.
5. To help reduce your fever, put wet towels around your shoulders instead of your forehead.
6. Avoid using humidifiers when you're sick – they can actually spread the flu germs.
7. Not all liquids hydrate equally – stick to water, herbal tea and fruit juice when you're sick.
8. All colds are contagious, regardless of mucus color.
You can visit www.Kleenex.com to find additional tips and advice to prepare your homes for what's ahead, and useful information to help you avoid the last minute trips to the store so that you can care for their family when someone gets sick.
Since you don't feel like doing anything strenuous when you're sick, and that definitely includes going to the stores while they are packed with holiday shoppers, it's a good idea to be stocked up on cold and flu survival supplies at home. You will want to have everything you need, like medications, cough drops, your favorite tea and Kleenex right there on hand. When you pick up your Kleenex, check out and stock up on Kleenex brand's new thicker and more absorbent everyday tissue, which provides exceptional hand protection by helping to keep hands clean and dry.
Visit www.Kleenex.com and use their super cool calculator that helps you predict how many boxes of Kleenex your family will need between fall and spring. Once you calculate, you can also print a coupon to save on your next purchase of Kleenex® Brand Tissues.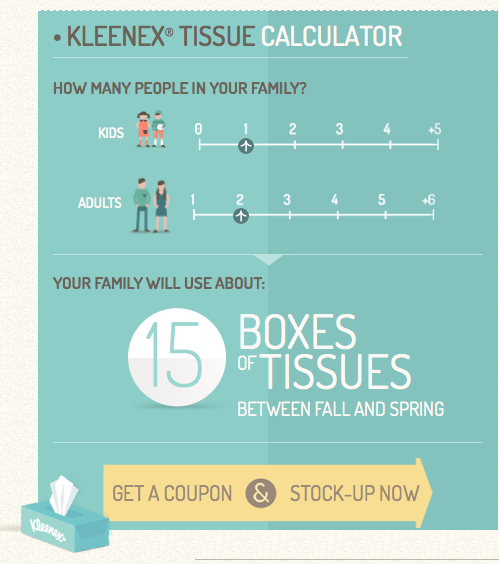 Do you have any tips for surviving cold and flu season?