The offer below is no longer available, but you can still find ALOHA superfood products HERE!
Do you remember ALOHA's popular Free Trial Smoothie Kits that we wrote about a few months ago?  They were so popular that ALOHA ran out of stock and many of you didn't get a chance to grab them.  Good news — they are BACK!  Each nutritious smoothie pouch is full of quality ingredient and they make excellent meal replacements of post-workout snacks.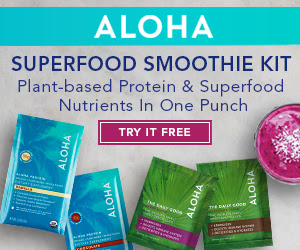 Right now you can score a FREE Trial of Superfood Smoothie Kit, which includes 2 ALOHA Protein Packs in Chocolate & Vanilla and 3 Daily Good Greens Pouches filled with fiber, superfoods, and Vitamin D.  Pay only $4.79 for shipping and handling. 7 days after receiving your free trial, you'll be enrolled in their monthly service, but you can cancel any time.  Sign up for your FREE Trial of ALOHA Smoothie Kits today!