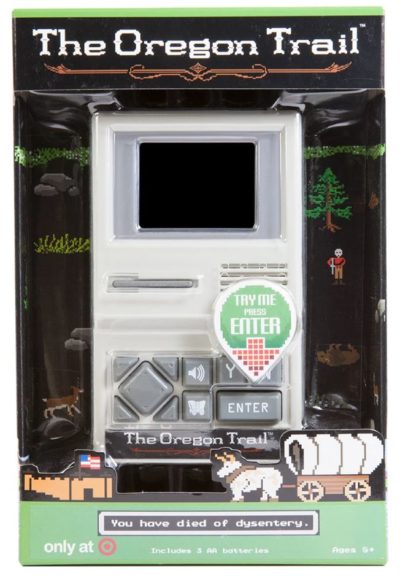 Chances are that if you remember any part of the 80s, you're old enough to have played The Oregon Trail. (I LOVED that game!) Now you can revisit those childhood memories with The Oregon Trail Handheld Game for just $10 from Target.com!
Don't forget to save an extra 5% and get FREE shipping when you use your REDcard to pay.
Are you ready for a taste of the wild West? Follow The Oregon Trail in this classic computer game that outlines famous events in history as you journey across the realities of what life was like for a 19th-century pioneer on The Oregon Trail.

The sleek designed handheld game is one of the most successful & easy to play computer games of all time! Start the game by choosing your profession and traveling companions as you set out on the trek from Independence, Missouri to Oregon's Willamette Valley circa 1848.

This version of the game features authentic 80's graphics as you travel on your American journey & fill your wagon with supplies. Prepare to cross rivers and mountain ranges along the way as you hunt for food & trade supplies along the trail.

The Oregon Trail is a fun game with various endings! Monitor your traveling pace, supplies and the health of your party closely to make sure everyone arrives safely. Featuring authentic 80's graphics, sounds and game play!
Get yours HERE!