Any of you readers who have been around Thrifty Jinxy for a while may remember when I told you about the young-adult chick lit novels The Debs and Love, Lies, and Texas Dips by Susan McBride. Although I thoroughly enjoyed these novels aimed at the young-adult audience, I'm happy to announce that Susan is back with a new novel for those who have graduated and dropped the "young" from young-adult – The Cougar Club.
Meet three women who aren't about to run and hide, just because the world says they should be on the shelf and out of circulation:
Kat Maguire: her life seems perfect until she loses her high-powered advertising job and catches her live-in lover in a compromising position—with his computer!
Carla Moss: this sexy TV news anchor is in danger of being replaced by a twenty-something blond bimbo. Wasn't it just yesterday that she was the up and coming star?
Elise Randolph: a married dermatologist, Elise thinks her plastic surgeon husband is playing doctor with someone else.
Kat firmly believes that aging gracefully isn't about giving up; it's about living life with your engine on overdrive. So this unofficial "Cougar Club" quickly learns three things about survival of the fittest in today's youth-obsessed society: true friendship never dies, the only way to live is real, and you're never too old to follow your heart.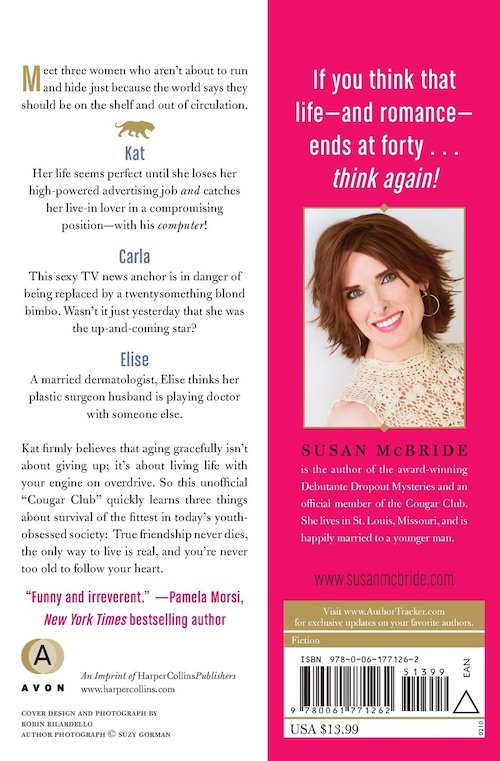 It has been a few months since I read The Cougar Club. I was waiting until after publication to post my review, but there was no way I could wait that long to read it. (Next time I will remember to write my review right after I read it and NOT wait until I'm ready to post.)
Anyway, to get back on track. as with all of Susan McBride's books, I had great fun reading. I love chick lit, but often find that it is aimed at the 20-something crowd. Having a book for those of us "around 40" is a treat.
I'm sure Kat, Carla and Elise would agree. Although lifelong friends since childhood, each of the three main characters has a very different personality and life experience. And while each are in different stages of relationships, they are all on the same quest to both be themselves AND to be loved.
The Cougar Club is extremely engaging with characters you want to learn more about….now I'm waiting for the sequel!