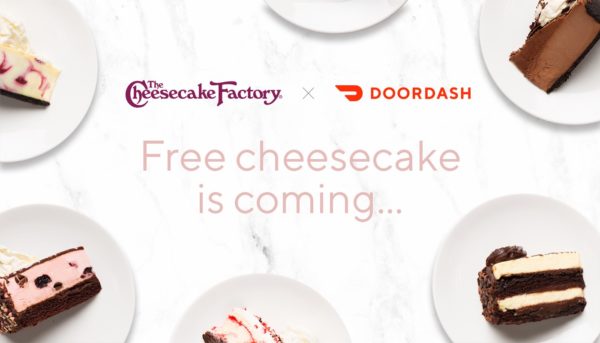 I loooooooove cheesecake. To be honest, it's probably my favorite food! On Wednesday, December 5th, DoorDash is partnering with The Cheesecake Factory to give away 40,000 slices of FREE cheesecake in celebration of their 40th anniversary.
Note that this is only available through the DoorDash app and website when you use the coupon code FREESLICE at checkout. This offer will start on 12/5/18 at 11:30 am local time and will be available while supplies last. No delivery fees, service fees, or subtotal minimum is required – it will be TOTALLY free!
Unfortunately, The Cheesecake Factory doesn't deliver via DoorDash to my address (too far away), so I'm hoping it will for you. 🙂 And if you do get your free cheesecake, enjoy!
For more information, visit the DoorDash blog.