Tea Collection always the cutest clothing items for kids. Now they have a bunch of new items for you to ogle with a new season with Tea Collection's New Bauhaus Inspired Kids Fashion in the Tea Collection's new arrivals! These new styles are inspired by Germany's early 20th century school of Bauhaus, which became famous for its radical union of art and design, and transformed everything from architecture to music. My college had buildings in the Bauhaus style, which I honestly wasn't crazy about, but when it comes to clothing, they look awesome! Tea Collection's new arrivals feature bold primary colors and modern geometric shapes; fairy tale romance meets art nouveau.

Tea Collection's New Bauhaus Inspired Kids Fashion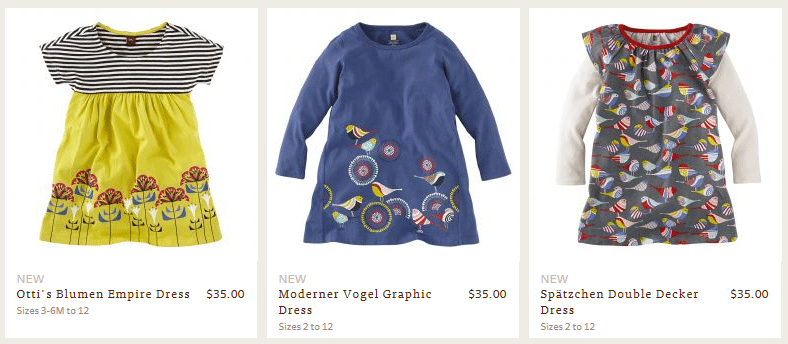 For little girls, I love the collection of dresses with bright and bold prints. The stripes on the first dress above contrast so cutely with the bright flowers on the skirt. I'm also digging the German names of these dresses. (Just don't ask me to try to pronounce them!)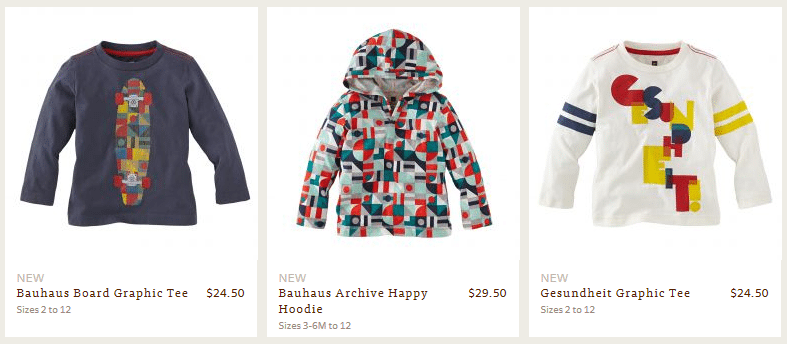 For boys, the designs are even more bold and graphic. They have Ts and hoodies with lots of awesome prints and designs. And I DO know how to pronounce Gesundheit!
While Tea Collection clothing definitely isn't the least expensive out there, it is very HIGH QUALITY.  This clothing can last through even rough and tumble kids and still be ready to pass on to little brothers, sisters and cousins.  Plus they use ethical sourcing practices and use a portion of their profits to help those less fortunate.  It's a brand you can feel good about buying.
Ready to shop?  All of these new items are the perfect combination for little ones ready for fun and adventure, and perfect for back-to-school too! Go take a peek at the Tea Collection's new arrivals today!