Tastefully Simple understands that there are certain delicious baked goods that people want to eat, even if they are on a gluten-free diet. They have leant a helping hand by adding four gluten-free products to their offerings.
The first Tastefully Simple product I was ever introduced to was their Bountiful Beer Bread Mix® and it's a popular favorite. They now offer a Gluten-Free Beer Bread Mix as well. All you have to do is add gluten-free beer and an egg, then bake! Also available are the Gluten-Free Cinnamon Apple Cake Mix and the Gluten-Free Vanilla Bean Pound Cake Mix.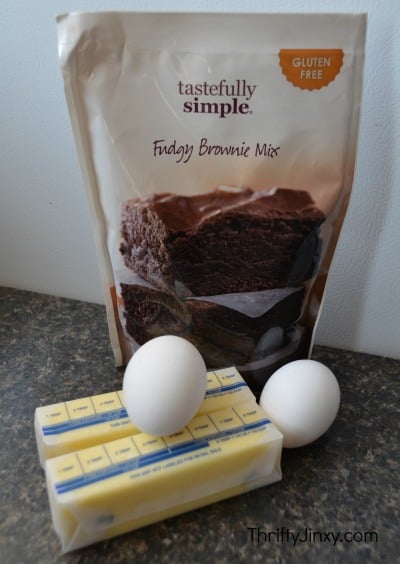 The product that I personally tried is the Tastefully Simple Gluten-Free Fudgy Brownie Mix. I have to admit that when Tastefully Simple asked me to try one of their gluten-free mixes I was more than hesitant. I don't eat a gluten-free diet and whenever I have tried a gluten-free product in the past I haven't liked it. You can just ask my Mom and sister. Whenever I end up with an opened package of a gluten-free product I have just tried and don't like, I try to pawn it off on them. I hate to see food go to waste even if I don't like it!
So, as I said, I did not have high hopes for the Gluten-Free Fudgy Brownie Mix, but I agreed to go ahead and give it a try. Making the brownies was really simple. All I had to do to prepare them was to simply add 2 eggs and 3/4 cup of butter (1 1/2 sticks). I stirred it up, spread it into a greased baking dish and popped it in the oven.
What emerged were crispy on the top, gooey in the middle fudgy brownies. Even though they looked good I was still reluctant to try them. But, when I did I was happily surprised. They were definitely better than any gluten-free treat I have had in the past with a very moist, chocolatey flavor. Tastefully Simple did a good job with this mix.