I totally love the tastes of salty and sweet combined. I guess it makes sense if you love sweets and you love salty snacks, than combining the two makes it twice as good!! So, I was excited to try a Chocolate Pretzel Pizza from Sweet Secrets Chocolate.
While they make Chocolate Pretzel Pizzas all year round, for Valentine's Day Sweet Secrets makes a special heart-shaped pizza! It starts with a "crust" made of delicious chocolate and crunchy pretzel pieces. Next, they load it with an amazing assortment of toppings including broken sugar cones, sugar-coated chocolate candies, chocolate cookie chunks, double chocolate chips, sprinkles and MORE chocolate.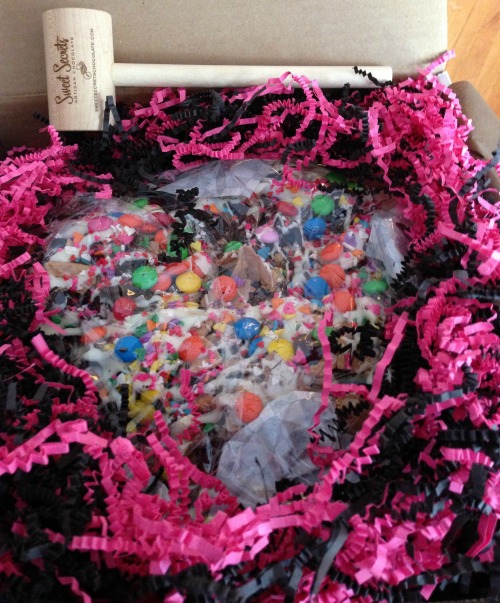 This makes a totally crazy looking pizza piled with all kinds of delicious random goodness, packed in a pizza box. It even includes a wooden busting mallet to break it up into bite-sized pieces!
Yesterday we had a party at our house and I figured it was the perfect time to debut the Chocolate Pretzel Pizza. Everyone was a bit curious at first since it basically looks like a candy/pretzel factory exploded and all the pieces were welded together in a heart shape. The littlest party-goer of course claimed the honor of breaking apart the pizza with the wooden mallet. Ignore all the football watching noise in the background as you check it out:
Next, was on to the tasting. WOW! The Chocolate Pretzel Pizza tasted way better than anyone expected. It was SO delicious!! Even though we had had a gigantic meal, we nearly finished off the whole pizza between 6 of us. I was glad there was a little bit left over because I have been sneaking bites of it all morning!
I think this would make an AWESOME Valentine's Day gift. I know I would personally love it if I got one! It's also a great gift for guys, who tend to be harder to buy for. What guy doesn't want to let out his inner child and smash something with a wooden mallet? And I shouldn't say only that it would make a great Valentine's Day gift — it would make a great gift any time of year. Yum – I'm heading to the kitchen right now for another piece!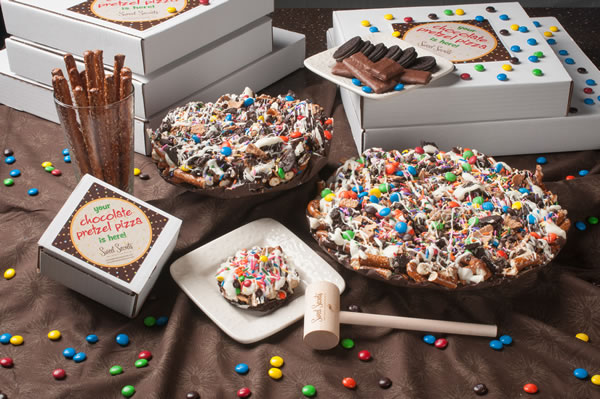 Buy It: For a limited time, heart-shaped Chocolate Pretzel Pizzas are now available in 4'' and 10'' sizes. For more info or to purchase a one of their artisan chocolate creations, head to www.sweetsecretschocolate.com. While you're there, be sure to join the Sweets Club to receive info on new products and promotions as well as a promo code for $2 off your purchase.