All summer long I love to spend time outdoors. We have short summers here in Minnesota, so we like to make the most out of the time that we have! While spending that time outdoors, I'm also concerned about protecting our skin from the sun. Just like our other organs, we only have ONE skin, so it's important to take care of it! Here are some handy tips for families to stay protected from the sun.

Sun Protection Tips
Teach kids that being safe in the sun is as important as wearing a bike helmet! Preventing sun exposure now helps prevent skin cancer in the future.
Make sure to wear lightweight clothing that is tightly woven (t-shirts do NOT block UV rays!), and contains a UV protection factor of 50. At Coolibar, all clothing has a UPF of at least 50 and is guaranteed to never wash out or fade. Sun-protective clothing is the BEST way to ensure skin is protected from UV when out in the sun.
Pack your own sunscreen whenever possible to ensure it will be readily available, and to save some money. Popular vacation destinations often double or triple the price of sunscreen on-site.
Make sure to reapply sunscreen to areas not covered with clothing EVERY two hours, when done swimming, and after lots of sweating. You can minimize the amount of sunscreen needed (and avoid the chasing and tears when applying) by covering kids as much as possible with sun-protective clothing.
Make sun protection fun! Choose clothing that kids get excited about so they will love wearing it. Cooilbar's monster tee line features fun and silly graphics with the same wash and wear-resistant 50 + UPF.
Adults need protection too, and more coverage is better. Pack long-sleeve sun-protective shirts and wraps for long days in the sun, or for when it's a chilly day.
Make sure the kids take regular breaks from the sun especially between 10 a.m. and 2 p.m., when UV rays are strongest, and make sure they are drinking lots of water. Set your phone's alarm for reminders to get your family in the shade, reapply sunscreen and get some water.
Hats are a huge defense against UV exposure! Longer brims add protection to the neck, shoulders and torso, as well as the face and top of the head. For every inch of brim, you reduce your lifetime risk of skin cancer by 10%.
Choose sun-protective clothing that folds easily and dries quickly, so you take up less room in your suitcase! Moisture-wicking clothing allows for a quick rinse at the end of the day and will often be dry and ready to wear the next morning.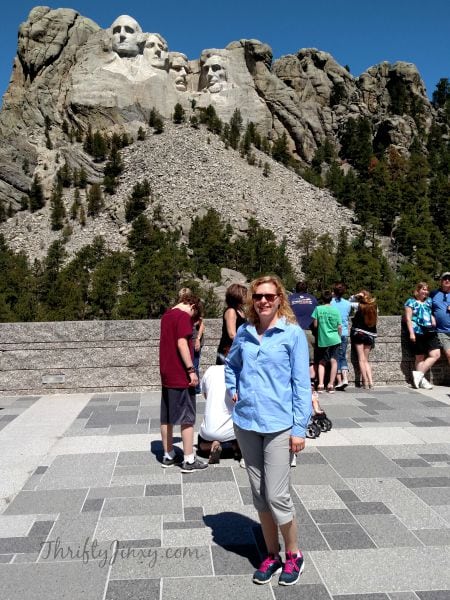 Since I have had sun protection on my mind, I was pretty excited to hear from Coolibar, a company that designs an awesome line of sun hats, UPF clothing and sun protection swimwear which are actually the first garments recommended by The Skin Cancer Foundation. They are designed to cover a maximum amount of skin, use highly protective fabrics, and yet still be cool, comfortable and fashionable.
I thought the name Coolibar referred to the idea of "keeping cool" (which is what happens when I wore their clothes), but the name Coolibar comes from a eucalyptus tree found in the harsh Australian outback – where the company originated and has flourished for over a decade. Now we are lucky that they are bringing these goods to the U.S.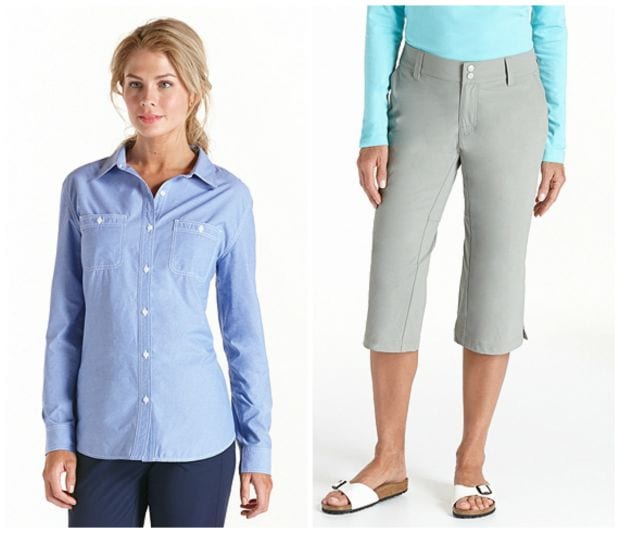 The items I chose were these Travel Crops and Summerweight Chambray Shirt. I love them! They are perfect for travel (which you can see from my photo at Mount Rushmore) and so comfortable. Besides protecting my skin from the sun, I stayed very cool while wearing them. I also like that they didn't show wrinkles even after being in my suitcase. I'm ready to outfit my wardrobe with more Coolibar clothing!