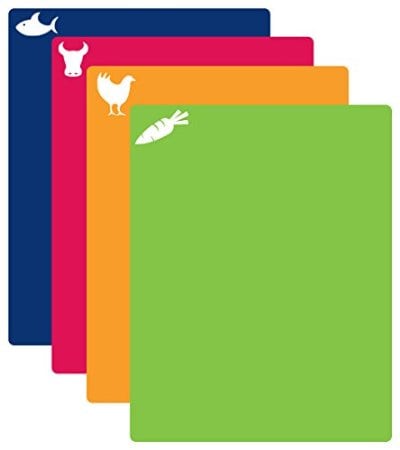 Did you know that is is super important to avoid cross-contamination while prepping food?  You really need to keep your beef separated from your fish, your chicken separated from your veggies, etc.  But honestly, who has room for that many cutting boards?  We've found the perfect solution for you!  These CounterArt Flexible Cutting Mats with Food Icons help you avoid cross-contamination plus they are small enough to store easily or cute enough to leave on display.  Each cutting mat has an icon of that board's designated purpose:  fish, beef, poultry, or vegetables.
Set of 4 cutting mats in assorted bright colors and food icons

Use separate mats for raw foods to avoid cross-contamination

Flexible material allows for rolling up to transfer foods from mat to pan

Includes Micro ban protection with built-in defense properties that inhibit the growth of stain- and odor-causing bacteria

Mats measure 11-1/2 by 15 Inch
The price is just $7.50 right now, but Amazon pricing can fluctuate a bit. Make sure to double-check the price before adding it to your cart. Also, if you don't need this item right away, be sure to choose the slower shipping option to receive a $5.95 Amazon Pantry Credit!