We have been big fans of the State Necklaces from Cents of Style and are so sad to hear that this will be the last time they have them on sale! Their recent update says that they have been one of their very best sellers, and one of their favorite products, but now they are blowing out their remaining necklaces at the lowest price ever of 2 for $15 with code 2FORSTATE – – plus shipping is FREE!
These necklaces speak to people in so many different ways – whether it is a reminder of home, a dream vacation, a best friend, or where your heart lives. They also look amazing stacked and worn together!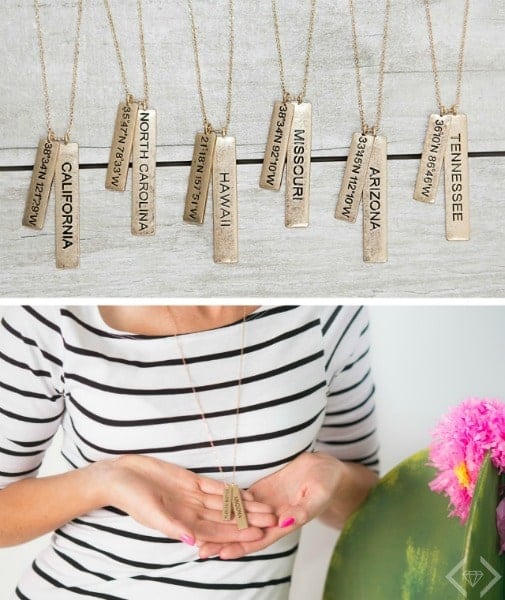 Show off your state pride with a gorgeous 18″ brushed silver chain necklace featuring a charm of your state.  This would also be a cute idea to keep your roots close to heart if you live far from home or move around a lot. You can also choose a State Bar Pendant Necklace that features one metal bar with the state name and one with the latitude and longitude of the state capital.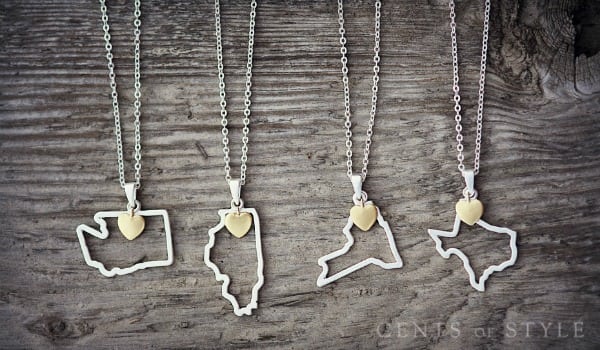 These make great gifts — Valentine's Day, Easter baskets, Mother's Day, going away parties, graduation, birthdays, and more. Order them today at only 2 for $15 with code 2FORSTATE. Don't forget shipping is FREE!