Shopping for a Star Wars fan this year?  Incorporate their favorite movie with fun board games.  Here are a few Star Wars Board Games for fans that will make excellent holiday gifts. I love that a couple of these will be perfect for my little Star Wars fan, while my hubby is all over the Pictopia picture-trivia game!

Star Wars Board Games for Fans
Star Wars The Force Awakens™ Galaxy Hunt Game 
This game reminds me a lot of the Perfection game we loved as kids – but in reverse! You take out the pieces one by one instead of putting them in. Choose carefully… or the enemy will strike! Navigate the galaxy, dodging the First Order's fleet of vessels while gaining orbital support from Resistance forces. Every move you make could lead closer to victory… or unleash an explosive enemy attack! Take turns removing pieces, looking for allied starships. But watch out. Pull the wrong piece and the sweeping spring-loaded arm of the Star Destroyer Finalizer will pop pieces out! It's a game of strategy and suspense!
Includes 1 Space Battle Tray, 1 Space Battle Panel, 32 pieces, 1 spinner, and instructions.
For 2-4 players.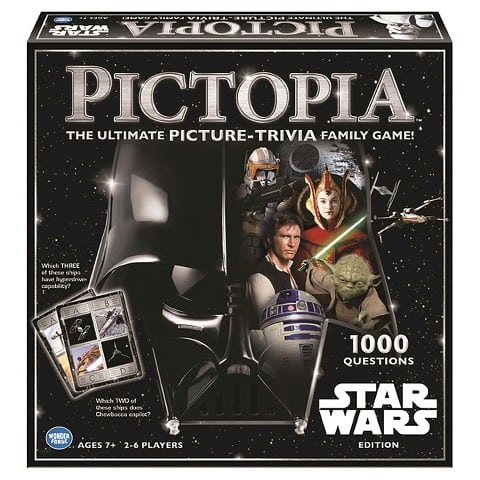 Star Wars Pictopia Trivia Game (Target Exclusive)
Make family game time epic with the Star Wars Pictopia Trivia Game, exclusively at Target! Prove whether you are a Padawan or Jedi Master when your knowledge of Star Wars is tested with 1,000 questions on the iconic planets, ships, villains, and heroes from a galaxy far, far away. It's a game of teamwork but with a competitive edge! Sometimes you'll work together and other times answer alone, but you'll wager every time. How much you risk depends on how well you know your Star Wars trivia! Feel the Force questions add an exciting twist by revealing how much you sense about other players. Become a true Jedi Master with the Star Wars Pictopia trivia game.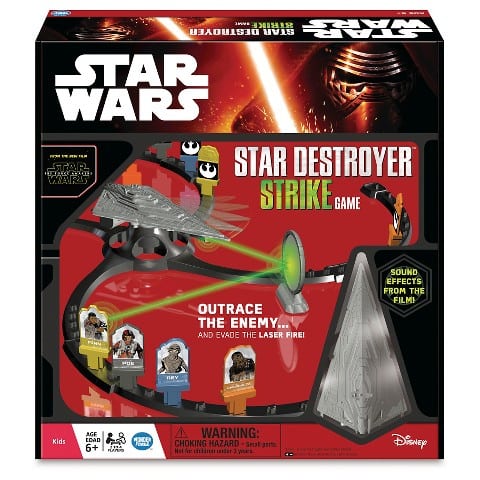 Star Wars Star Destroyer Strike Game Strategy and suspense collide in the exciting Star Wars Star Destroyer Strike Game. The Star Destroyer Finalizer is out to eliminate the Resistance. Advance your heroes to safety before the starship of the First Order has you in its line of fire. Evade surprise blasts that can happen when you least expect it, and outwit your opponents by bouncing the "laser" blasts off the deflector shield towards them. It's fast-moving galactic fun for the whole family.