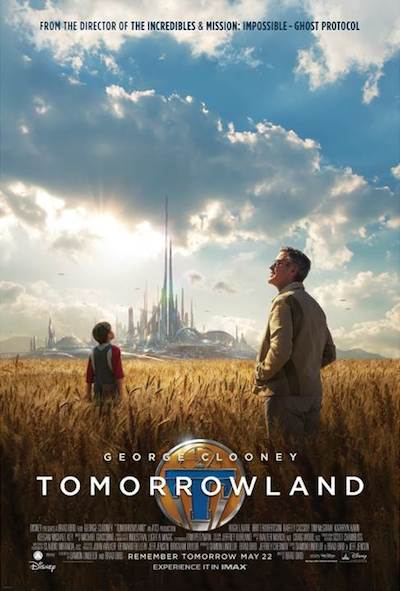 TOMORROWLAND Preview Event at Disney Parks
I have some exciting news!! I'm going to LA in 3 weeks to screen the upcoming George Clooney film TOMORROWLAND and attend a press junket to interview talent from the film!! I'll also be visiting the Disney Archives to learn about Walt Disney's vision of "Tomorrowland" and making a stop at Disneyland too! I don't have all the details yet, but I'll be sure to share when I do. In the meantime, be sure to follow the hashtag #TomorrowlandEvent on Twitter and Facebook to find out more!
If you plan to visit Disneyland or Disney World in the neater future, you can also have a chance to experience an unprecedented collaboration between the parks and Disney Studios where you can both see a 12-minute sneak peek of the film and also enjoy an impressive exhibit featuring the making of the movie with props, concept artwork and photos from the filming of the movie plus exclusive images from the Disney Archives. The sneak peek and exhibit will open April 17 in Tomorrowland at Disneyland Park and on April 18 in Future World at Epcot and will be available to the public for a limited time.
While it isn't the special sneak peek you can only see at the parks, we DO have a brand new featurette including interviews with George Clooney, Director Brad Bird and more. Check it out below!
Like TOMORROWLAND on Facebook: https://www.facebook.com/DisneyTomorrowland
Follow Disney Pictures on Twitter: https://twitter.com/DisneyPictures
Visit the official TOMORROWLAND website: www.Disney.com/Tomorrowland
Sign up for TOMORROWLAND fan alerts!
TOMORROWLAND opens in theaters everywhere on May 22nd!