The California based Spa Sister brand is the fun and flirty extension of Bath Accessories Company. For more than twelve years, Spa Sister has offered luxurious, affordable products that pamper head-to-toe and are perfect for creating a spa-like experience in the comfort of your home.
With more than two hundred items to indulge in, Spa Sister has something for everyone. From super-soft spa robes and moisturizing foot and hand treatments, to beauty tools and colorful gift sets, Spa Sister is the go-to brand for bathing and spa accessories.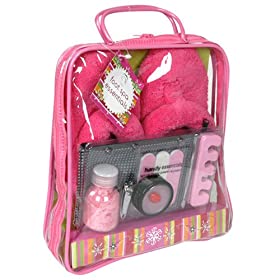 Spa Sister also has a huge celebrity following. Favorite products from the line include the Microfiber Hair Turban ($14.00) which is used by hairstylist to the stars Mark Townsend whose clients include Reese Witherspoon, Jennifer Connelly and Amy Adams. Bobbie Thomas, style guru and resident beauty expert on NBC's TODAY show, uses and endorses the Spa Sister Twin Skin Polishing Towel ($12.00) designed to gently exfoliate your skin and leave you with a radiant glow.
Spa Sister Oh So Spa Gift Sets and Baskets make the perfect gift for a loved one – or better yet, a special treat for yourself! Bursting with fragrant foot scrubs, body butters, bath salts, pedicure supplies, cozy slippers and much more, Spa Sister gift sets include all the essentials to create a fabulous (and affordable!) spa experience.


The Body Therapy Collection is another Spa Sister favorite with four fragrance groups to choose from. Milk Therapy replenishes, Lavender melts away fatigue and renews the senses, Sugar Therapy sweetens skin with nourishing ingredients and Soy soothes and moisturizes. Each fragrance group includes body scrubs, shower gel, body butter and bath soaks to leave your skin looking toned and buffed.
Spa Sister products are distributed by Bath Accessories Company Inc. and can be found at department stores and beauty supply retailers throughout the U.S. For more information about the complete Spa Sister collection please visit BathAccessories.com.
You can also find Spa Sister products on Amazon.