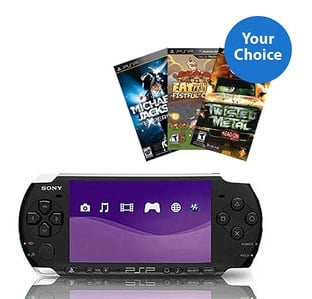 Walmart.com has a great bundle deal available right now on the Sony PSP Handheld Game Console! You can get the console and your choice of 3 games for only $99!
Shipping will be free since the purchase is above $50 and there are lots of different games to choose from.
Other locations sell just the console for this price, so you are basically purchasing the console and getting three games for free! Head over here to grab this great deal, and here are a few details about this game system:
The Sony PlayStation Portable (PSP) system is the first truly integrated portable Sony PSP entertainment system designed to handle multiple applications — music, PSP video, photo, Internet, and wireless connectivity — with games as its key feature. The Sony PSP system features an unmatched library of PSP entertainment content, combining more than 135 games and more than 430 feature films. The PlayStation Portable lets you enjoy TV programs, videos on UMD from major studios and record labels and downloadable content from the Internet. Play PSP games, PSP video and more.