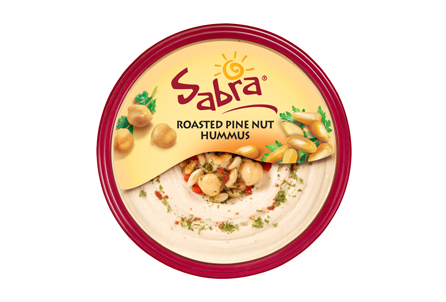 When I get hungry during the day, one of my favorite snacks to tide me over until my next meal is hummus. It's satisfying because it's filled with fiber and protein and enjoyable because it's just plain yummy!
Sabra has lots of flavors of hummus to choose from. What I like about their flavors is that besides the delicious flavor mixed throughout, the middle of each container has a "glob" of flavor-filled goodies. (Take a look through the cover of a package – you'll see it right there!) My very favorite is the Roasted Pine Nut Hummus. It has a nice garlicky flavor, as well as pine nuts, red bell peppers and other seasonings.
This week we had a chance to try out some yummy products from Sabra and we turned it into some fun in the kitchen to make a yummy afternoon snacking party. We thought homemade pita chips would be the perfect thing to compliment our Sabra Hummus. You can find my recipe for homemade pita chips here.
I have to say that the Sabra Hummus with the seasoning sprinkled on top and the goodies in the center of the container make a beautiful looking display when surrounded by the chips. But, it didn't stay that way long, we dove in and enjoyed our snack!
You can become Sabra Facebook fan and get coupons, win prizes, and check out Chefs making over your favorite recipes. For more you can follow @Sabra on Twitter.