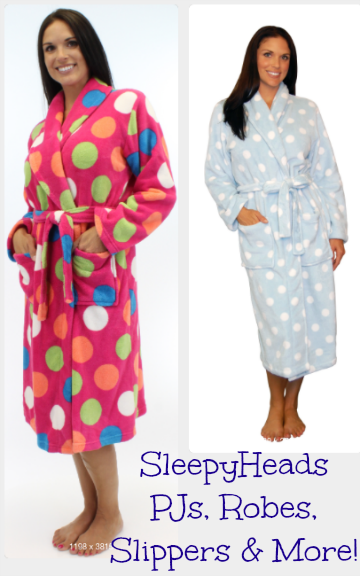 It's time for the Fall Fashionista event! This time around we are talking cute and comfy fashion from SleepyHeads! A pair of adorable, snuggly pajamas can add a new level of comfort to crawling into bed or having a morning lounge around the house. And a soft and comfortable robe can keep you warm all winter long. These both make fantastic gifts, but once you see them you will probably want to keep them for yourself.
SleepyHeads.com has something for everyone – from newborn babies to grandparents. You'll find pajama sets, robes and slippers. You can even find matching pajama sets for your whole family! We're focusing on just a few of their products today and I'll be bringing you my personal review of them soon!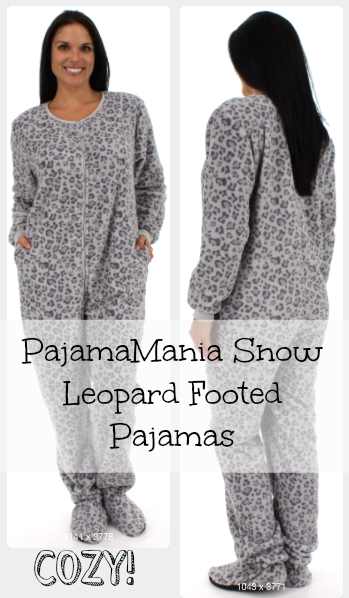 How adorable are these PajamaMania Snow Leopard Footed Pajamas? They are so cute that they also make the same pattern in kids sizes so you can have your little ones match you. They are made from durable yet luxurious fleece fabric with cuffed sleeves, side pockets, front zipper and no slip grippers at the bottom of the feet. Perfect for snuggling up on a cold winter night!
I also love all the robes available from SleepyHeads. At the top of the page you will see two of the color options available in their PajamaMania Women's Polka Dot Printed Fleece Robe. It's made of plush fleece with 2 front pockets, a detachable belt, and shawl collar. AND we can't forget about robes for the guys. These PajamaMania Men's Fleece Plaid Robes have the same details of the women's robe with plush fleece, front pockets, detachable belt, and shawl collar, but it's available in three different colors of plaid.
Are you ready to get cute and cuddly? One lucky Thrifty Jinxy reader will be doing that courtesy of SleepyHeads. Check out our giveaway below! GIVEAWAY IS OVER.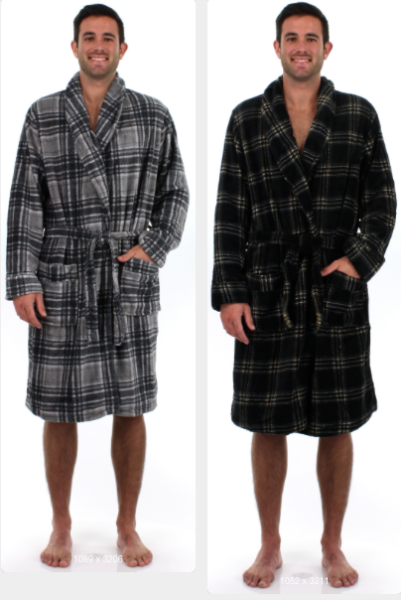 Reader Giveaway: One lucky Thrifty Jinxy reader will win their choice of PajamaMania Women's Polka Dot Printed Fleece Robe, PajamaMania Snow Leopard Footed Pajamas, and a PajamaMania Men's Fleece Plaid Robe. To enter, just complete the entry form below by 11:59pm ET on 10/17/14. Once you have entered our giveaway, continue below to find lots more giveaways to enter!
The Fall Fashionista Giveaway Event is hosted by The Chief Blonde at Still Blonde After All These Years and Katy from ModlyChic. All Fashion! Only FASHION event! Largest Fashion Giveaway event on the internet with $26,000+ in prizes, 100+ participating blogs and 3/4 million entries. Each individual blog has a minimum of $125 prize! The FALL Fashionista Events Grand Prize is $500 PayPal (worldwide where allowed by law). For every giveaway in the Fall Fashionista Event that you enter, you gain one entry toward the Fall Fashionista Grand Prize. 1 Grand Prize winner will receive $500 PayPal cash. 1 first prize winner will receive $300 gift certificate to Midnight Velvet Clothing. Isn't that stunning? Disclosure: Still Blonde after all these YEARS , ModlyChic, Fall Fashionista Events Giveaway and the Fall Fashionista Events Giveaway bloggers are not responsible for sponsors/bloggers that do not fulfill their prizes or for any product failure or harm caused thereby.