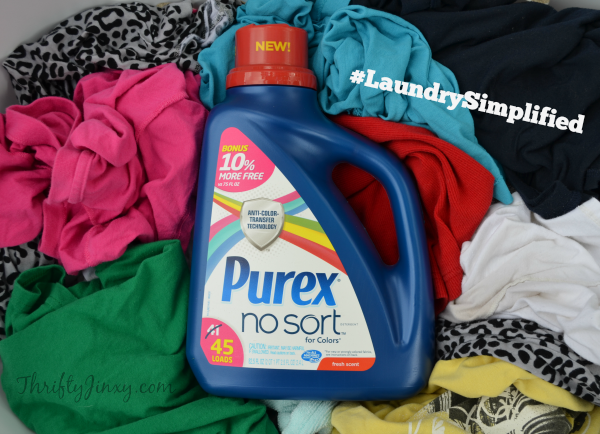 Who loves doing laundry?  "I do! I do!" – WRONG.  I do NOT love doing laundry and I bet very very few of you answered yes to that question.  I have heard some people say that they like doing laundry and even find it relaxing, but I have a reallllllly hard time wrapping my head around that concept.  I am always looking for things to make the process easier, especially new products like Purex® No Sort™ for Colors.
Right now I have been dealing with an even bigger laundry headache – our washing machine broke!!  It has been out of commission for about a month, but we have yet to get it fixed because we have been too busy working on getting our rental property ready for new tenants that we just haven't had time.  So, we have been using the washer at the rental property – which brings its own headaches.  I wanted to see if Purex® No Sort™ for Colors could help cure some of those problems, so I headed to Walmart to look for a bottle.
First of all, I never realized how many options Purex offers!  They have solutions for practically every laundry need.  But, I was looking for simplification and specifically the Purex® No Sort™ for Colors.  I was happy to see the price of only $3.97 for a big 'ol bottle!  You know I love a deal!  I was ready to stop sorting my laundry and since I like to follow directions I read this on the back label:  "Purex No Sort detergent is packed with innovation, but it can't perform miracles, so please follow these words of advice: wash strongly colored fabrics or new pieces of clothing, especially jeans, separately at least 5 times before doing a mixed color load with Purex No Sort detergent."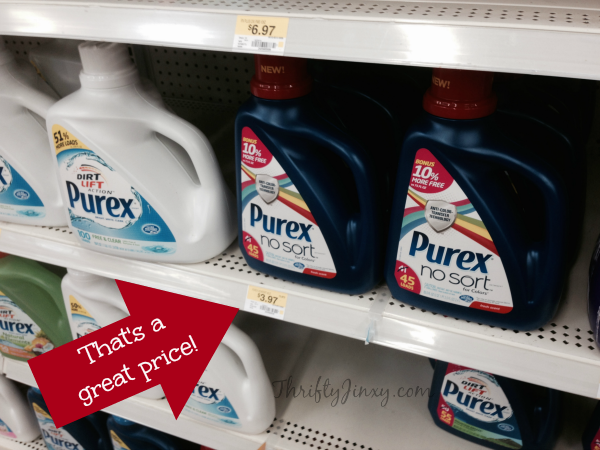 #LaundrySimplified #CollectiveBias
So then it was time to put the Purex to the test.  One of the biggest problems I have with doing laundry at a location other than my own house is that I have to take it on the trip and decide if I will sort it before I leave or once I get there.  Since I often only have time to do one full load of washing and drying while I'm at the rental house, I sort the laundry at home and then take just ONE type of laundry – light, darks, brights, etc. and do that.  It's a pain because sometimes I really need just ONE thing that is in a different category, but it has to wait until the next trip.  It also means I have to do a lot more small sorted-out loads rather than one big load.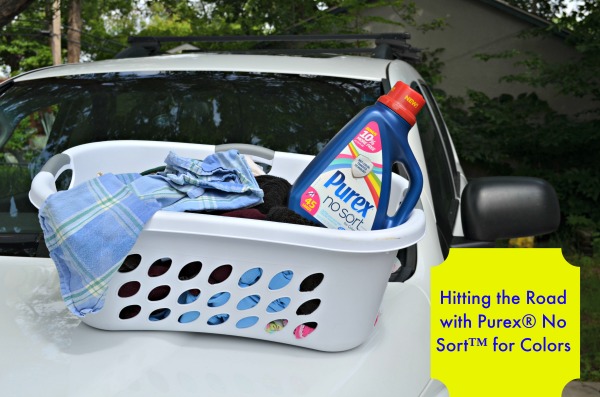 Enter Purex® No Sort™ for Colors.  It has a special Anti-Color-Transfer Technology that traps loose dyes in the wash and doesn't let them settle onto other fabrics. Now, I can just gather up whatever laundry is needing to be done – without having to sort it out – and bring it to be washed!  Less hassle sorting, less hassle having to choose between just lights being washed or just darks being washed – I just wash!!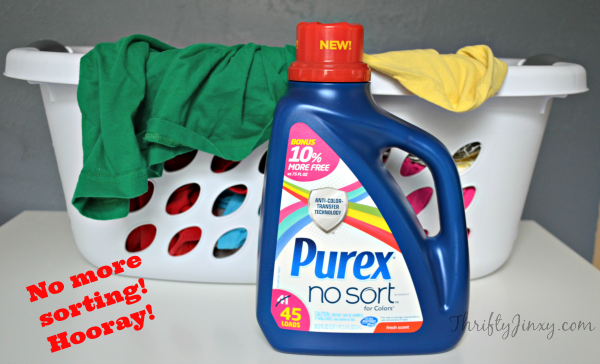 Of course the best solution will be that our washing machine is repaired, the house is rented out with income coming in and I'm back to doing laundry at home.  BUT – until that day my laundry life is much easier with Purex® No Sort™ for Colors.  Plus, once I get back to my normal at-home laundry routine, Purex® No Sort™ for Colors will continue to make that dreaded sorting a thing of the past!
For more information about Purex® No Sort™ for Colors visit them: