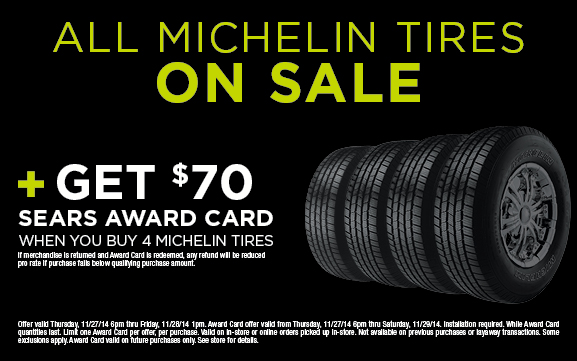 If you have been online much during the past week or so, chances are you've heard about some of the great Black Friday deals available at the different stores. You can score savings on just about everything – clothing, toys, tools, kitchen gadgets, and more. But did you know that you can also score Black Friday savings for your car??
Sears Auto Center will be offering some exclusive Black Friday deals beginning on Thanksgiving Day. Sears stores will open at 6pm on Thanksgiving and will be offering some great bargains. Check out the full list of Black Friday Exclusives HERE.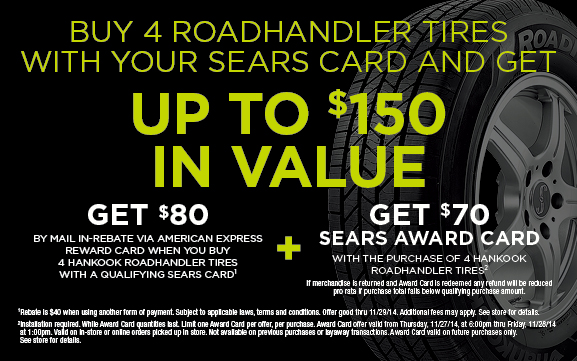 One of the biggest Black Friday discounts available at the Sears Auto Center is this: When you buy four Sears RoadHandler Tires and you'll receive an $80 mail-in rebate (via an American Express prepaid card) AND a $70 Sears gift card if you pay with your Sears card!
Another hot exclusive is on Michelin and BFGoodrich Tires. Both brands will be on sale during Black Friday. Purchase four tires and you'll earn a $50 Sears gift card!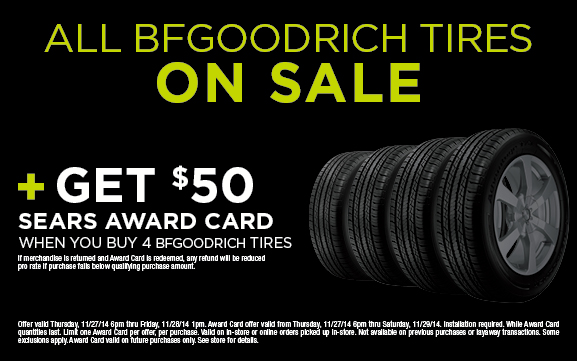 A few other Black Friday discounts happening at the Sears Auto Center including 10% back in points with your Sears Card on the first $500 of each qualifying purchase, $100 off $400 in Automotive Services, $50 off $250 in Automotive Service, and $25 off $150 in Automotive Service.
While you're out scoring the hottest deals for your friends and family, don't forget to score some hot deals for your vehicle at the Sears Auto Center!
You can see the deals at the rest of Sears here: