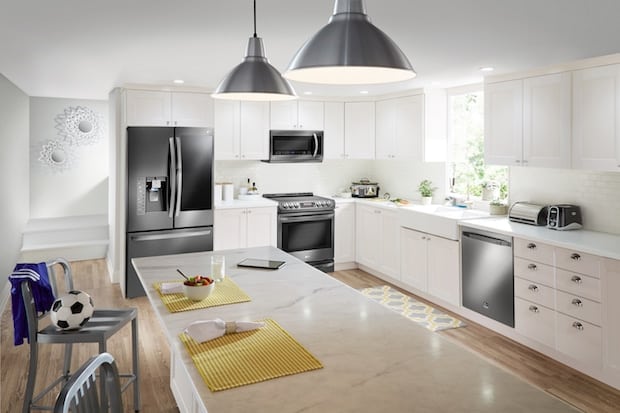 We have started to look for a new house and one of the most important things for me is to have a kitchen that I love. As we have been looking at houses, there are a few kitchens that catch my eye, but many of them are just plain "meh". So, we have been thinking that the plan may be to get a house with a humdrum kitchen and make it into our dream kitchen.
We remodeled the kitchen when we moved into our current house and it made a BIG difference! New cabinets, new countertops, new floor, new appliances and paint on the walls made our kitchen super cute (even if it is small). While remodeling a kitchen can be pricey, there are things you can do to keep the costs down. One thing is to do at least part of the work yourself. For our remodel we put in the backsplash and did our own painting. That helped save on dollars that would have otherwise went to the contractor.
Another way to save big is by getting great deals on your appliances, which is something you can do right now with two great deals at Best Buy. First they are offering up to 30% off Major Appliance Top Deals with minimum savings of 5% through 4/12. Plus, you'll get a free $100 gift card when you buy 2 Major Appliances totaling $1500 or more! (See details.)
Best Buyalso makes it easy for you to stretch your remodeling dollars by offering the best deals during the season on LG appliances. You can receive up to $400 back from LG via mail on select Kitchen Packages now though 5/3/17. (See details.)
Two specific LG products you might want to check out are:
LG – InstaView™ Door-in-Door® Refrigerator
Large Capacity, 24 cu ft. – Store more with this ultra capacity French Door refrigerator.
InstaView™ Door-in-Door® – InstaView™ Door-in-Door® refrigerators have a sleek glass panel that allows you to see inside the easy access door without letting the cold air out. Simply knock twice on the glass to illuminate the contents within.
LG Black Stainless Steel Series – LG Black Stainless Steel Series elevates your kitchen with a satin-smooth, warm and sophisticated finish unlike any other.
ENERGY STAR® Qualified – Save money and energy with this ENERGY STAR® qualified LG refrigerator that exceeds energy standards.
Self-Cleaning Slide-In Electric Convection Range
Black stainless steel
Front Control/Slide-in Range featuring ProBake Technology