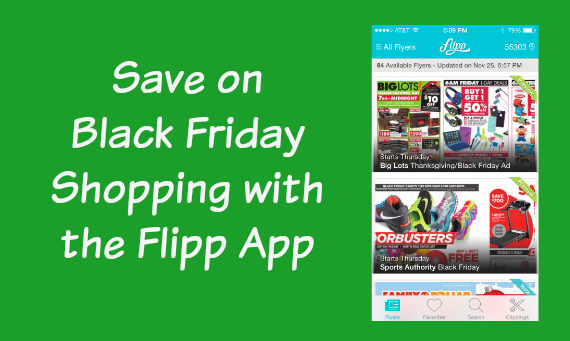 If you got the Sunday paper this weekend I'm sure you noticed that it had a TON of store flyers in it! With Black Friday only a few days away, stores are doing fast and furious advertising. It can be fun to browse through all of those flyers, but it's not easy to find the exact items you're looking for and, once you do, it's not neat to drag all those flyers or the cut out pages along to the store.
One easy way to find the absolute best prices in your area for all your Black Friday shopping is with the Flipp app.  In a nutshell, Flipp is a digital way to keep up with all of your local stores sales flyers and to be able to circle items and create a digital list of the items that interest you.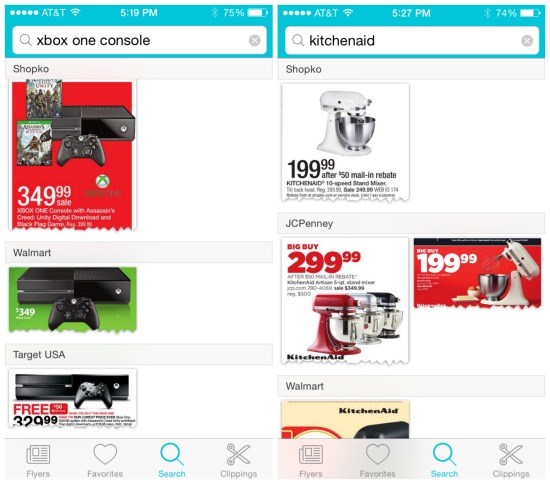 You can easily use Flipp to search out the best deals on SPECIFIC items.  For example, take a look at the pictures above.  On the left I did a search for "xb0x one console" and it showed me all the deals on those game systems in my area.  (It has flyers from TONS of stores, so it really does a great job of finding everything.)  On the right I did a search for Kitchenaid.  Again it showed me each of the offers for Kitchenaid in my local flyers and told me which stores had each offer.
If you have favorite stores that you visit every year on Black Friday, you can choose to see their whole flyer through the Flipp app.  As you're browsing through, just click on the items you want to buy and it will circle them in yellow in the flyer (see below).  What it will ALSO do is save them all to your favorites.  That way, when you're ready to shop, you just pull up all your saved items for the store you're visiting and you have a handy dandy shopping list for that store.
Ready to try Flipp for YOUR Black Friday shopping?
You can download the app for FREE via iTunes or Google Play.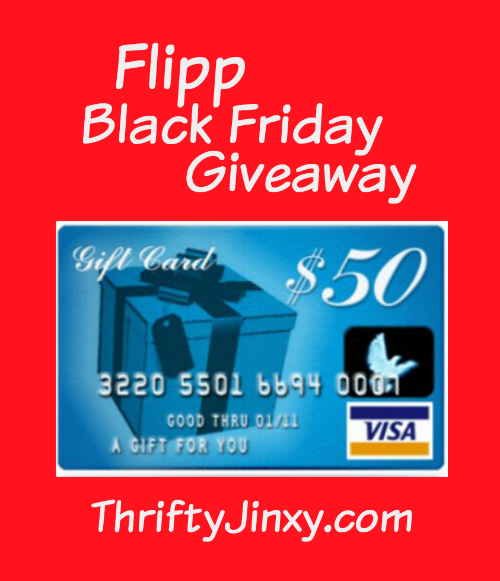 Reader Giveaway:  One lucky Thrifty Jinxy reader will win a $50 VISA gift card courtesy of Flipp.  To enter, just complete the entry form below by 11:59pm ET on 12/3/14.  Good luck!
NOTE: If you're unable to see the form (Rafflecopter has been having issues these last few days), leave your name and email on this form HERE and I will email you as soon as it is back up or we replace with another entry method. Thanks!